Search Results
doge 2048
A very best Doge game ever! Enter the game and start earning SWAG by rapidly tapping your screen. Level Up and develop your Social Media to make your fanbase bigger. MORE SWAG = MO...
In Doge Clicker you can create as much as you can Doggies, only by clicking on the Doge.. Check out how many awesome upgrades you can use to speed-up the process :) Beat others and be on the...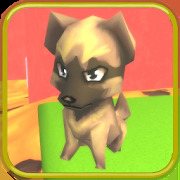 The Floor is Lava! Quick jump on the table and watch the room fill with lava. Watch out not the get caught in the lava! Your owners are away from home, and you are a little naughty pet who...
Doge 2048 - A 2048 Puzzle for Hoomans to Enjoy
Hooman! The groit Doge is calling upon you to solve his 2048 puzzle!
2048 is fun in itself, but once you reskin the game with dogs, you're in for one helluva fun. With Doge 2048, your 2048 puzzle experience will be the best you can have.
So what else are you waiting for? Grab your doggo-lingo dictionary, review your 2048 algorithms, and have some fun!
Doge 2048 and all of our 2048 games are free to play and download. Whether you are a dog lover, a cat lady, or just a hardcore 2048 player looking for a new 2048 game to play, we got you covered!
Wow, Such Fun Game!
The perfect game for dog lovers has now come to PC. Doge 2048 combines the cuteness of your favorite puppers with the classic gameplay of 2048 puzzle game. In Doge 2048, you just need to slide the tiles to combine the same doggos and try to reach the highest score of 2048. Doge 2048 is integrated into Google Play so you can see who is in the leaderboards and also check out where you sit in the ranking. The game will also let you reach higher scores if getting 2048 is easy. If you are used to the gameplay, try getting 4096!
Many Fun. Such Thank. Very Puzzle. Wow.
I COULD make a better modern doge 2019 meme with dark humor but I need to remind myself that Games.lol also has child viewers as well so I'll just stick to the old 2013 doge version. Speaking of which, yes, the meme has a 2048 puzzle namely Doge2048. I don't know why this exists (just like any meme game, to be honest) but it's pretty cool. It's not some disgusting normie game though but Doge2048 does its job well. Want to try it? Go ahead – it's free to play on the PC.
You may also like: