Fishing is something that people have been doing for thousands of years already. It's one of the ways people get food, which is why the first humans figured out how to fish. But as thousands of years have passed, fishing is not only a way to get food, but also a sport or hobby. Since people can't always go fishing, video games stepped in to provide people with the joys of fishing without the need to go to the lake or ocean. To help you play good fishing games, this blog will list down the best fishing games you can catch and play.
The Top 10 Fishing Games You Can Play Right Now
Below is a list of the best fishing games to play on PC for free.
1. Fishing Hook
One of the best fishing games you can play is Fishing Hook. It's a casual simulation game where you get to experience the sport of fishing without leaving your home. It provides a realistic feel of what you'll experience when you go fishing. Thus, making it a good game for people who want to try fishing but don't have the time to go out on lakes or in the sea to experience it themselves. It's like giving them a small taste of fishing as a sport and then seeing if they would like to try it in real life.

2. Fishing Clash
Another great simulation game that will let you experience fishing without leaving your home is Fishing Clash. It lets you experience the joys and challenges of what it's like to fish without the need to go to an actual lake or sea. It will help you see if fishing is a sport or activity that you'd like to do in real life or not. But what's unique here is that there's a multiplayer aspect. Therefore, you get to compete against other players to see who can catch the best fish in the ocean.

3. Fishing Food
If you prefer to play an adorable fishing game, then Fishing Food is the game to try. It's a casual game where you control a cat to try and fish out the food from the ocean. You don't just try to catch fish, but other food as well. There's plenty of food in the ocean and your cat wants them all. So, help it catch all of the different foods available in the ocean. What's great about this game is its simple and easy-to-learn gameplay. So, it's surely worth a try.

4. Hooked Inc
Here's a fishing game that you could get hooked on. It's titled Hooked Inc., which is a casual simulation game that lets you catch as many fish as you can. But unlike the other simulation games on this list, it doesn't provide a realistic simulation. However, it does provide a game with simple gameplay and that's also addicting to play. You just swipe over the fish to catch them and earn money. Afterwards, you use the money to upgrade your boat, as well as gear. As you upgrade, you get to earn more. It's an interesting game that's worth trying.

5. Ace Fishing
If you like to play a realistic fishing game that's also very simple and easy to play, then Ace Fishing is the game for you. It's a simulation game that provides a realistic fishing experience but features easy controls and gameplay. It won't be a good gauge of what it's like to do real fishing. But it does make fishing more fun to play. Additionally, the game takes you on a tour around the world, taking you to different seas, rivers, and lakes to catch different types of fish. It's a game you'll have fun playing.

6. Master Bass Angler
If you're looking for a fishing game where more competition is emphasized, then try Master Bass Angler. It's a fishing game that lets you fully experience the sporting side of fishing. Not only do you try to catch different fish, but you can also compete with other players from all over the world. This fishing game even has challenging tournaments you can participate in. It's a great game for players who always want their competitive spirit fired up.

7. Monster Fishing 2021
Let's now try to move toward the big boys' fishing games like Monster Fishing 2021. No, you don't get to try and catch actual monsters. But the fishes you will try to catch here can be considered monsters themselves. In this game, you get to try and catch large fish like whales, giant sharks, and so on. The controls are easy to learn, and since monster fish is what you're aiming for, you also get to travel to various oceans to catch these fishes. A great game, if you think small fish are not worth your time.

8. Wanted Fish
Here's a simple, but very fun and addictive fishing game that you can play. It's titled Wanted Fish, a casual game where you just try to catch different types of fish, whether big or small. But instead of doing it like the usual fishing simulation game, it's done very simply. You just select the bait you'll use, aim where you'll drop your line, and release. If your aim is good, you'll catch the fish that you're targeting. It's a simple and easy game to play, but it's also very addictive.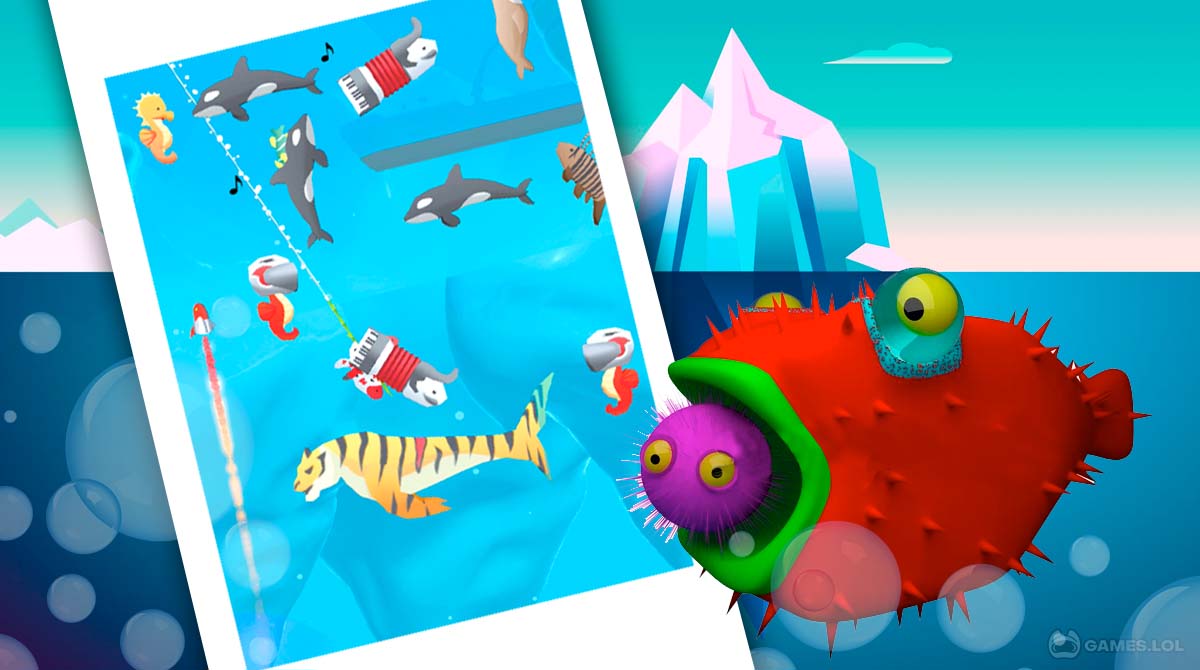 9. Fishing & Life
One of the reasons why people fish is because it helps them relax and destress. Well, Fishing and Life took that to heart, which is why they brought you a relaxing fishing game. In this adventure simulation, you get to control a stressed and overworked employee. To help himself relax, he went fishing to relieve his childhood memories when he fished with his dad. You just help him move forward and catch fish along the way. It's a simple and relaxing game that's worth trying out.

10. Fishing Mania 3D
Last, but certainly, not least on this list is Fishing Mania 3D. It's a casual simulation game where you get to experience realistic fishing. It includes not only hoisting your fishing rod but also deciding on the right equipment and bait to use to catch fish. There are hundreds of different fishes available that you can try to catch in this game. A great fishing game that is fun to play and lets you experience what it's like to fish.

Try Your Hand in Fishing Games
There are many more good fishing games out there that you can play. But we know you can't try them all. So we created this list to point you to the best fishing games you should try first. Don't worry because we'll have more lists like this in the future, so stick around here in Games.lol to not miss out on them!