It's once again the season to be jolly, the most wonderful time of the year. It's the period where people are happy, spending time with their family, and waiting in anticipation for the time to start opening presents. Though it's a mostly fun and exciting period, waiting for the actual Christmas to come can get a bit boring. Fortunately, there is a way for you to still have fun while waiting for Christmas to come.
And that is with the help of games. Of course, you should not be playing just any game, but you should be playing Christmas-themed games. In this blog, we'll list down 5 great Christmas-themed games that you can play during the holidays.
Christmas House Decoration – Great Game for Kids to Exercise Creativity
If you are looking for a fun and interesting game that your kids will enjoy playing while they wait for Christmas, try Christmas House Decoration. It's a casual game that will allow your kids to exercise a bit of their creativity. In this game, your kids will be tasked to decorate the house in time for Christmas. They'll have access to Christmas-themed furniture and items to use as decoration. It's an interesting and entertaining game that's great for kids who love to decorate things. This game allows them to express their creativity, especially when it comes to decorating the house.

Christmas Cooking: Crazy Food Fever Cooking Games – A Fun Simulation Game
Another great Christmas-themed game to play is Christmas Cooking: Crazy Food Fever Cooking Games. It's a casual simulation game that will bring out the inner chef in you. In this game, you get to run a restaurant where you prepare, cook and serve various dishes to waiting customers. Since this is a Christmas-themed game, you will be preparing a Christmas dish as well.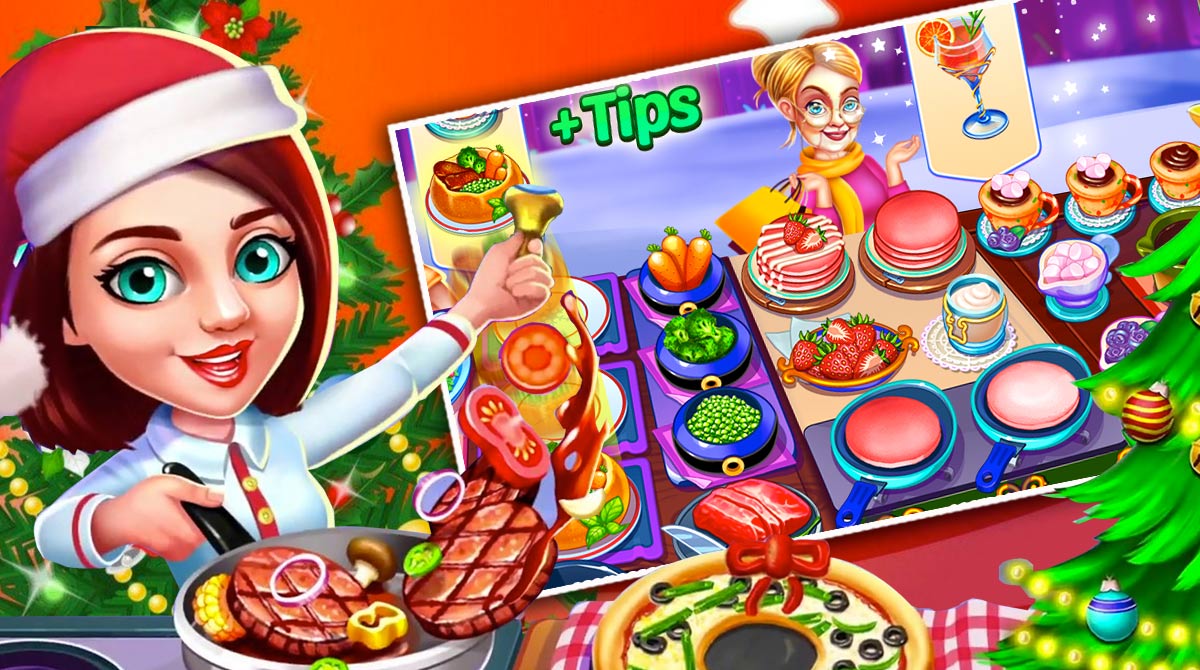 You get to prepare and cook more than 500 different dishes from all over the world. You also get to upgrade and develop your kitchen to be more efficient when serving customers. It's a fun game that can help stimulate your appetite as you wait for the festivities.
Christmas Solitaire: Santa's Winter Wonderland – A Unique Solitaire Card Game
If you are a big fan of card games, especially solitaire, then try playing Christmas Solitaire: Santa's Winter Wonderland. It's a Christmas-themed solitaire card game where Santa is your guide. This game lets you play the classic and fun solitaire game, but it has an added Christmas twist. The game also features different levels for you to complete. There are also fun daily tasks and gifts to acquire.

Christmas Sweeper 3: Puzzle Match-3 Christmas Game – An Enjoyable Puzzle Game
If you prefer playing puzzle games, then try playing Christmas Sweeper 3: Puzzle Match-3 Christmas Game. It's a typical match 3 puzzle game, which means it's going to be an addictive game. What's different here is that it is a Christmas-themed puzzle game. This means that puzzle pieces will be related to Christmas, allowing you to feel the yuletide season as you play the game.
The puzzle game also features over 4000 different levels to complete. What's great about this game is that you don't have to worry about losing lives. You also don't have to annoy your friends to give you lives to continue playing.

Christmas Story – An Amazing Casual Christmas Story Game
Many people consider Christmas as the best time of the year, especially for kids. It's a season full of love, laughter, giving, and so on. Of course, this season is also considered one of the busiest times of the year for others. Like with the Christmas Story, where the Christmas season is the busiest for Gingerboy and his team.


This is because he and his staff are running a toy store and they need to make sure it runs smoothly. This is where you'll come in. You can help Gingerboy and his team make sure that the store runs efficiently and as fast as possible. Your goal is to make sure all the kids have presents during the holiday season, so they will all have a very merry Christmas.
Final Thoughts
Christmas is a very fun and jolly time of the year. It's usually the favorite of many people, especially kids. It's full of delicious food, happy songs, and presents. Of course, Christmas is not always going to be all fun and games. There will be moments where things are calmer and a bit boring as people wait. During this time, the best way to keep the yuletide spirits up is to play Christmas-themed games. Just choose one from the five games listed above!