Multiplayer Online Battle Arena (MOBA) has grown to be a very popular game genre to date. This multiplayer game genre usually requires five players to form a team and battle it out with another group of five players. What makes MOBA games really famous is that it's a competitive genre where players must work together to win. As a matter of fact, this genre requires skills and strategy to challenge people worldwide.
While playing MOBA on handheld devices is widespread these days, lots of people prefer the bigger screen that computers offer. Problems like accidentally pressing another button when you want to press something else persist when playing on smartphones. Having pointed that out, below is a list of the five best MOBA games you can play for FREE on your PC today.
Top 5 MOBA Games for PC
If you're looking for the best MOBA games to play on PC, make sure to take a look at our list below;
League of Legends – Wild Rift
League of Legends Wild Rift is the pocket version of the very popular League of Legends (LoL) PC version. In fact, it took fans years of waiting for the highly anticipated League of Legends Wild Rift's public release. And since its announcement, this MOBA game has already gained die-hard fans and positive critics, most probably because of its similarities with its older sibling.
At the time of writing, League of Legends Wild Rift only has two game modes available. One is called Wild Rift where players can play PVP, tournament draft, and rank games. The newer game mode is called ARAM or All Random, All Mid where champions are chosen randomly for each player. As compared to the PC version, there are fewer champions available to League of Legends Wild Rift. However, immensely famous champions like Jinx and Ahri have made their way to the pocket MOBA game along with mobile exclusive ones.

Mobile Legends Bang Bang
Perhaps the most successful of all MOBA games to date is Mobile Legends Bang Bang (MLBB) or ML as other fans call it. As a testament to its immense fame, the MOBA game has garnered millions of fans and revenue to this day. Its millions of fans also made it possible for Mobile Legends Bang Bang to commence its Esports (electronic sports) tournaments in 2017.
Graphics-wise, Mobile Legends Bang Bang is more vibrant and lively in terms of the color coordination of its heroes. The game has various game modes available including Classic, Rank, Arcade, and Brawl, which cater to many age groups. There's also no scarcity of hero options because of the monthly releases of heroes in MLBB.
Furthermore, players need not worry because matchmaking only takes several seconds unlike the newer MOBA games in this list. It's partly due to the fact that Mobile Legends Bang Bang has been released earlier than the rest in this guide.

Arena of Valor
Compared to other MOBA games in this article, Arena of Valor (AoV) is somewhat new and has only recently garnered the fame it deserves. Arena of Valor is also one of the six Esports MOBA games that were part of the demonstration sport in the Asian Games and SEA Games. Currently housing 108 characters, this MOBA game somehow resembles League of Legends in terms of graphics.
However, there are various game modes to play in Arena of Valor unlike other MOBA games on our list. There's the classic 5v5 mode, an arcade 5v5 version, a 3-on-3 mode, a single-player versus single-player, a football-inspired arcade mode, Death Match, Mayhem, and Duo Race. Arcade modes are already present in other MOBA games but the Mayhem, Death Match, and Duo Race is something that only Arena of Valor has at this writing.
To expound, Mayhem mode consists of 20 players in a 10v10 confrontation. It's set in a bigger map version of the Antaris battlefield, now called Horizon Valley. The rules are still the same as the classic 5 on 5 but with more players and intense team fights to boot. Death Match is a 2v2v2v2v2 mode where players are grouped in pairs and spawned at five different locations on the map. Lastly, Duo Race is a co-op racing mode with 5 pairs racing against one another to see who reaches the finish line first.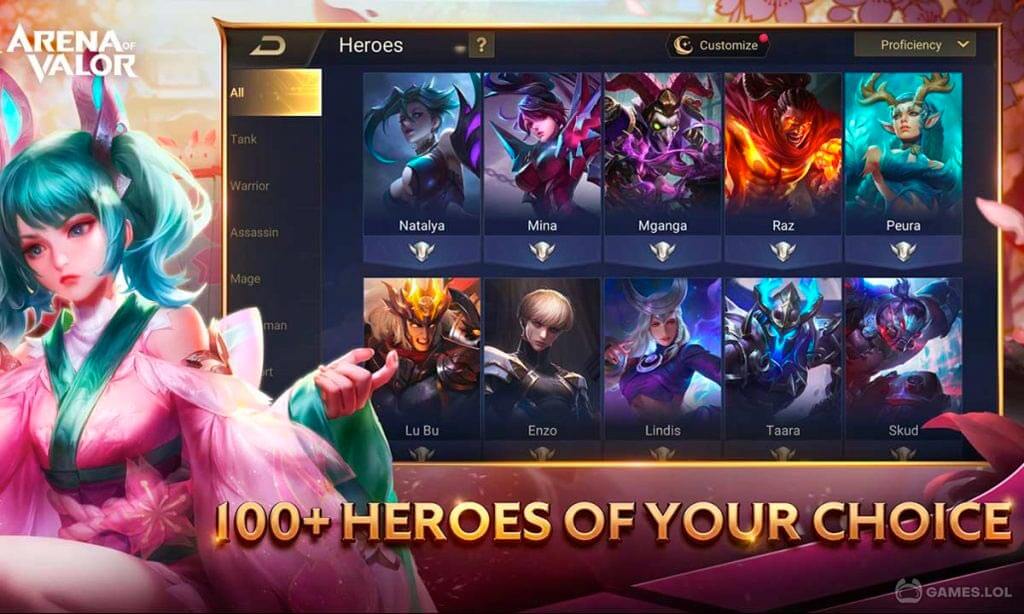 Pokémon UNITE
Pokémon UNITE is the MOBA game version of the widely loved anime series, Pokémon. In this MOBA game, 10 players battle it out on the field in teams of five versus five. From the game title itself, Pokémon UNITE is a MOBA game featuring Pokémon or pocket monsters. Titular characters like Pikachu, Bulbasaur, Charizard, and Squirtle appear in this game.
Contrary to other MOBA games requiring your team to destroy their base, Pokémon UNITE has a game rule uniquely its own. Players still have to kill enemy Pokémon and destroy the enemy base to win. But they also have to score goals on the enemy territory to gain points, just like shooting a basketball to a hoop. Additionally, the game incorporates a new mechanic called "UNITE Move" and more usable skills than other MOBA games.
Despite being relatively new, Pokémon UNITE has already garnered accolades and a huge fanbase. This is also because Pokémon, in general, has a wide reach thanks to its popular role-playing games before the release of this MOBA. Currently, there are around 30 Pokémon available to play.

Marvel Super War
Similar to Pokémon UNITE, Marvel Super War stemmed from the popularity of the Marvel Comics and Cinematic Universe movies and series. However, that does not take away the fact that this MOBA game is just as exciting. Marvel Super War features characters from the franchise with similar game modes to the rest of the MOBA games on our roster.
The game modes consist of a classic and rank 5v5 mode, a battle with an AI, and a 5v5 on a linear map. What makes Marvel Super War seemingly popular aside from the name is its titular characters. Furthermore, each character has the same powers and storyline as their cinematic and comical counterparts.


MOBA games have drastically improved through the years and will continue to do so in the future. There's an increasing number of MOBA games today and each one certainly has its pros and cons. Whatever game rocks your boat, make sure to check out these top 5 best MOBA games to play on your PC that you can download for free here in Games.lol.