In tower defense games, your main goal is to defend your territory or base by distracting or obliterating wave after wave of enemies. Most games under this genre share similar mechanics. Players put up defense units strategically on the battlefield while enemies keep coming to test the strength of these defenses.
The tower defense category is usually considered as a sub-genre of real-time strategy games and is also known to be combined with turn-based mechanics. It is one of the most popular game genres in the market. So if you are looking for a good tower defense game that is worth your time, we have taken the liberty to find the top 7 best titles of the genre. And take note, all these are free to play!
1. Kingdom Rush
Kingdom Rush is a tower defense game that features light-hearted cartoon violence. Players have to defend their land and repel mythical creatures like Orcs and Goblins by placing offensive and defensive towers along the borders. Just like any other defense game, players must think strategically in order to win. Kingdom Rush is definitely an exciting and fun game from the Kingdom Rush series that is worth checking out.
2. Plants vs. Zombies 2
Unless you were living under a rock in the past decade, you have probably played or heard about Plants vs Zombies before. The Plants vs Zombies series remains to be one of the most popular action-strategy zombie adventure games. And in Plants vs Zombies 2, you must defeat a bunch of crazy zombies from three different eras: Pirate Seas, Ancient Egypt, and the Wild West. So prepare your plant army and supercharge them with Plant Food!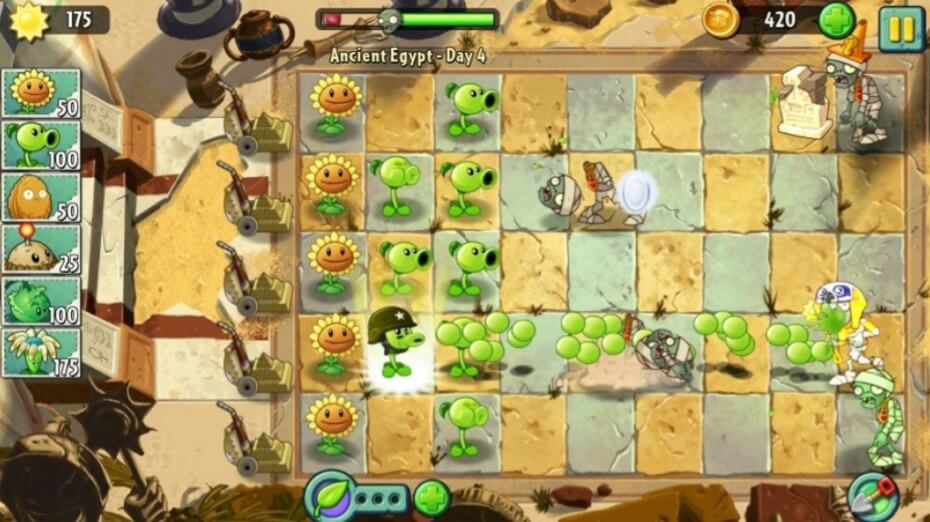 Like the first installment, the core concept of Plants vs. Zombies 2 is to build up a strong lineup of plants to attack and defend you from waves of zombies. The difference in the second installment is that there are more types of zombies that players will encounter, and there are also new types of plants as well.
3. Bloons TD
The Bloons Tower series is also one of the most popular tower defense games out there. In 2018, the series launched its 6th installation, Bloons TD 6. The latest version just added a bunch of new upgrades, a few more towers, additional 20 maps, new game mods, offline support, and so much more.
In this game, players must ward off incoming waves of enemy balloons by placing defensive units to shoot or pop those balloons. As you complete each level, the balloons become harder to defeat. To eliminate difficult balloons, players can choose to upgrade units and place new ones in the field.
4. Clash Royale
Clash Royale is a real-time strategy action game where players choose from a deck of cards and fight against other players in crazed duels. Players have to defend their land from opponents while simultaneously attacking enemy towers. Each player must drag their chosen card onto the battlefield to summon characters by using a magical elixir.

You can earn a chest of gold, gems, and new character cards by successfully destroying your opponent's tower. Each round usually lasts for just two minutes. All resources and items earned can be used to acquire a better deck and upgrade combatants. Players can customize battle decks, join clans, buy stronger cards, upgrades, and so much more.
5. Arknights
In Arknights, you will take on the role of an amnesiac doctor who represents a pharmaceutical company. In this game, you will fight a deadly infection and save the ones left in its wake. You are summoned to command a team of fighters and combat the spread of a deadly virus as well!
Arknights is a strategy game where players must keep their enemies at bay. Just like other tower defense games, your main objective is to defeat enemies before they can even cross the borders and get past your last line of defense. You must strategically place units on the battlefield to stop them at once. Arknights is an amazing tower defense game that transports players to a futuristic, post-apocalyptic world. The game also features well-crafted anime graphics and a generous gacha system.
6. Dream Defense
Dream Defense is an action-adventure shooter game where you play as an adorable gun-slinging teddy bear to protect Robin from ferocious monsters in her nightmares. You have to hold them off and shoot down waves of monsters and protect Robin at all costs!
7. Swamp Attack
Swamp Attack is another tower defense game with a wacky southern theme. It is similar to Plants vs. Zombies because it also features a wave of zombies that will disturb your home. But aside from zombies, there are also crocodiles and aliens that will try to invade your home too.
You have to fend off all these creatures by just using a trusty old gun. With over 350 levels to complete, this game should keep you hooked for a while. However, it is not as fast-paced as other tower defense games, but it is sure fun to play.
For more free tower defense games, why not browse through our catalog at Games.lol. We have tons of strategy games, RPGs, and multiplayer games that offer the same fun, thrill, and excitement as the games mentioned here!