In conjunction with the new movie by Marvel Cinematic Universe, there are 2 new additions to Marvel Contest of Champions (MCOC)! With Ant-Man and the Wasp movie released on 4th July, Marvel movies are once again the talk of the town.
In fact, this is the second Ant-Man movie after the initial one released in 2015. We are expecting more action-packed scenes and leading performances by Ant-Man as this is the last movie in 2018 by Marvel, before the release of Captain Marvel (early 2019) and the highly-anticipated Avengers 4 film that is projected to be released by the end of 2019.
Spoilers ahead:
Those who have watched the latest Avengers film (Avengers: Infinity War) would know that due to Thanos' completed Infinity Gauntlet, half of all life across the universe had vanished into thin air. And since Ant-Man did not join in this fight, fans are curious what the Marvel has in stored for them for the upcoming Ant-Man and the Wasp movie, and also the Avengers 4 film.
OK, enough of movie talk, we are also thrilled to hear that Kabam is adding 2 new champions into the Contest of Champions. Ant-Man and Yellowjacket, who are rivals in the film, are also arch nemeses in the game.
New Characters Released
Ant-Man and Yellowjacket, being Science Champions, have a class bonus against Mystic Champions such as Doctor Strange and Juggernaut but are weak against Skill Champions such as Black Panther and Thor. Being members of the Science class, not only do both Ant-Man and Yellowjacket have strong defensive capabilities, they are also strong in their offensive skills.
Ant-Man
Signature Ability: Pym Gas Control
Special Attacks: Pym Punch, Ant Swarm, Ant-Sized Knockout
Synergy Partners: Black Panther (Civil War), Doctor Octopus, Falcon, Hulk, Iron Man, Scarlet Witch, Sentinel, Spider-Man (Classic), Yellowjacket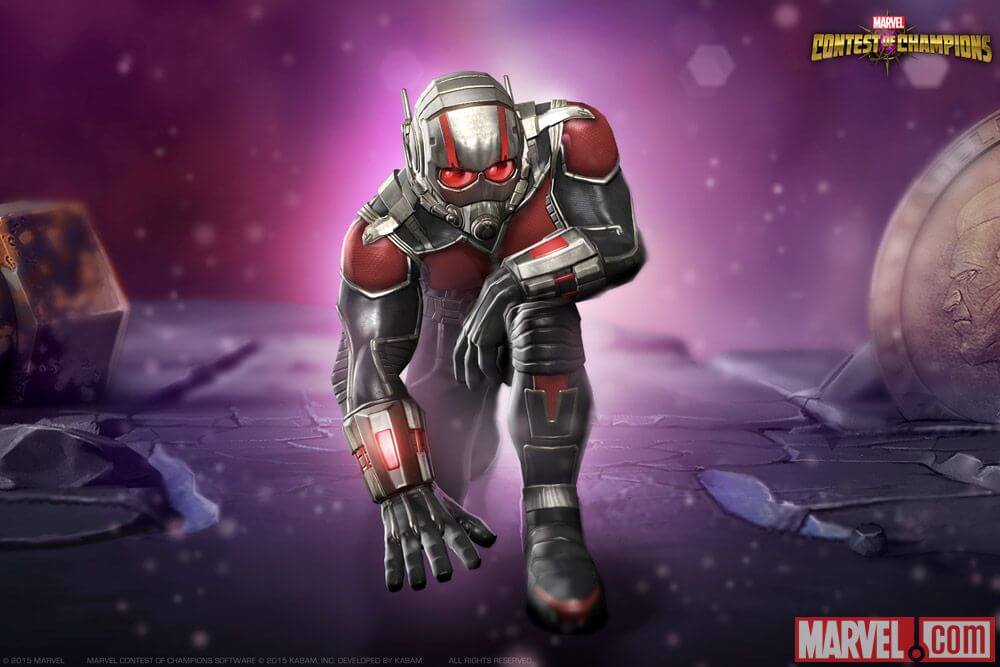 Yellowjacket
Signature Ability: Biosting 2.0
Special Attacks: Biosting Blast, Power Sting, Biosting Barrage
Synergy Partners: Ant-Man, Hulkbuster, Joe Fixit, Superior Iron Man, Ultron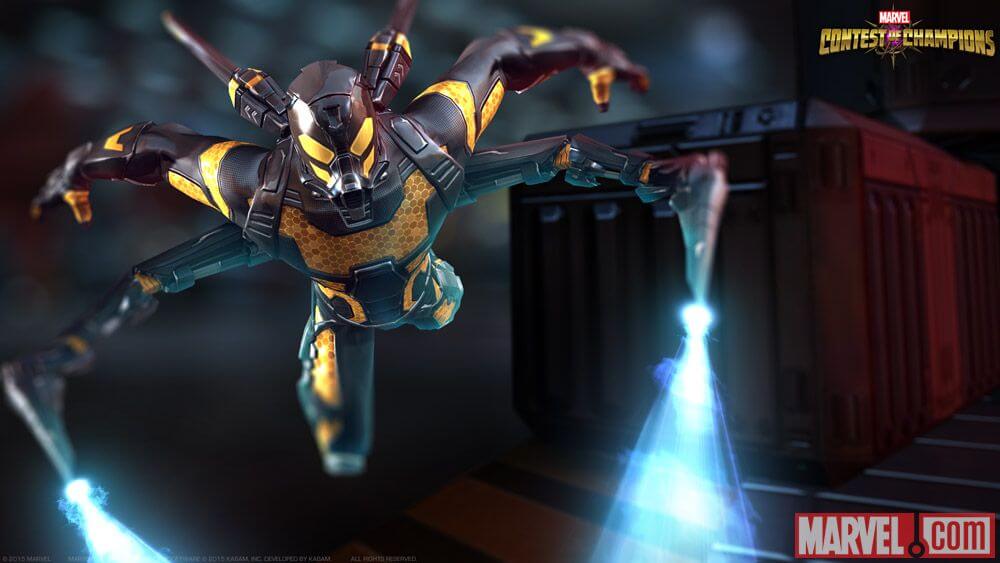 So what makes them different? Who should you focus on when levelling up their stats?
It's like comparing a Hero with a Villain, where it's a constant tug-o-war. There would not be a clear winner as it all depends on how you strategize it. Ant-Man's Ant Swarm attack is able to poison its opponent and weaken their healing abilities, which puts him at an advantage in front of healer Champions such as Wolverine and Deadpool. His status effect, Fatigue, decreases the chance of Critical Hits from his opponents, resulting in less effective damages from them.
On the other hand, Yellowjacket's new status effect of Power String bring damage to his opponents when they try to inflict huge damage on him (much like a deflecting damage thing), taking defense as an offense to another level.
Let us know what you think of these 2 new characters by Kabam! Leave a comment on our Facebook page.
Upcoming Champion Challenge Event
To celebrate the upcoming Ant-Man and the Wasp movie by Marvel Studios, Kabam is introducing new quests and other add-ons into the game Marvel Contest of Champions (MCOC). With Evangeline Lilly's upcoming Champion Challenge, we believe that there will be a hype amongst the players of Contest of Champions once again. You can join in the fun too by downloading the game on PC now! The Wasp has assembled her dream team; can you beat her? Challenge yourselves and find out if you can earn the "Triumph-Ant" title!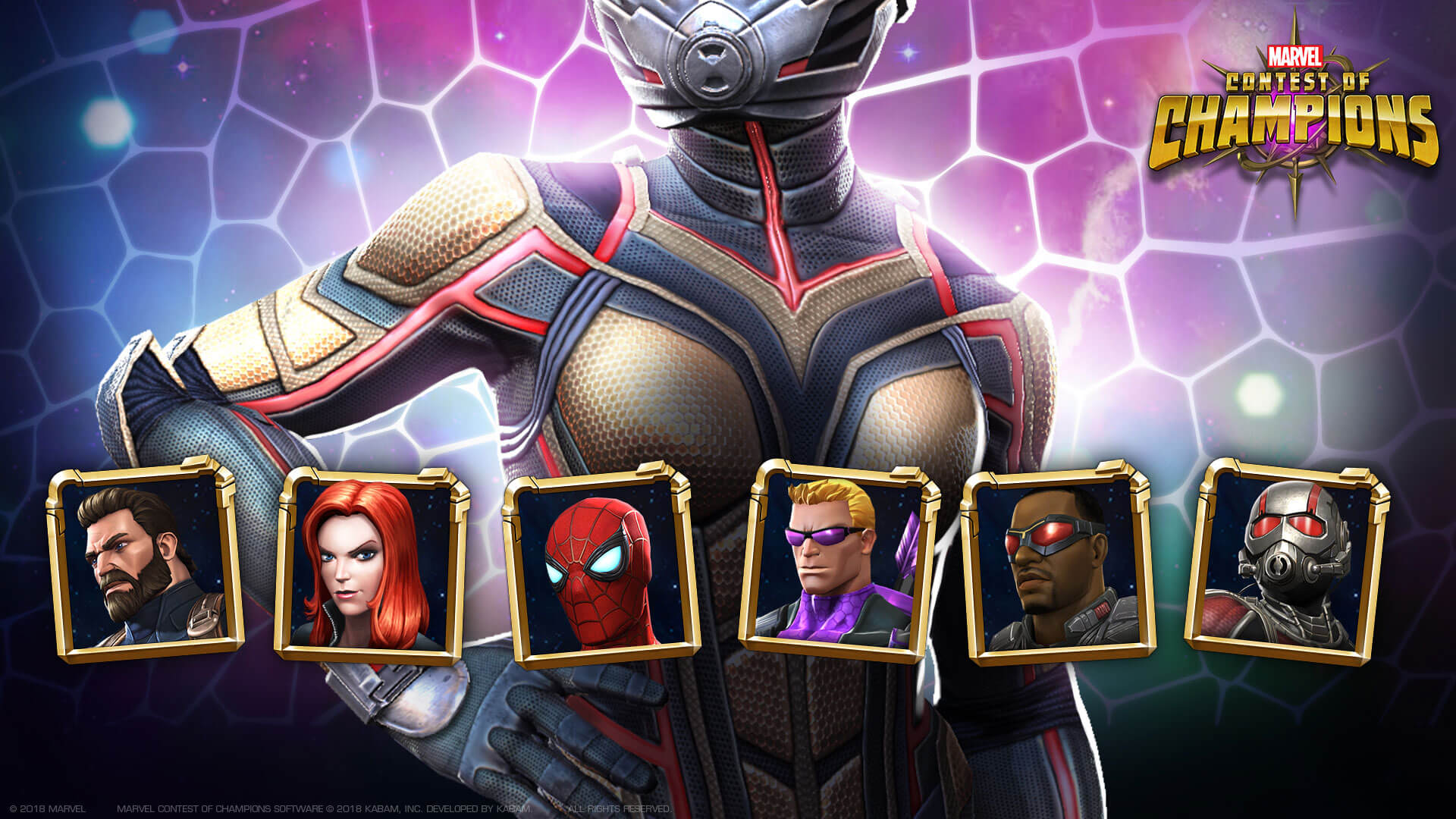 Evangeline Lilly's Champion Challenge will include 1 chapter and 4 quests. Each quest will contain 31 fights (wow that's a tough one). Defeat all the Wasp's Champions and earn the "Triumph-Ant" title! This event will be available from now till 18th July. Download the game and play now before the event ends!
And the line-up? Evangeline Lilly's dream team will include Captain America (Infinity War), Black Widow, Stark Spider-Man, Falcon, Hawkeye, and last but not least, Ant-Man! Plan your fights and assemble the right team. Size is definitely a factor to consider when assembling your team. The buff changes gameplay depending on your Champion's size. Be sure to recruit a bigger Champion for the job.