One of the challenging changes that happened during this pandemic is that a lot of pupils and students need to cope with attending online classes instead of going to traditional classrooms to study. Although safe from harm, parents and teachers are having a hard time getting their students to focus on class, especially when virtual classes are ongoing.
One good way to keep students focused, especially for kids age three and above, is by letting them play educational kids' games right on their PC. These games are not only created for recreational purposes but also to help students understand their lessons more. So, if you're interested in playing these educational kids' games, let this list help you out.
Top 8 Educational Kids Games
Here are the best educational kids games you can try on your students or children.
1. Kids Preschool Learning Games
Starting the list of best educational games is Kids Preschool Learning Games. It is a fun and engaging game perfect for first-time schoolers such as kindergarteners and preschoolers. It's a game where they can learn more about the basics, such as ABCs and numbers. However, aside from ABCs and numbers, this game also covers 25 games. For instance, you'll find games that revolve around shapes, colors, animals, fruits, and even basic spelling.
Your toddler will surely be captivated by this game with its unique colorful graphics and engaging sound effects. So, if you're looking for an educational game that will boost your child's memory and attention, this game is perfect for them.

2. Body Parts For Kids
The next educational kids game you must not miss letting your little one play is Body Parts For Kids. If you're having trouble teaching your child about body parts, then you must try introducing this game to your kids. This game teaches the essential body organs, parts and even bone structure. Furthermore, it teaches young people the proper pronunciation of each body part while having fun.
It also features some mini-games your little one can enjoy, like coloring games, dressing up games and many more. It is a great game that enhances your child's knowledge and visual skills as well.

3. Tutoplay
Another fun and exciting game your child can play is Tutoplay. Your little one can experience more than 20 games on just one platform in this game. Moreover, it's an amazing game that will keep your kids busy while learning simultaneously. Your child will surely enjoy this app as it offers loads of games that they can explore and boost their knowledge.
Some of the games here are simple math games, dressing-up games, and more. Each game depicts a unique theme and objectives.

4. Animal Farm For Kids – Learn Animals For Toddlers
Joining the list of best educational games is Animal Farm For Kids. Who said learning about animals is boring? In this game, your preschooler will surely have fun learning about different animals while doing farm chores virtually. Moreover, your child will learn various stuff on a farm, such as animals, plants, and more.
If you want to enhance your child's mental skills and become acquainted with basic tasks such as feeding animals, bathing them, and more. There are 15 educational games in this game where your child can boost their creativity, curiosity, and imagination.

5. Little Panda Math Genius – Education Game for Kids
If you're searching for an educational game that will boost your child's ability to solve mathematics problems, you must try Little Panda Math Genius. Let's admit it, Math is everywhere, and we can't get rid of it. With this game, you can teach your child about Math in a more engaging way.
Furthermore, this game will only teach your child the basics such as addition, subtraction, and many more in a fun way. Your child will surely enjoy playing this game and forget hating Mathematics with its excellent animations and remarkable effects.

6. ABCya! Games
Landing on the sixth spot is the ABCya! Games. There's also an ABCya website, where millions of parents, teachers, and kids usually go for various learning games. But with Games.lol, there's no need to access that website as you can directly access the numerous fun and learning games right on your PC.
Apart from that, your child can experience over 250 educational games and activities that will boost their knowledge and attention in this game. These games are set according to the level of skills of your child and grade level. What's more incredible about this game is it updates every month, adding new games and content.

7. Math Games, Learn Add, Subtract, Multiply & Divide
Another educational game that will enhance your child's mathematical skills is Math Games, Learn Add, Subtract, Multiply & Divide. As the title suggests, your child will learn the basic four basic operations interactively and engagingly. And with its featured six game modes, no wonder your child will be a great mathematician in the future and see Math as a fun subject to learn with. Even parents can test their mathematical prowess by trying challenging quizzes, sudokus, and more. You can also boost your child's competitiveness by letting them compete with other players online.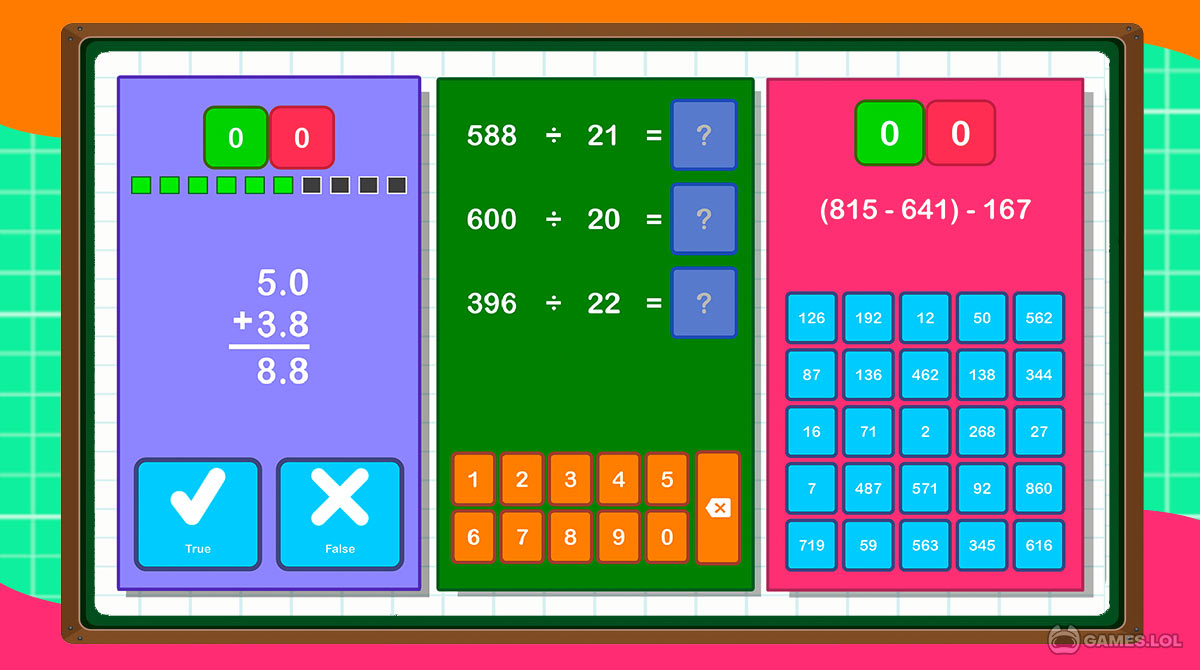 8. Vlad & Niki. Educational Games
Last but definitely not least, your child must not miss trying to play the Vlad & Niki. Educational Games. It's a game that features loads of puzzles and innovative games that will boost your child's concentration, reasoning, memory and learning skills. Moreover, in Vlad & Niki, most of the games are about shapes, colors, and sizes in this game. Some puzzles highlight math and word problems.
Moreover, this educational game is highly recommended for first-time schoolers that lack focus and memory. With its delightful animations and bright visuals, your child will surely enjoy learning while enhancing their attention and analytical skills.

Try More Educational Kids Games on PC
Aside from the top eight educational kids games featured above, there are more educational games you and your kids can try. Take a look at the list below;
These educational games will help your little kids learn and enjoy themselves at the same time! If you want to find more educational kids games, visit Games.lol and download them here for free!