The presence of LoL Wild Rift and Mobile Legends is proof that MOBA, or Multiplayer Online Battle Arena, games are not dead at all. In fact, Wild Rift and ML still have the most players on portable devices, especially in Asia. However, if you only played one or if you have never played a MOBA at all and would like to get into it, you might wonder what makes one game so different from the other? Don't worry, we'll help you out in knowing the contrasts between the two multiplayer giants.
LoL Wild Rift
League of Legends Wild Rift is the portable edition of the ever-popular PC game, League of Legends. Before we skip to the comparison of Wild Rift and Mobile Legends, let's compare LoL and Wild Rift first.
In summary, League of Legends is still a PC-only game that has over more than 120 champions and 5 million monthly concurrent players worldwide. Published by Riot Games, League is still considered the most played PC game even after 12 years since its release back in 2009. With constant updates, a highly active community, and a major-sponsored esports, League of Legends has become more than a game; rather, it has become a competitive ground for digital athletes.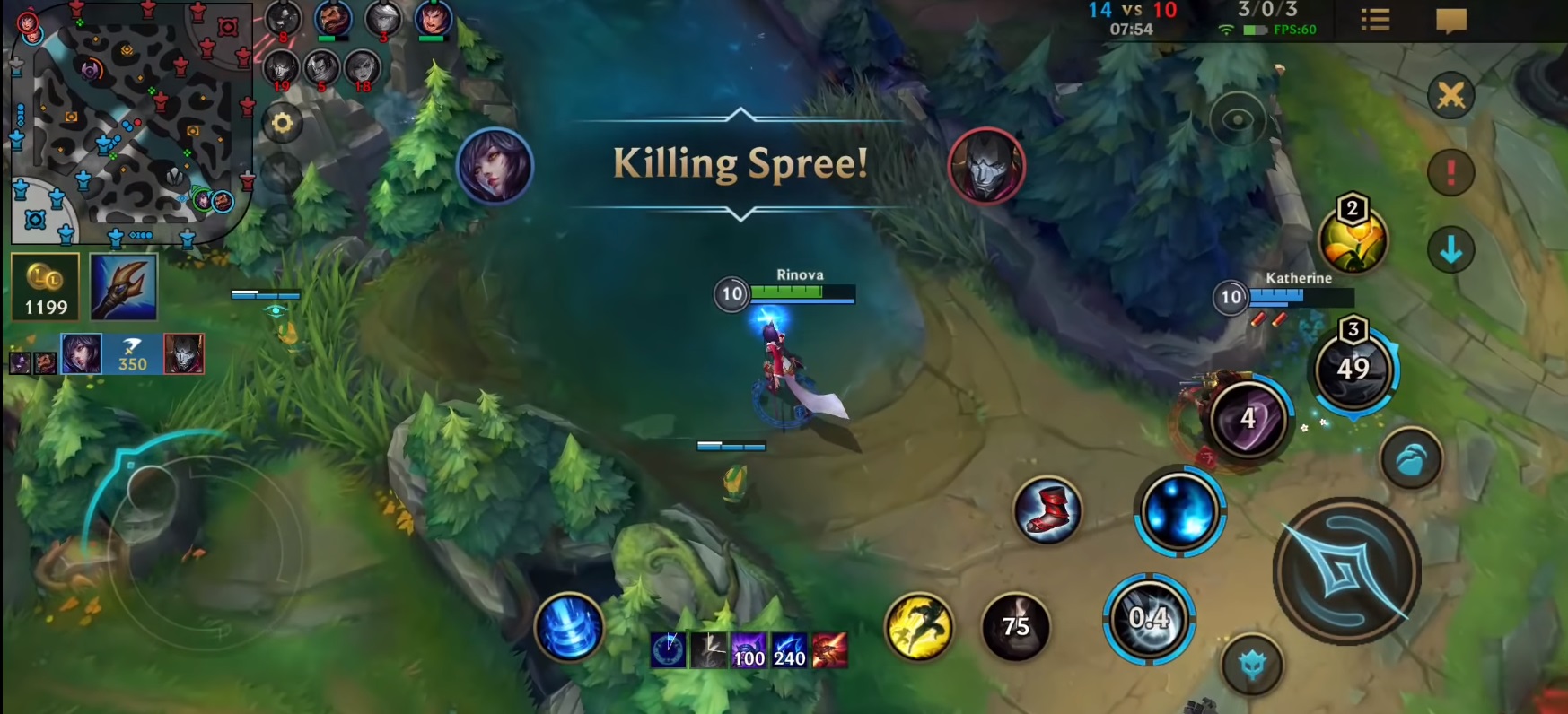 To broaden the audience more, LoL Wild Rift is the latest entry from Riot Games. Wild Rift serves as a portable edition of their widely successful League of Legends but with a few tweaks here and there. It is a more streamlined and casual game made for faster matches and an easier targeting system. This game is not at all correlated to League of Legends PC. Instead, Wild Rift is considered a spin-off and an alternate universe.
The game was released in late 2020; first in Southeast Asia, and then onwards to the Americas. It received overwhelmingly positive reviews from both critics and players alike. As the PC version of League of Legends continues to heighten its skill ceiling, Wild Rift serves as a more chilled out and less "sweatier" experience. However, the "sweat," which is a term in the gaming community in which players treat the game too competitively, leading to toxic behavior, is still apparent in Wild Rift.
The matches are shorter, the roster is smaller, and the abilities of each champion are overhauled for both console and mobile players. As for controls, you use a joystick system a la Mobile Legends instead of a point and click like the original League of Legends.
Mobile Legends
Meanwhile, Mobile Legends is considered as the game that popularized MOBA in mobile gaming into the mainstream. While it was never the first mobile MOBA (Gameloft's Heroes of Order & Chaos and SUPEREVILMEGACORP's Vainglory came first), it was the game that garnered the attention of both MOBA fans and non-gamers.


First of all, the game was accessible to everybody with a phone. Second, the game had very low specs, meaning that even if you have a potato phone, you can still run the game smoothly. And, third, its name is very easy to remember.
Developed by China's Moonton in 2016, Mobile Legends' popularity spread like wildfire across China, Thailand, Malaysia, Indonesia, and the Philippines.
However, in 2020, Moonton overhauled the game to provide a better quality of life changes for its players. This was a response from Moonton after the announcement of Wild Rift, fearing that they may lose millions of players because of Riot Games.
The game is very easy to understand as it breaks off plenty of MOBA textbook elements such as buying items at your base, having an average of 20 to 45 minutes for one match, no last-hitting minions, and an almost automated targeting system. These allow for faster combat and let low-skilled players dominate over others. The game also includes a competitive ranked mode, limited-time game features, and auto chess.
Major Comparisons
It doesn't matter which game you prefer to play because MOBAs are something that's not enjoyable unless you like pain and suffering and teammates constantly bickering you. But if you're curious to know their differences and similarities, read on.
Match Time
An average match time will only take you around 10 to 25 minutes to finish. This applies to both casual and competitive modes.
Roster
Right now, Wild Rift only has 57 champions and counting. Meanwhile, Mobile Legends has over 104 heroes and is still counting. Each of them has its own unique abilities, roles, and difficulties.
Gameplay
Nothing much is different between the two. However, Wild Rift takes a more strategic and intensive approach. To buy items, you need to go back to your base. To earn more gold, you must last-hit the minions in your lane or monsters in your jungle. Also, you can ward off any bush you find to provide more visibility for you and your team.
Mobile Legends focuses on a more brawler type as it wants you to put into the action straight away. You can buy items on the fly anywhere on the map and there are lesser bushes in the game.
Controls
Both of them use the joystick system; something that we're not fond of because Vainglory did it best with the use of touch controls.
Community
Both are toxic. Let's leave it at that.
Conclusion
It doesn't matter which game you pick, whether between LoL Wild Rift and Mobile Legends. But if you prefer something more strategic and slower-paced, Wild Rift is better for you. However, if you like to play with lesser brain power, Mobile Legends suits you more.