If you are looking for a fun casual game to play, then you should try playing endless runner games. They are games where your character would continually run forward without any end in sight. The only way your character will stop running is if you hit an obstacle. However, you can control your character to avoid obstacles. You can jump, slide under them, or move to the right or left to continue running.
The simple and quick gameplay, as well as the challenging and addictive nature of these types of running games, make them a popular selection for many people. But if you're like many people, you likely won't have the time or even storage space to download every endless runner game and decide which one among them you'd want to play regularly on your device.
The 10 Best Casual Endless Runner Games
To help you easily decide which casual endless runner game to play, this article will be listing down the top 10 best endless runner games in 2020 that you can download and play this year! Check out the list below.
10. Running Fred
One of the best endless running games that you can download and play from the PlayStore today is Running Fred. This game is actually a sequel to another fun and addictive game, Falling Fred. This game will continue the funny, wacky, and painful antics that Fred will be doing. But this time he will be running forward.
9. Happy Hop
Another casual endless running game that you can play is Happy Hop. But unlike most of the games on this list, this one is technically an endless hop game instead of a running game. That's right, your character will be hopping up towards the platform and you just need to tap left or right to make it move up. But you have to hurry before the platform moves, breaks, or disappears. Along the way, there will be chests full of items, decorations, and costumes you can use.
8. Temple Run 2
Any casual endless running game list won't be complete without the game that popularized the genre, the Temple Run franchise. For this list, we decided to include Temple Run 2. This sequel is the same as the original one, only with better graphics and more fun maps to choose from. It continues where the first one left off, where you're trying to run away from monsters trying to catch you for visiting their cave.
7. Crossy Road
Crossy Road is another endless runner game that you can download and play. But unlike most of the game's on this list, your character here won't be moving automatically. You will be the one directing when the chicken (or other characters) will move. There are many obstacles that you have to avoid, and the goal is to travel as far away as possible without being hit by an obstacle.
6. Into The Dead 2
If you prefer a different type of endless runner game, then you will love Into The Dead 2. This game continues where the first game left off, where the character is trying to get home while avoiding zombies along the way.
What makes this endless running game different is that you will be encountering zombies along the way. But don't worry, you will be walking forward with a gun so you can shoot down these zombies before they get you. It's a fun, challenging, and scary endless running game to play.
5. Sonic Dash 1 & 2
Fifth on the list will be Sonic Dash 1 and 2. Both games are fun endless running games where you can use characters from the Sonic the Hedgehog franchise. What's fun about this is that the characters will have special abilities, which you can use to overcome obstacles that will try to block your path. This gives you an added layer of strategy and action that you can do when you're trying to go as far as possible to reach a high score.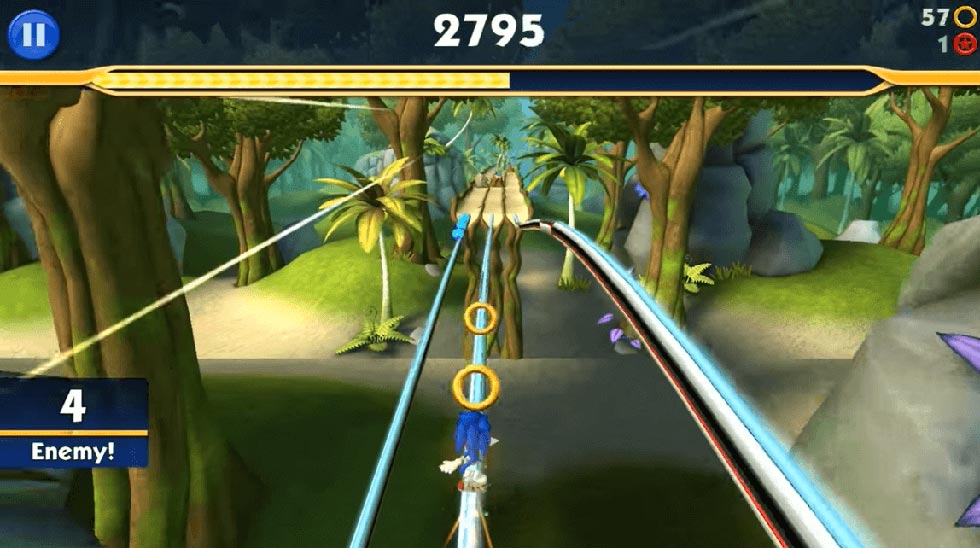 4. Jetpack Joyride
If you're someone who likes a side-scrolling endless runner game instead of moving forward, then Jetpack Joyride is a good option. You once again join Barry Steakfries, but this time, you come equipped with cool jetpacks or suit up in awesome robots and help him in his endless running quest. As Barry automatically moves, you help him collect coins and avoid obstacles in the process. The goal is to beat scientists to the lab, so try to avoid hitting obstacles or you will lose.
3. Subway Surfers
If you are into hoverboards, then Subway Surfers is your endless running game. This is a typical running game where your character will move forward while being chased by someone. You have to jump, slide under, or sidestep left or right to avoid obstacles.
What's great about this game is that you can also escape in style by using hoverboards. Hoverboards also grant an extra life, because you can still go on running after the hoverboard hits an obstacle and gets destroyed.
2. Alto's Odyssey
If sandboarding is your thing, then Alto's Odyssey is the game for you. This is a side-scrolling endless runner game that takes place in the desert. You join Alto and his friends as you sandboard on the desert, journeying to uncover secrets that the vast desert is hiding. You will be encountering many obstacles along the way, which includes being chased by mysterious Lemurs. It's a fun game, and it's one of the best endless runner games that you can play today.
1. Super Mario Run
The best endless runner game that you can download and play would be Super Mario Run. Yes, Super Mario still tops this genre, even in 2020. This game is similar to the classic side-scrolling Super Mario games. But the main difference, aside from better graphics, is that Mario will be moving forward automatically.
Like all running games, you just have to properly time your jumps to avoid hitting enemies or being stuck. You can do midair spins, wall jumps, and many more! The game also features the usual elements of the classic Super Mario, where you can collect coins, eat mushrooms to grow, and so on.
The list above contains the best endless running game titles that you can download right now. It doesn't matter which one you download, as all of them are great games. You won't regret playing either one of them. But be warned, all the games listed here are addictive to play, so don't be surprised to find yourself playing one of these games for hours!