Video games have come a long way. Before, single-player video games were the norm. Now, multiplayer options are available so you can play with your friends and family. You don't need to meet up with them just to enjoy it because the internet has done a pretty great job connecting players from all around the world. There are many games available for you to play with other players know which are called MOBA games or multiplayer online battle arena games. These have taken over the video game industry, and some are even being considered e-Sport now.
If you're searching for the best moba games to play with your friends or solo, check out the list we have for you below. These are some of the top MOBAs that you can find on the market today, and these are for free (except for the in-game purchases). Surely, you'll have a great time playing them during your lunch break since these are playable for 15 minutes or less. So gather your wits and get to know these exciting MOBA games, where skills and strategies are combined for the best gameplay of them all.
Get to Know the Greatest MOBA Games 2021
MOBA games are the type of games that offer a unique battle experience. You're usually with other players or your friends to achieve a particular goal. So if you want to experience the best OBA 2021 games, then make sure to check out the five MOBA games we have listed below for you. These are some of the most popular in the gaming industry today. So if you're ready to play, get to know the most enjoyable and enigmatic MOBA games 2021 has to offer!
1. Pokémon UNITE – A Unique MOBA Game
Pokémon is one of the top anime that millions of anime fans love. There are tons of different Pokémon titles you can also play today – all available on different kinds of platforms. And now, you can enjoy a unique MOBA game in Pokémon UNITE, too. It's a combination of battles, adventure, and collecting those cool Pokémon. It's an action-packed multiplayer strategy game developed by The Pokémon Company. The battles you will experience here are far different from the usual Pokémon battles you were used to playing.

Pokémon UNITE is a 5v5 MOBA game, so you'll be teaming up with other trainers. Your goal is to score points and overpower your enemies. Plenty of Pokémons will be scattered around the map, and you need to destroy them all. At the same time, you have to collect aeos, which are energies that these Pokémons drop. After that, you have to put the aeos on your opponent's goal post. After that, you'll be scoring points. So the more aeos you put in their goal post, the higher the score you earn.
2. League of Legends: Wild Rift – Welcome to Wild Rift!
League of Legends: Wild Rift is another MOBA game by Riot Games Inc. It's an intense multiplayer battle that offers the same familiar gameplay similar to the Riot game counterpart, League of Legends. So you'll have the chance to enjoy your favorite League of Legends gameplay and champions, but a bit faster because of the difference in map and layout. Instead of playing in the Summoner's Rift, you're brought to Wild Rift. The map will be here instead of the usual asymmetrical one.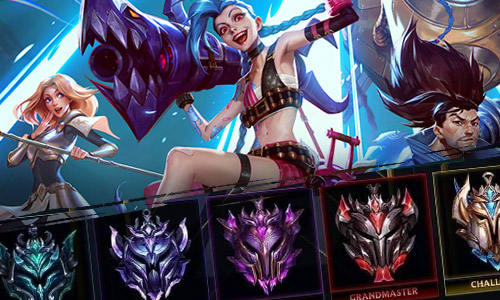 Plus, there are no inhibitors and turrets near the Nexus. The jungle has Krugs too, which will be hiding in the bushes instead of behind the wall. Overall, it has a faster and shorter game time. The standard gameplay will only last from 15-20 minutes. So you can enjoy this epic MOBA game in under an hour.
3. Mobile Legends: Bang Bang – Intense MOBA Experience
Mobile Legends: Bang Bang is another intense and epic fast-based battle set in an exciting arena. You and your teammates will be playing against another team while your goal is to destroy their enemy's base. There are hundreds of heroes to choose from, all with their own set of unique skills and abilities. You can now experience a competitive battle, where you have to lead your team to victory while you unleash the powers of your heroes with a click of the button.

Developed and published by Moontoon in 2016, it gives you a highly immersive experience that allows you to collect the different kinds of champions. You will be developing them during your daring battles. Two of the main selling points of Mobile Legends is that they encourage skill-based and strategic gameplay. Plus, you can play with your friends, go solo, or meet other players through its matchmaking feature. It's perfect for players who crave competitiveness.
4. Brawl Stars – Answer the Call of the Brawl
Another exciting creation of Supercell is Brawl Stars. It's an ideal game for teens, which focuses on brawlers attacking other brawlers. The whole objective is to defeat them and take their health down. Just like any other MOBA game, you get to choose your brawler from a vast selection of brawlers. Each of the characters displays unique gameplay in terms of attack, health, and super. Super refers to the super attack that they have while handling the damage of their enemies.

Brawl Stars has various game modes, which are 3v3 mode, Gem Grab, Bounty, Heist, Siege, and Showdown. Each of these modes has different objectives, and you get substantial rewards in exchange for winning the game. Plus, there are unique events you can participate in, such as the monthly championship mode, where you have to win at least 15 wins in 3v3 modes before reaching four losses.
5. Arena of Valor – Join the Battle in the Arena
If you're looking for another type of heroic battle in the arena, then you might have heard of Arena of Valor. It's an iconic 5v5 MOBA game by Tencent Games. Here, you get to join epic 5v5 battles with the help of your allies. It's one of the most graphically entertaining and expansive MOBA games among the other titles in the market today. You can win in ten minutes. So choose the best heroes from a comprehensive range of champions while you immerse yourself in enticing gameplay.

The rules are easy to learn, and you get to enjoy all the necessary tools needed to enjoy the game. There's a mini-map where you can see your enemies once they're within your line of sight. Overall, it's one of the best games to play on your PC.
The Bottomline
If you enjoy multiplayer games, then we have the top five covered just for you. Play these immersive and fun games with your allies now to experience battle-royale-like gameplay on a bigger screen, all thanks to Games.lol!