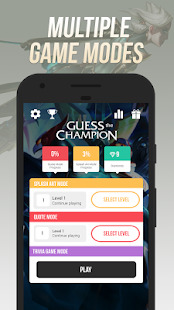 Test your knowledge of League of Legends! Guess the names of the 134 champions based on their splash arts or phrases. There are more than 260 levels! Train your memory and learn more about League of Legends.

- More than 260 levels to play!
- 2 game modes to play
- Achievements and Leaderboards
- Daily Rewards: play everyday and get prizes
- 5 languages: English, Spanish, French, German and Portuguese!
- It's free!

Disclaimer:

'LoL Guess the Champion' isn't endorsed by Riot Games and doesn't reflect the views or opinions of Riot Games or anyone officially involved in producing or managing League of Legends. League of Legends and Riot Games are trademarks or registered trademarks of Riot Games, Inc. League of Legends © Riot Games, Inc.