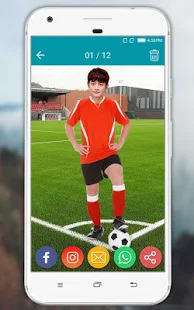 Football Photo Editor - Soccer Photo Suit the best and easy way to see you in footballer dress is using this football dress for football lover application. Cheer your favorite country and be the true Football lovers. See your photo in footballer photo suit and share the same with your friends and family members. Football photo Suit is the latest suit in football photo editor app style man wear. Here you can see how you look in these clothes if you purchase these clothes. Football photo frame is developed to support your favorite team with a perfect profile pictures of you. You can place footballer dress on your photo by simple few steps.

Football Photo suit is photo editing app that provides a simple way for creating professional digital imaging results. This free photo editing app is simple, includes drawing tools, color and saturation adjustments, image and canvas sizing, and a good set of filters. Football Photo suit helps you produce professional digital imaging results with power and ease. Football suit photo editor editing your image nice formate. Football pics is very high-quality store your mobile device. Every football fans like this app. Football sticker also adds you jerseys. Footballers photo suit enjoying multiple jerseys in an application.

Features of Football Photo Editor - Soccer Photo Suit.

# Take a picture with photo frame from an instant camera or choose from a gallery.
# Capture picture with both front and back camera of your device.
# Choose your favorite frame and see the photo image effects.
# Adjust photos precisely to fit your face in hole perfectly.
# Football jersey photo suit in multiple jerseys available.
# Football photo suit editor creates different type jerseys.

Football Photo Editor - Soccer Photo Suit app creates an awesome picture by putting the face on football photo for pics for WhatsApp profile pictures or any social media platform. It also includes the latest feature for focus and Filter with color name and decorates name with stylish fonts that help you to make an awesome image art. Football dress photo suit in change footballer player jersey easily. barcelona football photo editor is a most popular application of play store. football photo editor also changes the background image and player jerseys. football photo frames in-app user enjoying the application graphic and image quality.

Football photo editor app many jerseys so it calls sports jersey maker app. Sports jersey designer app in add text player. Your also jersey club sports for club team creates. Football players wallpapers hd in a display. Football penalty games in use create jerseys design. Football games 2017 new 3d many people enjoying it and also football games 2018. You can also add football strike on football jerseys. Football photo editor app last saves football photos on your mobile device. Football shirt in multiple colors available for the player to select and edit jersey. You are creating jersey of custom for a player. Footballer pics nice to create in a stadium. In this, all image save in football album or football picture. Football social network also shares for Facebook and WhatsApp. Football soccer picture is very nice to share the social network. It soccer pro app we are many updates for this application. Photo editor WhatsApp dp is best app football soccer. Football editor professional app is powerful photo editing software tool for stylish textart on your photo and lets the photo fun begin.

Download and give us a review for Football Photo Editor - Soccer Photo Suit.