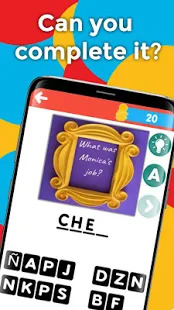 Friends Quiz is the ultimate FRIENDS Trivia for die-hard Friends TV Show's fans. Test your knowledge and have fun with this simple quiz.
The objective of this game is to give you a smile remembering the best show of all time. The questions are based on some of the greatest punchlines to make you laugh hard and to see how big fan you are. Are you ready to test everything you know about this serie?

Friends Trivia Quiz has all the questions, including:
Chandler's sarcasm, Phoebe's weirdness, Joey's flirting, Ross's intelligence, Rachel's shopping, Monica's organizing, Janice "Oh my God" and more.

This game has more than 70 levels!
So, whether you are looking for a simple FRIENDS game trivia to have a laugh or you are looking to see how big fan you are by answering F.R.I.E.N.D.S trivia, this is your game!.

FEATURES
- More than 70 incredible, fun and entertaining levels about FRIENDS
- The game quiz increases in difficulty as you complete levels
- Test everything you know about this TV Show Serie
- You can use the coins to discover a letter and even to solve the word

You have read full description. Now, if you don't download the Friends Quiz and Trivia game, it will all be a MOO-Point.
So, why not have a hard laugh while playing the game and remembering the show? Download it now and see how big how you love FRIENDS.

Disclaimer:
All the character names and the storyline belongs to FRIENDS TV show and the copyright holder. The game is made just for fun keeping in mind the fair usage policy.