Fun Math Games Free Maths Puzzles Math Quiz App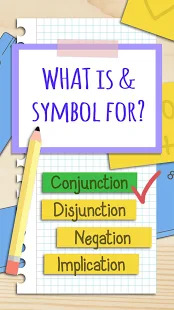 «
»
Test your math general knowledge with fun quiz questions and answers. Download Fun Math Games – Free Maths Puzzles Math Quiz App and start the ultimate math challenge brain exercise right now! Answer a variety of maths quiz questions and show how much you really know. Get some excellent mental maths brain training and try and solve all the math riddles and brain teasing puzzles in this awesome quiz of knowledge - free game with interesting and intelligent questions and answers and number puzzles. Try out the most interesting and funny quiz in maths for kids and adults and quiz yourself with math quizzes and tests for all grades. Learning has never been so fun! Practice math skills with one of the most awesome quiz games general knowledge and get some serious brain workout right now. Play one of the best educational games for kids and adults and most fun learning games. Can you find maths solutions for any question? Play and learn at the same time with amusing mind games for adults! Download mathematics questions solution app quiz to review all the rules and learn all the cool tricks.

"Fun Math Games – Free Maths Puzzles Math Quiz App" features:

💡 Two game modes available:
* Endless - play for hours as long as you give correct answers to fun quiz questions. The game ends as soon as you give 3 wrong answers.
* Time - prolong your playing time as long as you give correct answers! Each correct answer means additional time and each wrong answers reduces your playing time.

💡 Four different types of questions:

* Multiple Choice - choose the correct out of four offered answers;
* Entry - arrange a word from letters to give the answer;
* Scratch - scratch the surface of a picture and type in the correct answer;
* Blur - a blurred picture of an object is shown and your task is to sharpen the blurred image and type in the correct answer.

Fun math quiz questions and answers - GK mathematics game quiz app.

Can you answer all the math trivia questions? Learn mathematics and have a blast with smart quiz games with mathematics GK questions. If you enjoy playing educational quizzes and challenging games for your brain, you will love this awesome game. Try out math quizzes and tests for all grades with questions on mathematics all levels. Discover the world of fun and learning! Try to solve all the problems in the awesome math quiz for high school students and adults. Maths question and answer app that is both amusing and educational at the same time. Take an IQ test in math and try and solve the most difficult math puzzles and brain teasers. Get the smart mathematics learning app that will help you really understanding mathematics.

Take a cool maths quiz - fun math quiz trivia and one of the best math quiz apps!

Boost your knowledge with fast paced and exciting math general knowledge quiz! Play mathematics games free even offline and show how much your really know. An excellent math practice app with demanding math problems and tricky questions. For some, this is the impossible quiz challenge and too difficult mathematics test. Get one of most awesome brain puzzles games free and train your brain. Download free brain games for adults and children with maths quiz questions with answers. Try out an exciting mental maths quiz game with questions on algebra, geometry, calculus and so much more! Download Fun Math Games – Free Maths Puzzles Math Quiz App and get some awesome mind training right now.