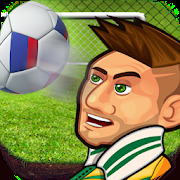 Head To Head: Head Ball Challenge Soccer Heads
«
»
The road to victory is full of obstacles, so open up your bonus so your team can win the Gold Medal at a noticeable rate! Destroy your opponents by perfecting your heads and shots. In this game, you can pick your favorite soccer club and play as a famous footballer.
You can keep changing your place according to the direction of the soccer ball through the three given controls: up left and right. "Up' make you jump upwards so you can hit the soccer ball higher, '"left" takes you to the left side of the screen and "right" to the right side of the screen. Put all your effort to win the tournament. As this is the football showdown time.
In the Head Soccer: Head Ball Challenge, Puppet Soccer World, breathe the air of Brazil. Play this Brasilia stadium in this legendary tournament. See how the Mexican waves help you maximize your skills. You also may challenge yourself to increase your gold by winning, and use the gold you earned to customize your characters however you like!
Now you just need to choose your big-headed soccer player and challenge yourself to be a champion. Enjoy and play the funny sports with Head Soccer: Head Ball Challenge, Puppet Soccer right now. Develop your skills and open up new characters with tokens that will win with every goal and victory. Come on now!
We enter into an amazing addition to our game apps: Head Soccer: Head Ball Challenge, Puppet Soccer Pro. In this game, yes you guessed right! You're the awesome puppet soccer player. You know how they say "All good things come in small package"? Sometimes, it's true. Like in the case of this game.
Conquer football with this addictive soccer game! Pick your favorite soccer team and play as a famous football player. While climbing the champions' ladder, play tactically for offense and defense. With more than 32 countries and over 90 famous players, this soccer game will challenge even the most talented players! Do you think it's your ability to win?
Head Soccer: Head Ball Challenge, Puppet Soccer brings for you a chance to play header soccer ball in the most fun way possible. Simply put, you are a puppet and when you're not busy fulfilling your puppet duties, you enjoy your time playing soccer. You have to place yourself such that you can hit a header. Be careful though! If you let the ball drop, you are done. Game Over :(
Do you like football? As you know, the football is a king of sports and if you like football, so you also will like this game because it is a game designed by physics world, it make the character kick the ball by head or shoe like a champion.
What's your favorite footballer and what is your favorite soccer club?

FEATURES:
- Amazing physics and fighting with your friends.
- Three modes: Practice Mode, Tournaments Mode, Online Mode (coming soon)
- Multiple skin: characters, faces, shoes for you
- Rhythm music and beautiful graphic.
- Suitable for players of all ages
- Share and get high score with your friends.
- Compact gameplay, you can play anytime, anywhere.