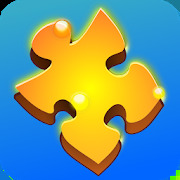 Jigsaw Planet Puzzle Games
«
»
Do you love to play casual games or puzzle games on your spare time? Are you looking for magic jigsaw puzzles to play every day? Play Jigsaw Planet Puzzle Games, a collection of various jig saw puzzles in various dimensions that will challenge you every day! This is truly the ultimate jigsaw world for any jigsaw puzzle fans out there.

Jigsaw puzzle is one of casual games and puzzle games that everyone loves, either you are a kid or an adult. It's not easy to find magic jigsaw puzzles that combine many dimensions at once. We have jig saw in 3x3, 4x3, 6x4, and 8x6 dimensions. If you are looking for quick games that you can finish in less than a minute, try our 3x3 dimension jig saw. If you are looking for a more challenging everyday jigsaw, try out 8x6 puzzles. Each dimension in our jigsaw world consists of several pictures to choose from. These amazing pictures will make playing our puzzle games a lot more fun!

~*~*~*~ JIGSAW PLANET PUZZLE GAMES TOP FEATURES: ~*~*~*~
# Awesome pictures as the base for our casual games. Play all of our magic jigsaw puzzles to discover all the beautiful pictures in this everyday jigsaw.
# Several jig saw dimensions to choose from: 3x3, 4x3, 6x4, and 8x6, each with several pictures to play.
# Easy & simple jigsaw puzzle gameplay. Simply drag the jig saw pieces to its proper place.
# Safe for kids. Download this jigsaw world for your kids to play!

So, what are you waiting for? Download Jigsaw Planet Puzzle Games for FREE and have fun assembling our awesome everyday jigsaw puzzles now!