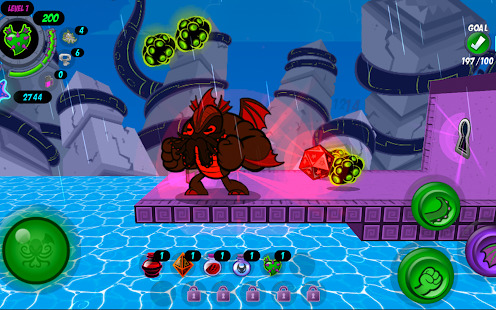 You've heard the Call. Now unleash the Brawl!

From the mad, mad mind of James Farr, and the labs at MindSmack Games, comes the ultimate mountain of old school madness - BRAWL OF CTHULHU! Take control of The Mighty Cthulhu himself, as you rise from the unplumbed depths of the Pacific, and strike out across 14 levels of apocalyptic city-smashing action! Part arcade brawler, part animated adventure, all inspired by the tales of H.P. Lovecraft. Do you have what it takes to wield the tentacle?


Unspeakable Features
---------------------------------
- Punch, pound and tentacle whip your way through 14 levels of fully-destructible, family-friendly mayhem! From the Shunned House, to Innsmouth Harbor, to the hidden secrets beneath Miskatonic University, no classic Lovecraftian location will go unsmashed!
- Transform from "unpleasant" to totally UNSPEAKABLE for doubled health, damage ... and SIZE!
- Swallow and regurgitate your enemies at will!
- Jam out to over 16 apocalyptic tunes by EDM overlord, Digital Math!
- Unlock Spacetime Schisms in the fabric of reality, and reap oceans of hidden Chaos!
- Collect arcane swag from Nyarlathotep's Chaos Shop, or beat it relentlessly out of your pathetic, tottering foes!
- Summon the Cats of Ulthar, a Zoog rush, or even the essence of Azathoth to your side!
- Equip epically powerful (and sassy-looking) gear, with which to strike fear (and jealousy) into the hearts of all humankind!
- Wield the untold powers of Cosmic Lightning, Black Hole Shards, and even the legendary 20-sided DOOM DIE!
- Level up as you progress to enhance your unspeakable, earth-shattering skills!

Global annihilation has never been this much fun! Additional campaigns and game modes to follow soon!