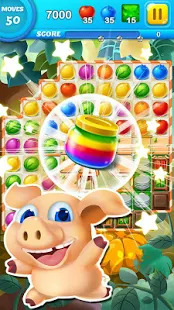 Fruit Smash King - Garden Drop is an awesome new match 3 casual game. The Fruit Trip together with Little Cow Milk and little pig, you will adventure from tiny garden to fruit farm with many various type of unique deluxe missions:
- Most simple: Fruit Match 3 same color or more to get enough score of mission
- Harvest Quest: collect enough type fruits in target.
- Miner Type: you must dig a some line to pass this mission, every level, you must dig a certain line.
- Sand Breaking: identical position of sand, and match fruit at those position to break sand
- Collect cookie: you must swap how to bring the cookie to the bottom line to crush them.

If you are a fan of match 3 puzzle, Fruit Smash King - Garden Drop is the perfect game for you! Try to get all stars in each level to beat leader board and walk through more than 250+ levels in this fruit trip puzzle adventure. And in your journey, you will meet obstacle prevent you achieve the target, but don't worry, if you meet a difficult mission, the little cow milk in this farm mania will give you booster to help you easier than to crush fruits and harvest them in the same time, you could use it in any time you want in your fruit trip:
- Glove: harvest one of type orange, strawberry, lemon, ...
- Refresh: exchange all position in garden.
- Barrow: juice blast a column.
- Shovel: juice blast a row.
- Machine: harvest three row and column in farm.

How to Play:
- Swap fruit in link 3 same color or more to break it.
- Match-3 or more fruits of the same type fruit to eliminate the color.
- Match more than 3 to make special fruits like bomb and blaster, even amazing juice jam magic.
- Match 4 same color of fruits will create blaster could be blast entire row or column
- Match T-Shaped or L-Type fruits to create bomb.
- Use combos to reach your targets and become garden mania..

Features:
- Global, cross-platform leaderboard to compare score your friends and competitors.
- Stunning graphics, smooth juice jam animation.
- Daily mission will give you an new target in everyday.
- Easy and fun to play, but hard to earn 3 stars, and more difficult challenge to master .
- Everyday, you will give a bonus item or bonus coin, they will help you pass level easier.
- You can link with your friend in social network to play together and help them.
- Go top and become legend, a fruits heroes saga.
- Over 250 challenging deluxe mission four in saga world: peace forest, egypt desert, dead ocean, jelly town.
- Easily sync the game between devices and unlock full game features when connected to the Internet.
- Connect social and play with friend, help them, send them more live or send request to them. With every friend you invited, you will receive an certain coin, play with friend, more fun, and more exciting.
- Slot machine, extra lucky with free everyday.

Why you will love Fruit Smash King - Garden Drop:
- Helpful boosters to help with challenging levels.
- Daily juice jam bonus by share your result and slot machine.
- All levels are designed attentively, ultimate mission will be crazy and much difficult with you.

Please note:
Our game is funny free game, now and forever. We have added banner & interstitial ads to earn some cents. Please understand this. Thanks for your understanding.

If you have any feedback or meet any problem when playing game, please let us know by contact via email.
Enjoy Fruit Smash King - Garden Drop and have fun!
Momogame.