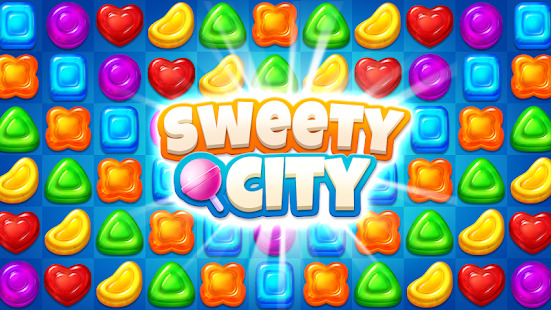 WELCOME COME TO SWEETY CITY.🍬 Blasting candy, addictive puzzle game for you to spend your leisure time.
Well - designed puzzles can improve your matching skills and get more pleasure.
Burst candies, eliminate them, break down obstacle and go further.👣
Sometimes you need some strategy, make up more special combo elements or use boosters, to through tricky levels.
We hope you can have a good mood in Sweety City!💖

Make candy dashing in cities, such as Sydney, Paris and London.😉
Every city is full of gummy yummy, and there is also a lot of sugar sweeten.
You can use your talent and skills to explore and find sweety box in each mysterious city.🦄

FEATURES OF SWEETY CITY
🍭2000+ well-designed levels. Bring you new challenges and feeling.
🍭Fun game modes and stunning graphics. Anyone can enjoy the good feeling brought by this game.
🍭Marvellous elimination effects of sweet boosters. Use helpful boosters wisely to complete challenge.
🍭Daily free bonus.🎁 Multiple ways to get awesome rewards: log in game, pass levels, collect stars, complete tasks and so on.
🍭No limit of time and place. You can enjoy matching gummys at anytime and anywhere.
🍭Don't worry about no internet. Sweety City is an offline game, you can play all the time even without internet.
🍭Free to download and free to play. Sweety City can be downloaded for free, you can use real money to buy items in the game, also can collect free rewards in the game.

HOW TO PLAY
👉 Complete level goal in limited moves.
👉 Match 3 candy to make them in a line, then crush them.
👉 Match 4 candy gems to create special candy rocket to break a row or a column candy gems.
👉 Match 5 jewel candy with T or L shape to create candy bomb to destroy candy all around it.
👉 Match 5 jewel candy in a line to create special gem ball to clear all candy with the same color that you selected.
👉 Combine 2 special yummy to get marvellous elimination effects to help you achieve the goal. You should make full use of your elimination skill to make and use special candy gems .
👉 There are some props you can use when you hard to pass level.

Let's enjoy match 3 sweety puzzle game to get good mood.