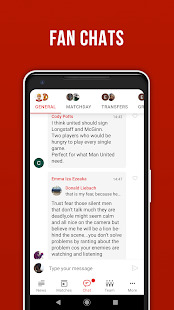 Get everything about Manchester United football club in an instant! From the latest news to the best editorial articles, LIVE match commentary, game schedule, results and goal notifications – all important info for a true Red Devils fan!

It's free, as fast as Rashford and will let you support the team wherever you go.

Every MUFC fan gets:

√ Live scores and results,
√ Latest transfers, rumors and speculations,
√ Breaking news,
√ Match previews, online text coverage and tactics analysis,
√ Editorial columns and opinion,
√ Big fan community: match chats, live commentaries and discussions,
√ Video,
√ Full team statistics, standings and game schedule for all tournaments,
√ Player profiles and performance on the pitch,
√ Adjustable push notifications for top news, lineups, live game events and scores,
√ Funny stuff: memes, jokes, quotes, fan voice,
√ Polls and quizzes,
√ Pure emotions! Share them with friends.

All championships and leagues where Man United takes part:

- English Premier League,
- UEFA Europa League,
- League Cup,
- FA Cup,
- friendly matches.

There's more to come in the next updates, so stay with us and GLORY GLORY MAN UNITED!

This application is not an official one and is not created by or endorsed by or otherwise related to the club. It is created and supported by Manchester United fans for other supporters of the club.

We are open for cooperation. You can contact us with any questions or suggestions at our email: support.90live@tribuna.com.