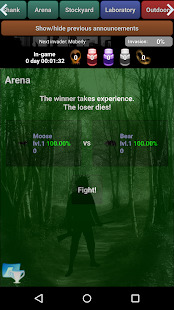 Rules of the Game
Hunt animals > Raise corpses > Sent mutants to fight > Conduct researches > Fend off invasions > Cause Mass Extinction

Shank
I go to hunt wild animals in the woods and I bring corpses. Dead creatures they totaly obey me after reviving.
It is my secret how I do this. I order them to attack hospitals, laboratories and other places in cities where are mutagenic agents for my researches.

Laboratory
I conduct researches on corpses. The more mutagenic agents I meld the bigger chance is to receive powerful mutants.

Outdoors
I order my mutants to plunder cities that a top secret organization "Mirror" has big influences in. Creatures unmercifully kill everything that encounter on their way.

Invasion
Each mutant's attack makes people surmise the position of my hideout.
I constantly observe all the movement in my area so I can estimate how much time I have to prepare
to defend the shank. If I fend it off I will need to find another place to hole up.