MapleStory M
Download MapleStory M for PC - MapleStory M Guide
With over three million users within the first week of its launch, MapleStory M has definitely left a searing mark on the gaming world! MapleStory M was first released in 2016 but after two years got launched globally across 140 countries, lucky us! The highly-anticipated global launch saw millions of people (both young and younger) around the world counting down to its release date. Undeniably huge MapleStory M sticker advertisements were placed everywhere in prime bus and train stations – there's no getting away from its impending, glorious reckoning. Every night as we tiredly alighted these stations after a day's work, we'd see these stickers and think, "hang in there, just 10 more days"!
Seeing that MapleStory was such a popular PC game back in the day when adults over 25 were barely teens, this huge comeback naturally fired up the inner kid in them! Suddenly, working adults everywhere were scrambling to find out more about MapleStory M.
Critically acclaimed and reviewed as one of the best fun unblocked games of Asia! What are you waiting for? Download and play MapleStory M on PC now!
If you've ever felt that your screen was too small for the world of MapleStory M, then you need to download this game on your PC, fast! See your favorite characters in high definition and enjoy the storyline without squinting! You can play the classic MapleStory Explorer characters that you loved while growing up: Dark Knight, Bow Master, Night Lord, Bishop, and Corsair!
Form parties and guilds with your friends and/or country's community circles! Fight in ancient Egypt's Nett Pyramid challenges or the fiery-hot volcanic lands of the tough Zakum challenge! Grab your fellow MapleStory M buddies and tackle these challenges together! It's so much fun that age doesn't even matter – yep, even our parents are [more than] curious as to what this game is about!
Here are the game features for MapleStory M that we absolutely love:
Customize Your Own Character
Hair/Face/Eyes/Skin color
We wouldn't say the customization tools are of "the sky's the limit!" caliber, but the ones that MapleStory M give us are pretty cool and cute! Heaven knows when we'd finish choosing our ideal character if we had more choices! Check out the normal hairstyles and royal hairstyles! You can change the hair color if you want to!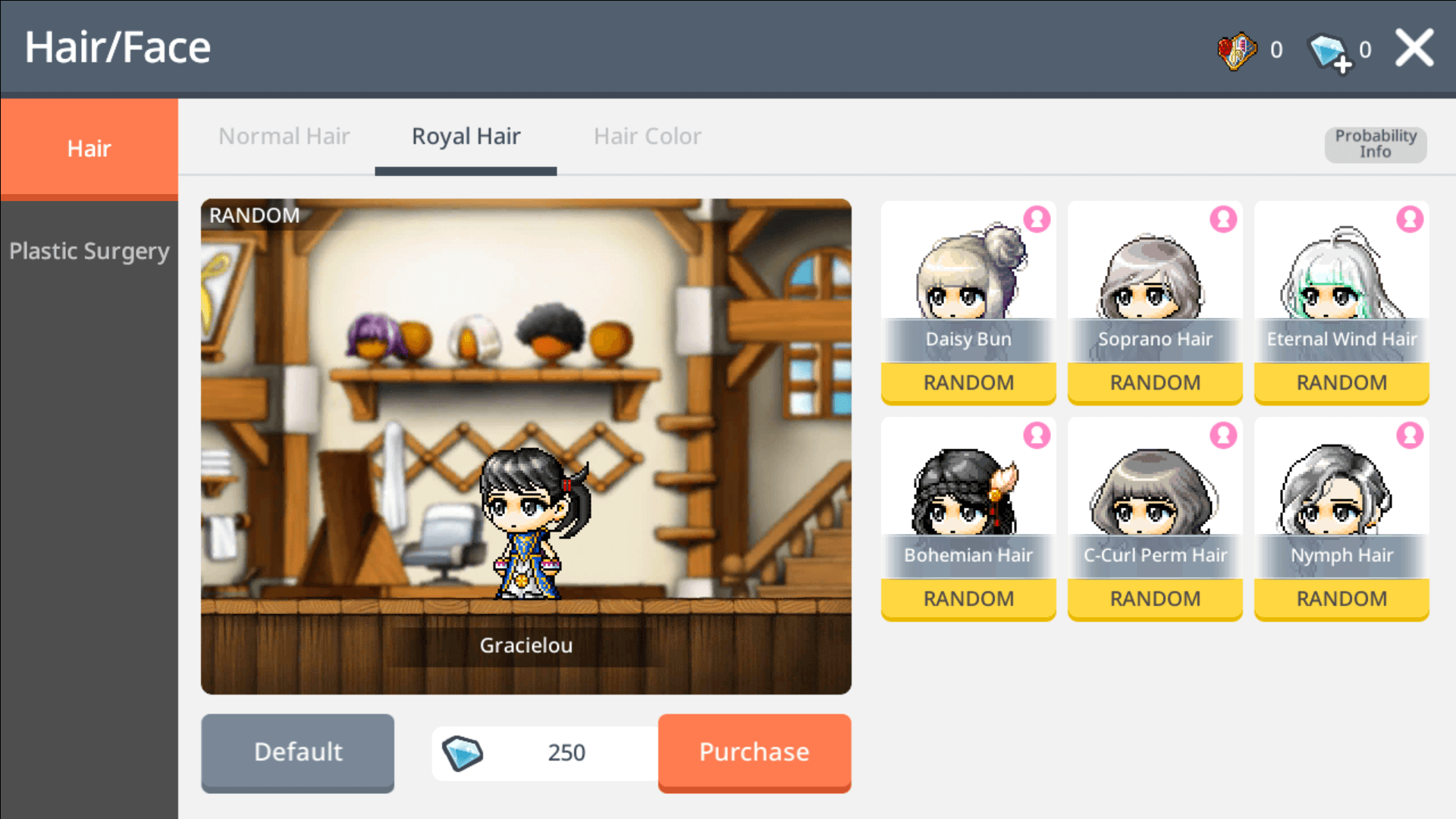 Choose a Character Job from 5 Different Kinds
Dark Knight, Bow Master, Night Lord, Bishop & Corsair
Play these awesome character jobs – they're all very powerful but we've selected Bishop because we love magic! If you're wondering which character to play, let us offer you some basic tips on how to choose your best-suited character job! Think about what mode you like playing in – Magic or more physical? Conversely, HP will be affected. If you're focusing on the MAG ATK, your general health would be lower than those in the PHY ATK department. The magic compensates for the weakness in health.
Relies primarily on MAG ATK (Magic Attack): Bishop, Corsair
Relies primarily on PHY ATK (Physical Attack): Dark Knight, Night Lord, Bow Master
Raid Dungeons & Fight Epic Bosses!
Form parties of up to ten people in the fiery Zakum dungeon expedition, or grind with a party of six in Star Force Field to gain more EXP, or even create teams of four in ancient Eygpt's sacred Nett's Pyramid (Normal, Hard, Chaos)! There are so many challenges and daily missions for you to complete that you don't have to worry about getting bored in this game. Complete daily dungeons and Elite dungeons (with varying levels inside) to get your rewards (mesos, Auto-Battle cards, jewels etc)! You can also fight solo if you're tired of partying all the time! Test your skill level in the Mu Lung Dojo, Elite/Daily Dungeons, or simply do your Quests!
Auto-Quest, Auto-Battles
You can literally do a hands-off this "mobile game" when you switch on your auto-quest and auto-battle modes! Though you still got to click through the stories and Complete or Accept quests, the larger part of the game can still be auto-ed. This has garnered some positive and negative reviews from players, who complain about it being too hands-off. For us, we can't seem to get enough (especially for those of us at work!!). The team at MapleStory M is smart – they know a majority of us wouldn't be able to conduct manual fighting 24/7, especially when we're busy most of the time. They incorporated this auto-quest and auto-battle mechanism to help us addicted gamers with that problem! This is hands-down (pun intended) one of our favorite features!
Explore Familiar & New Cities
Kerning City, Henesys, Perion and many, many more!
Jump back into your favorite and familiar cities when you play MapleStory M! The team didn't do away with the old – they revamped the old and brought in lots of new features. The storyline is compelling and stimulating (that's if you don't just speed through the stories by clicking away rapidly), and if you're willing to immerse yourself in the story, you can really get sucked into its exciting rabbit trails, main story, and other side missions! If you're wondering how far this game might go… you can be assured that with the current 150 levels of exhilarating content already engaging millions of players everywhere, the storyline will span for a longer term, just like the original PC version of the game in Korea. Hip, hip hooray!
Look Forward to Exciting Events & Themed Giveaways!
There are lots of events you can look forward to. Currently, the Moon Bunny event (in light of the Moon Cake Festival) is on. Players can anticipate lots of future events to keep them constantly on their toes. Earlier, the celebration of five million players worldwide rewarded everyone with a set of cute pre-school uniform outfit that is yellow in color. We thought that was really adorable! We don't know about you, but we're definitely excited at what the MapleStory M team has in store for us for this game!
Pets, Skills, Forge, Items, the Works!
You can equip up to nine different skills at any one time. Work hard to level up your skills – Always start with ramping up your Passive skills first, then Buffs, followed by Active skills! As you level up – in the level 100s or so – you will find that Skill Points get harder to attain. As such, don't spend them recklessly. Our MapleStory guide will help you learn what's the best moves to do in terms of skills.
Who doesn't love these adorable Koalas? They're timed pets, so they'd be taken away after a certain amount of time. If you choose to revert back to the cat and crocodiles, go ahead! Different pets have a different number of skill slots and abilities, so don't think that they're all the same. Keep feeding them pet food attained from unlocking missions to level them up so they can be stronger and faster. Right now we're eyeing the dragon pet that's unlocked at level 120. That's a long way to go.
The forge is the place where you upgrade your main weapons. There are different levels to your weapons:
Normal, Rare, Epic, Unique, Legendary, Mystic. Most of us have Unique and Epic weapons. Our MapleStory M guide will help you understand better the weapon values so you don't discard them or accidentally forge them as materials!
We hope you will enjoy playing this game! Don't wait, join in the Maple madness (if you can't beat them… join them!).
Download MapleStory M on PC today!  If you love adventure games like Maplestory M, be sure to check out Avakin Life – 3D Virtual World and Castle Cats: Epic Story Quests!
How to Install
Click
"Download"
on the website.
Install the Playstore
on your computer.
Open the Playstore
(Desktop shortcut).
Access your favorite
games and enjoy!
Minimum System Requirements
You can install Games.lol on any PC that meets the following requirements:
Operating System
Windows 7 or above
Processor
Intel or AMD
RAM
At least 2GB
HDD
5GB Free Disk Space
GPU
OpenGL 2.0+ support