Soccer Stars
Soccer Stars for PC Game - Hacks & Guides - Download for Free
For those looking for a soccer game without the intricacies of manipulating realistic characters and scenarios. Consider your search over and check out Nickelodeon's (Nick) Soccer Stars from Miniclip.com. Featuring various tiers, astonishing gameplay mechanics, online and offline options among others, this is the perfect game to play and compete with your friends.
Even better is that this brilliant title can be enjoyed by anyone even those who are not that fond of the sport due to its unique presentation. Aside from that, the super fun Soccer Stars game also features weekly tournaments that are open to all players across the globe. This provides the victor access to unique rewards and bragging rights as well. Be the new rising star in Soccer Stars game and hack your way to the top.
So what are you waiting for? Rally your friends, grab your flag and prove your skills to the entire planet by clicking on the download button on your screen today!
Soccer Stars Game Features
Soccer Stars is a super amazing unique game that integrates simple gameplay mechanics into the intricate structure of soccer. This method allows anyone to enjoy the game even those who are not a fan of the sport. This game follows the basic principles in street football wherein the number of players from each team are reduced from 11 to 5 individuals. Adding to the modesty of the game is the utilization of round discs to represent each player in the field. Resulting in an arcade-like feel that is enticing enough for everyone to play. For a broader scope on the attributes of this fun and exciting game, check out the Soccer Stars feature and hacks below.
Unique Turn-Based Gameplay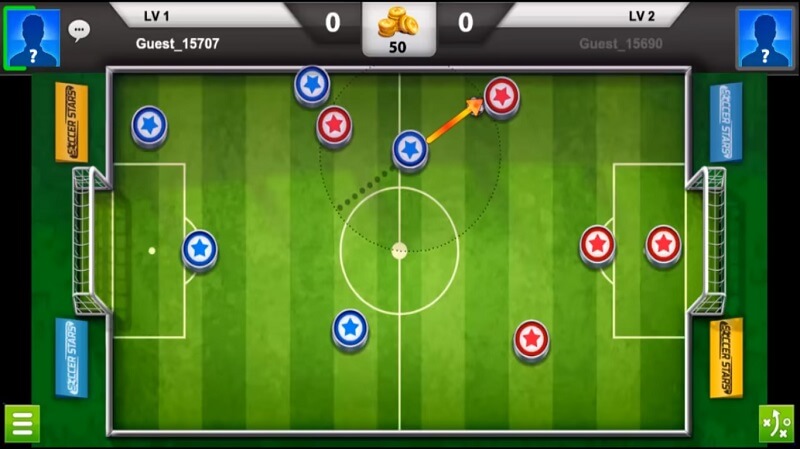 One rising feature of Soccer Stars is that this title comes with a turn-based gameplay system similar to that of a chess game. During a match, each player will have a certain amount of time to make a move, failing to do so will result in immediate disqualification. Unlike an actual soccer game, this is not about speed and agility but rather on planning, tactics, and angling, resulting in a more competitive and immersive match unique to the genre.
Stable & Fast Matchmaking Mechanics
Part of what makes an online game exciting is the matchmaking mechanics. Matchmaking is for those who are new to the term is the process of selecting players during an online game session. Having a stable and concrete matchmaking structure will result in reduced wait times. Meaning the better the matchmaking system the more immersive and gratifying. You will discover more rising soccer stars in this game. No need to hack Soccer Stars because it will only spoil the fun in you.
Remarkable Ball Physics
One particular feature of the rising Soccer Stars game from Nick that was not nerfed like the rest is the ball physics. By doing this, the developers were able to preserve one realistic element in the sport, which adds to the authenticity of the game. Think of Soccer Stars as a simple, less-intricate, and challenging reimagined spinoff of the actual game. Because of some incidents of hacking in Soccer Stars, the developers made sure that the game is balanced all throughout.
Soccer Stars Tips & Tricks
By now, you must have already noticed that Soccer Stars is not your typical rising Soccer game from Nick. It does not only come with its own unique gameplay structure. In fact, the game's focus on tactics and angling makes it feel like a new game itself. Even Better is that you do not need to be a Soccer enthusiast to fully enjoy this title. We have compiled some tips and hack for new rising Soccer Star players to dwell on before challenging other players.
Visualize Your Approach
After completing the tutorial, you'll know that this super Soccer Stars game from Nick comes with a power gauge system. This means that players have the ability to control the force behind each shot at the ball. As tempting as it may be, going for the maximum power is something not advisable unless necessary. Due to the fact, hitting the ball with maximum power could make the ball travel in various directions. The worst part is that it may result in your opponent having the upper hand. If ever you are having trouble, avoid using Soccer Stars hacks to be fair to others.
Invest in Defense
As mentioned before, Nickelodeon's Soccer Stars is a game of tactics. It means that you must have the proper strategy in approaching a certain scenario. With that said, your plan must not always be about offense, but also a sprinkle of defense. Always analyze each scenario and take into consideration that you have a goal to protect too. It would be better to walk away from the ball in certain scenarios and focus your attention on the goal.
How to Install
Click
"Download"
on the website.
Install the Playstore
on your computer.
Open the Playstore
(Desktop shortcut).
Access your favorite
games and enjoy!