Crazy Games Unblocked | Crazy Games Free at Games.lol
---
Here at Games.lol, we like to go wacky with hyper video games! Play the best crazy games unblocked and free on PC without any of that crazy emulator stuff! That's right, play them directly on your desktop anytime!
In this category, you better not be a square because you will have to lose all seriousness aside! Overall, these games are where reality sets aside to make way for over-the-top gameplay, and a ridiculously explosive experience!
Whether you prefer hysterical and crazy ninja monkey games, crazy car games or insane sports and action, we got you covered!
---
Here at Games.lol, we like to go whacky with over-the-top video games that anybody will enjoy! Play the best unblocked crazy games on PC for free without any of that crazy emulator gimmicks!
You better not be a square because, in this category, you will have to lose all seriousness aside! Crazy games are where it's at when it comes to over-the-top gameplay, ridiculous storylines and wiping off anything that's considered edgy and mysterious.
When we say crazy games, we mean titles that do not shy itself away from the norm of being your basic military shooter or become some emo protagonist, no no no. Crazy games are all about laughing out loud or providing enough stunts that will make you say, "WOAH."  Whether it be crazy car, ninja, slope, monkey, and bullet force games, we've got it all for you.
What we have in store are only the best when it comes to being hysterical, satirical and whimsical. If you're looking for something serious and…"immersive", you best look in another category because this one has zero crap given to realism! Ready to get wild? Because we sure are!
Fighting games, shooting games, car games, and even sports games. That's what we have in our category of Crazy Games. This category throws out the rules and everything you know about traditional textbook basics of the game. Why be the same when you can go all-out and amp up the volume, right? Beat up superheroes, kick some robot ninja butts and screw your dad's golf because in Games.lol, we like to keep games very interestingly overboard.
Top 3 Crazy Games We Recommend
Dan the Man: Action Platformer
Move over, Scott Pilgrim. There's a new kid on the block who's ready to kick some butt. Meet Dan – average teenager by day, ultra robot butt-kicker by night! What the world never knew was that Dan has been saving the world each day thanks to his awesome kung-fu and his taste for putting the metal to the mettle!
You get to control Dan the Man himself and punching one robot at a time to save his town as well as the whole planet from extinction! Armed with nothing but his super cool martial arts, Dan and his friends have nothing to lose except for sushi. It's like Slope from Crazy Games com except it has butt-kicking action in it.
With easy controls that you can master within minutes and a complex combo system that will take you hours, Dan the Man is everything a beat-em-up fan has always wanted. It has the retro vibe of the old arcade games, a very catchy soundtrack, easy-to-use fighting system and a story that's as crazy as Kung Fury!
Go around the world and beat up bad guys both human and robots. Customize Dan to your own liking by making him wear ridiculous outfits that only he can flaunt and compete in the score leaderboard.
Get your copy of Dan the Man: Action Platformer for free on PC only here on Games.lol!

Golf Battle
From the same dudes that made Plague Inc. and the Crazy Kitchen free game, Golf Battle takes all the rules of golf right out the window and introduces a brand-new way to play mini golf! Either play in 1v1 with an AI or with a real player or better yet, join a 6-player game mode where you all golf at the same time!
Golf Battle may look like an unlikely mix of golf and racing and you know what? It just works! Enter into a mini-golf park with slopes everywhere that it looks even more ridiculous than the already crazy mini golf games. Loop-de-loops? Check. Bridge gaps wherein your golf ball will have to fly over? Check! Fire-breathing robot crocodiles? …Check!
Controls are also fairly simple to understand – so simple that you'll be able to compete with the rest of the players in no time! Without being shameful, Golf Battle truly is the craziest golf game that is out right now. You won't find any crazier golf game than this – that is unless EA Sports is going to do the same concept with a Tiger Woods Pro Golf Tour slapped on the cover.
This isn't your dad's regular golf. In fact, you can do ranked games with other players online! Download it now on Games.lol!
MARVEL: Contest of Champions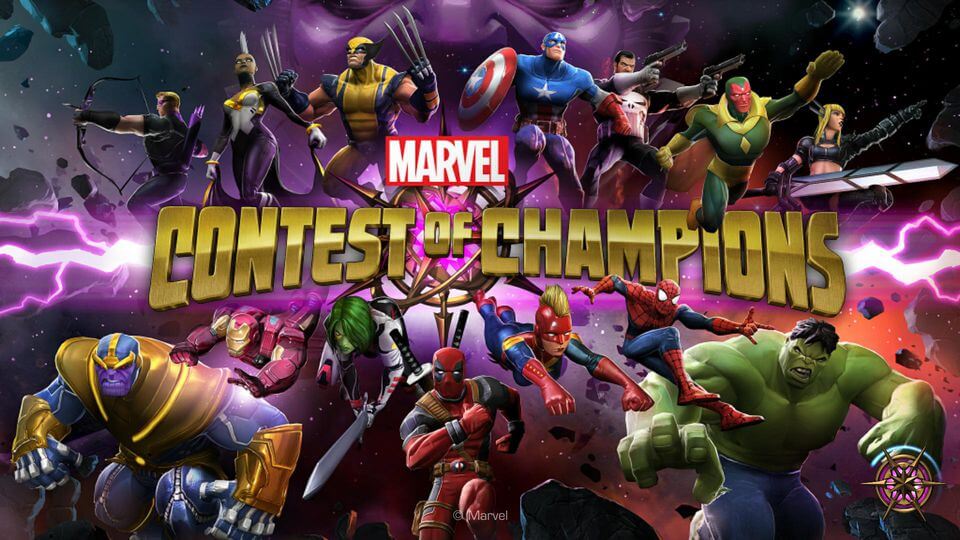 It would be a sin not to include superheroes as part of our Crazy Games list. Why? Because superheroes are crazy on their own – in a good way! MARVEL Contest of Champions includes every major hero and villain from the Marvel universe, thanks to the late great Stan Lee. Worlds collide as Contest of Champions introduces you to a world of fighting games that lets you play as both heroes and villains!
It's an infinity war gone awry as the big heroes and baddies from different worlds have come together to either join forces or beat each other up in an indescribable event that only the being known as Thanos must have done.
MARVEL Contest of Champions is a 3-man tag team fighting game that is full of great fan service from various costumes for one character to collecting comic book covers both old and new. The game also features a rune system that, when combined correctly, will scale very well with the champions of your choosing.
Time to collect the infinity stones once again before Thanos does a snap that will wipe out half of the universe! Go EXCELSIOR and play it directly on PC by downloading it here on Games.lol.
Go crazy with these exciting games on Games.lol! Download and play them all today!
*Other crazy games such as Slope and Speed Force will come to Games.lol soon.