Castle Cats: Epic Story Quests
Download Castle Cats Game Free for PC | Castle Cats, Cat Guide, Hacks and Eggs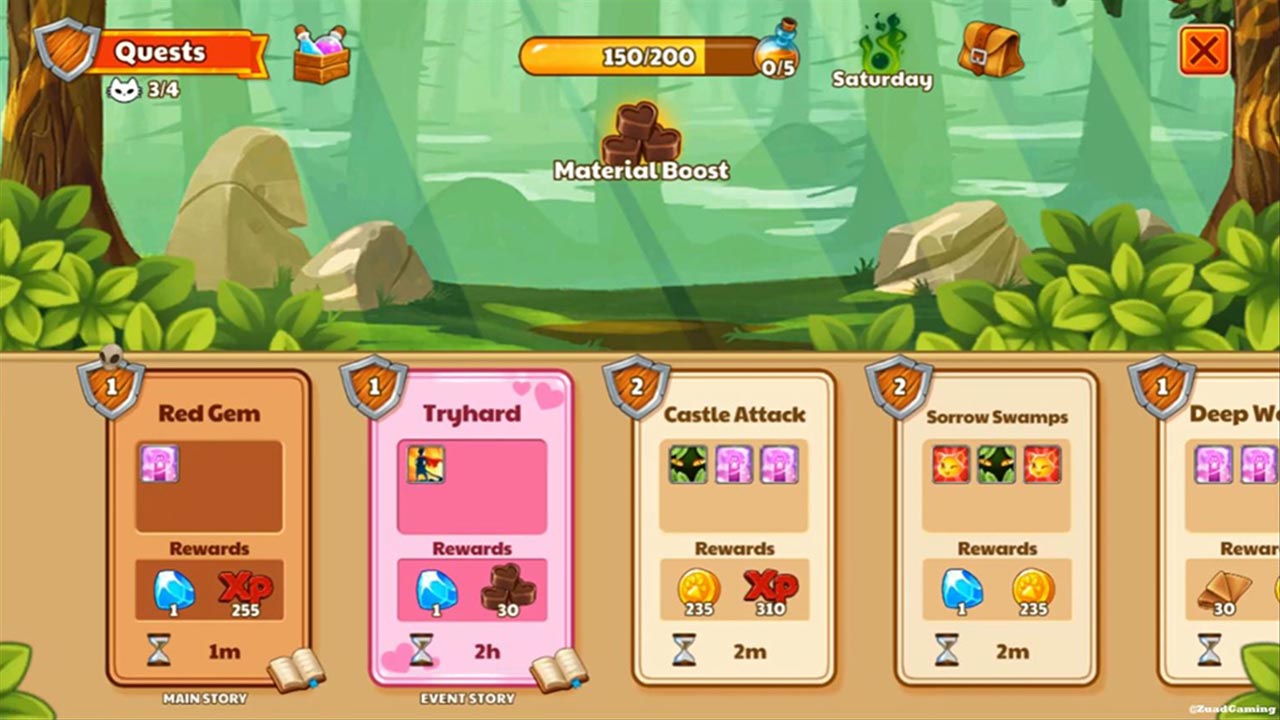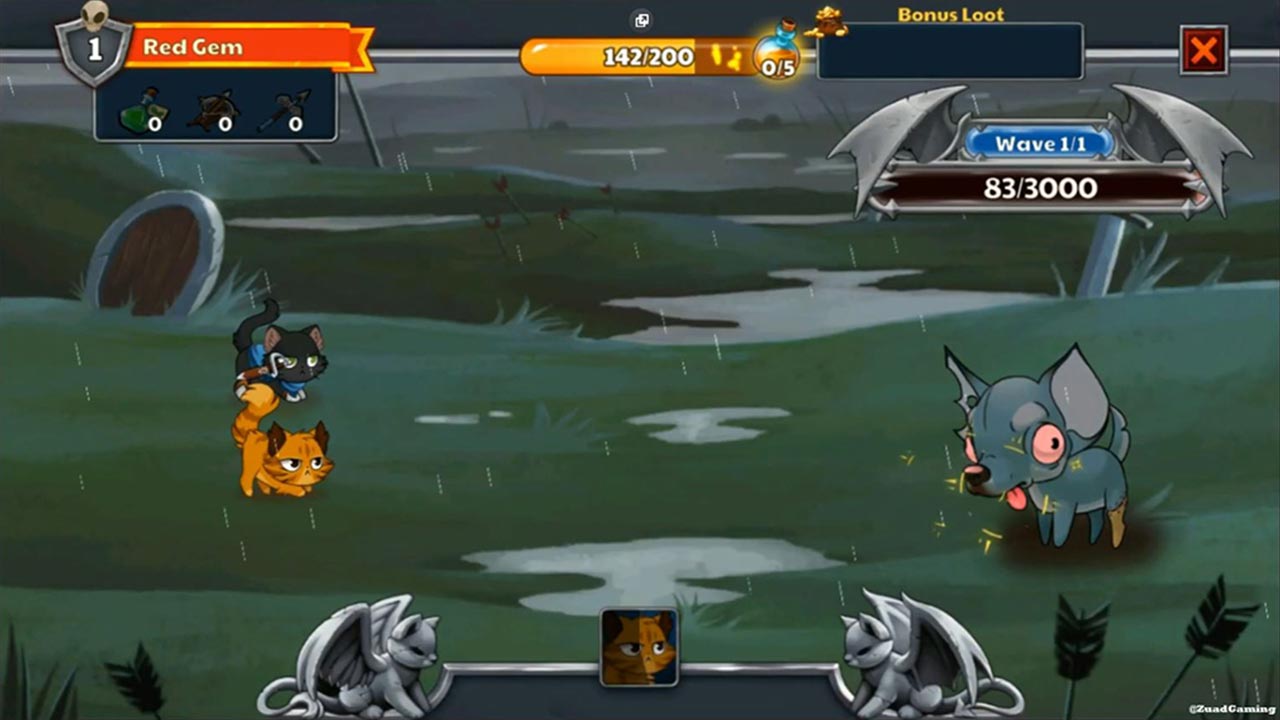 If you haven't yet noticed, our generation is obsessed with cats (Talking Tom & Ben News, My Talking Tom, The Battle Cats, Talking Tom Gold Run). So what does Castle Cats: Epic Story Quests have to offer that the others don't already have? We've got several reasons! These feline cuties are wonderfully-designed battling cats that stick together in guilds in order to keep the Evil Pugnomancer and his zombie dogs at bay, and to keep the land of Catania safe!
Developed by PocApp Studios, this game takes feline obsession to the next level! Embark on quests, develop your guild space, expand your cat collection, level them up or evolve them for bigger battles, customize favorites with your preferred choice, and many others! Start off the game with Conan, Catniss (we love this name!) and Francis, who are the Knight, Archer and Mage respectively. There will be more than 60 unique cat heroes that you can unlock as you progress in the game.
Are you ready? It's time to team up with the cats to protect Catania and reclaim lost land – and to finally wipe that smug grin off the Evil Pugnomancer's face! Be part of the Epic Story of the Cats! (We hope you're not too much of a dog person).
Here are some features that we love:
---
100+ Cute Cat Heroes to Collect
With this many cute cats to collect, you won't grow lazy and/or bored of the game! You start off first with three adorable cats who become friends quickly: Conan, Catniss and Francis. They each have unique powers, and you will see that in time, all the cats you unlock will have special powers that are different from each other – no two cats are the same! Your cats are civilized, so there won't be any unnecessary cat-fights as you unlock all 60 cats to live on the same plot of land; you must be a crazy cat lady/man with this many cats! When you complete levels, you unlock the cats (Surprise! Because they don't show you what you're gonna get). You can choose to unlock common boxes or rare boxes with coins or gems to get cats in a different way.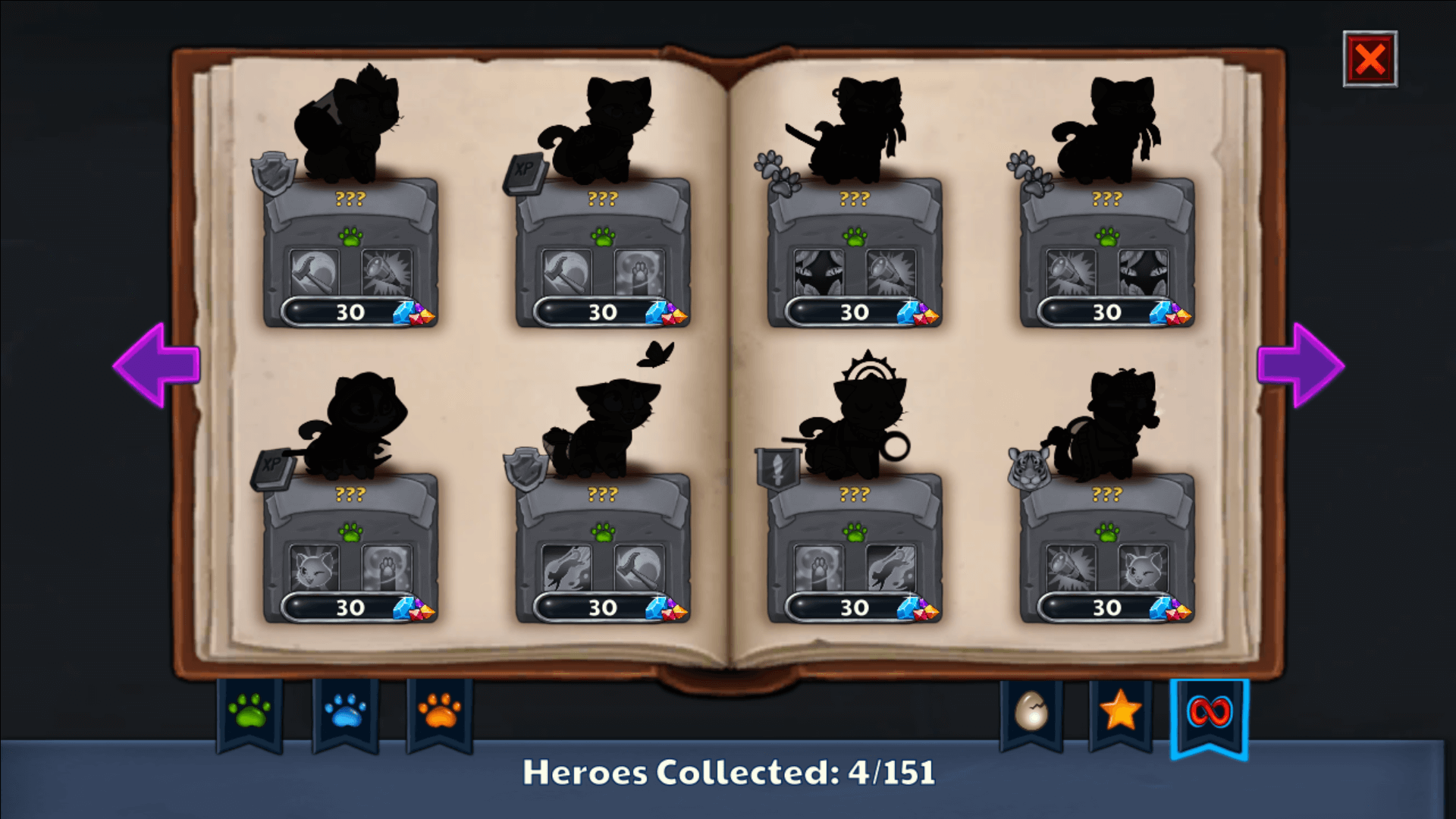 Cat Warriors evolving and crafting
Not only will you get to just keep these cats, you must also train, groom and equip them for battle! Train them in the training field so that they are ready and leveled up adequately for the battles… then send them off for quests to level up and win rewards! You'll be able to evolve them but a few essential things need to be present, like having blue/green embers. Use the Fortress to monitor and evolve your cats! You also have options to make your cats visible or not, but we feel that's more like when you've got over 20 cats!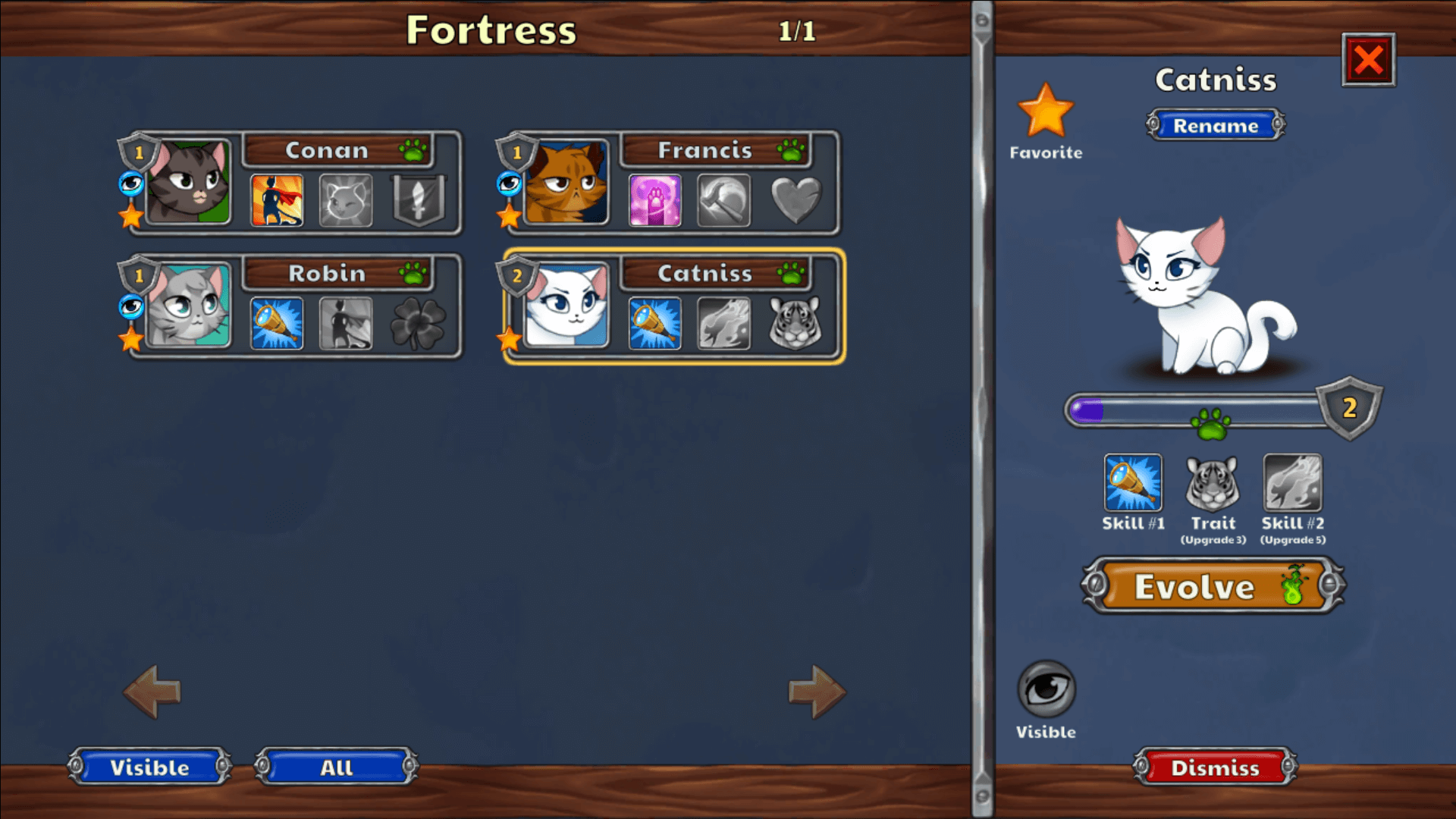 Participate in Exciting Monthly Events, or just do Quests!
There are a few major events that you can participate in that will involve a lot of talk amongst community gamers who play Castle Cats! It's so exciting to see what the events have in store for you! There have been many previous events like Valentine's Day, or Purrismas, and these events always released special cats up for grabs! Events are exciting things (even if you can't afford these special cats) and seasons that cause a stir in the Castle Cats community!
If you don't think you're interested in any of the cats or can't afford them anyway, head on to your Quests tab to continue on in the cat journey to free cats from dangerous otherworldly creatures!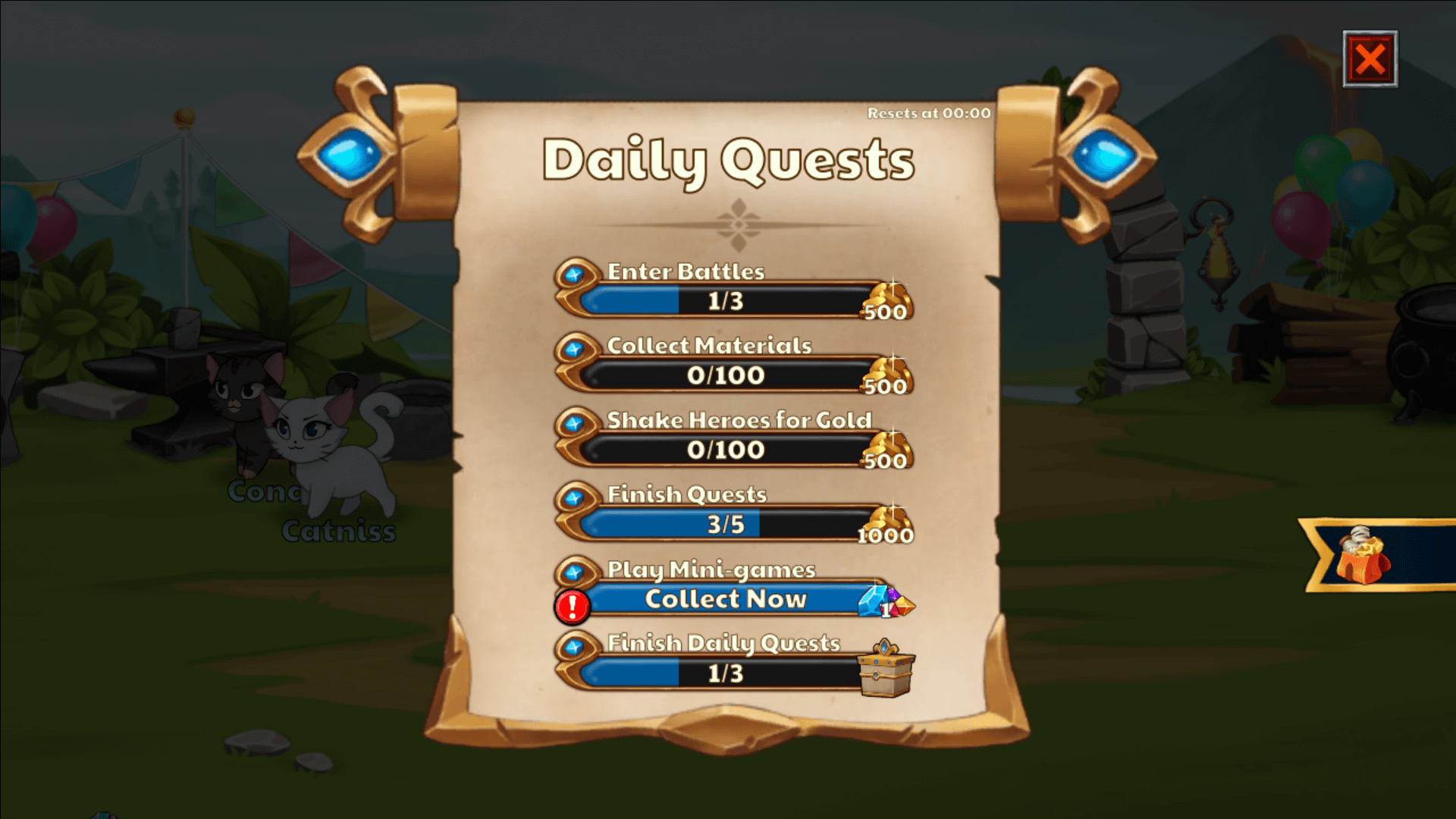 Manage all your smithing tools, woodcutting stumps, fortresses
Metal, wood, and cloth are the raw materials that will get you silk, oldwood and gold nuggets!
What do these things do? You can trade them around to get things you actually need, or you can use the materials you've collected to upgrade your establishments. Some things can only be unlocked at a higher level, but you do start off with the woodcutting stump first! Use these materials to upgrade your fortress and keep it up to speed with improvements.
Mini Game to put you ahead in the Game
There is one mini game that you can play, "Murrmory", that helps you to earn more coins and other rewards! The more you play, the higher the chances you get in unlocking great rewards! The better you are at the game, meaning making less moves in the least possible time, the better your rewards!
You won't walk alone!
This game is all about the cat community! Conan isn't alone; he has Catniss and Francis, and this list will keep expanding. Fight battles with many cats together! Or rest and recuperate in the cat home together! There's always a fuzzy sense of belonging as you play the game… aww, this makes us want to adopt some virtual cat (My Talking Tom?).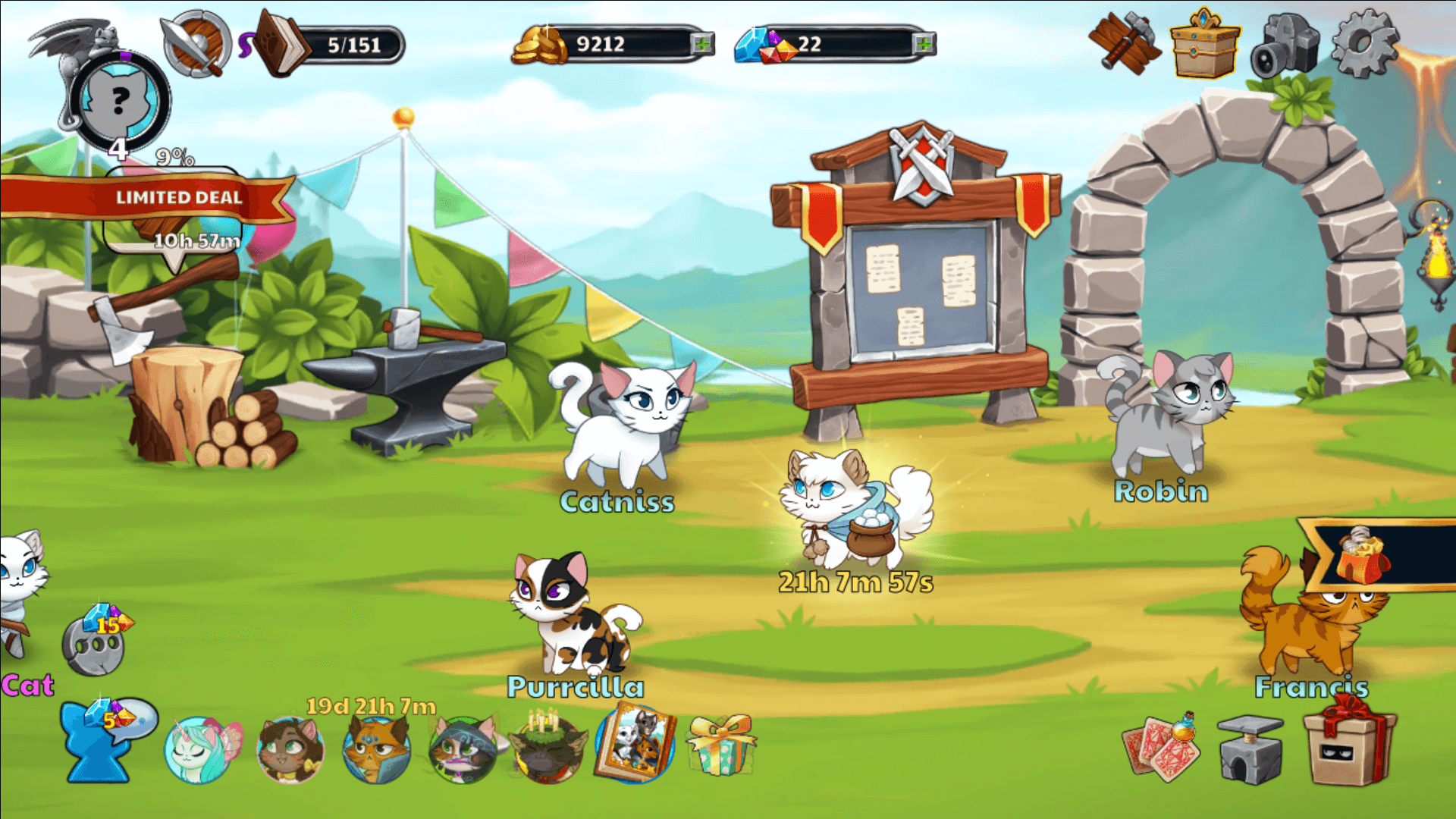 ---
Tips, tricks and cheats for Castle Cats
Cats are your Daily Rewards!
Daily prizes are a must! Login everyday to unlock yours to boost your cat community! Unlike many other games whereby you just unlock coins or gold, this game allows you to unlock cats! The more consistently you login, the stronger the cats unlocked! Yes, there may be many cats and not collecting some might not deter you from anything, but all the cats are different, and you probably need a unique cat one way or another, and what better or easier way to do that than to simply log in once a day?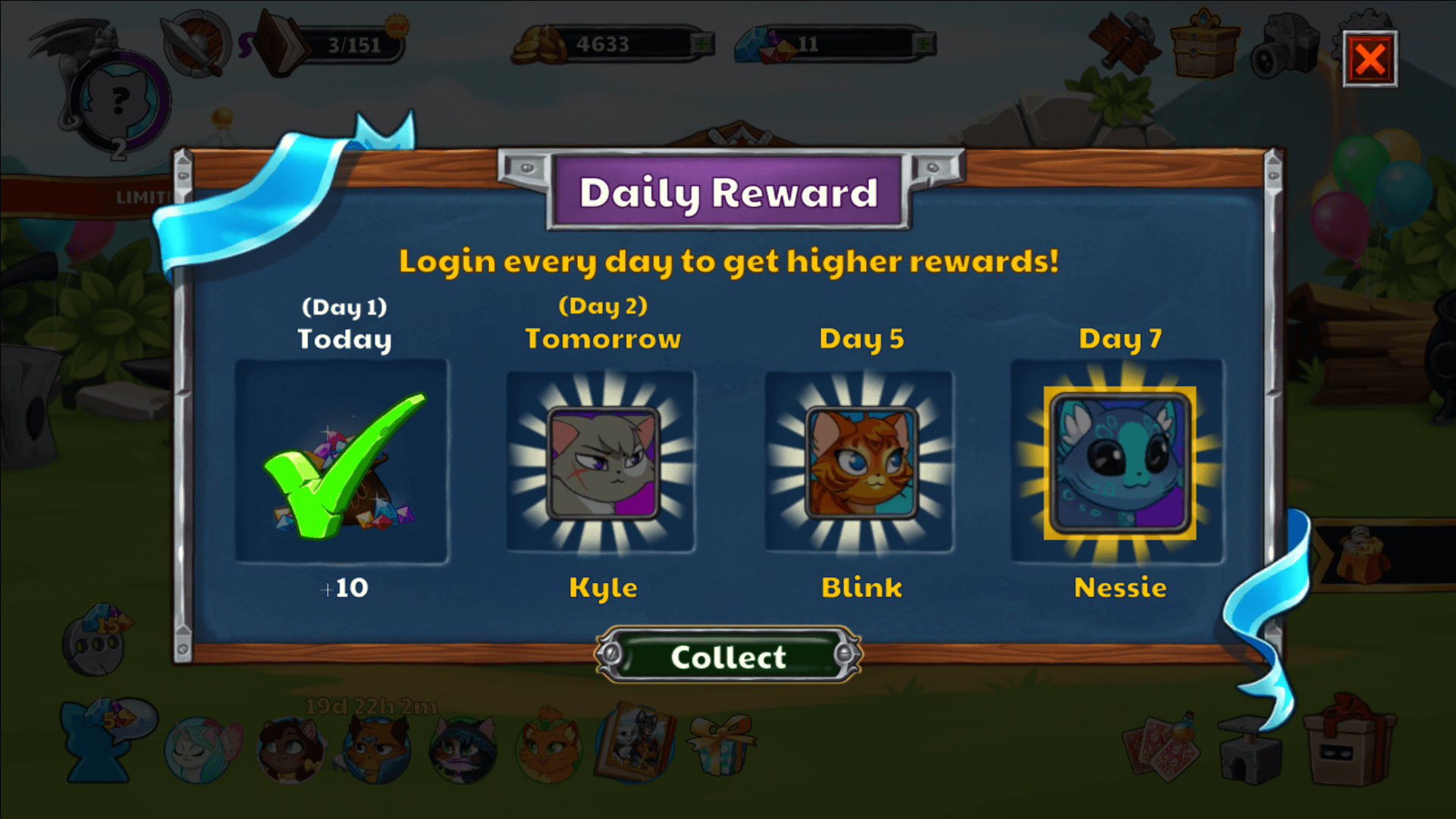 Selling similar cats away can help you get ember
The flame icons you see in the game? Those are embers. There are six different colors of embers, and every cat would need one of the six in order to evolve. But you see, sometimes you get two similar or overlapping cats that you don't really need. In cases like this, you can maximize both cat space and embers by selling away the cat heroes you don't want. When you do, embers get logged back into your inventory, and you can use 'em to evolve the other cats that you care about.
Click on your cats for gold
Clicking on your cat rapidly will allow you to shake off gold from their fur! Sneaky cats, hiding these gold pieces inside their innocent coat of fur…
Don't waste money on Common/Regular boxes
Yup, you may have lots of coins to afford those, but just don't do it. They're not really that impactful in the long run, so just save them up for something else like the rare and epic ones. They will contain traits that you can't find easily.
Upgrade your cat space in this succession
Guild (so as to send out more cats than just one or two) → Woodcutting stump (factory) → Cloth factory → Quest Board
Like the sound of this game? Download Castle Cats: Epic Story Quests and play it for free on PC today!
How to Install
Click
"Download"
on the website.
Install the Playstore
on your computer.
Open the Playstore
(Desktop shortcut).
Access your favorite
games and enjoy!
Minimum System Requirements
You can install Games.lol on any PC that meets the following requirements:
Operating System
Windows 7 or above
Processor
Intel or AMD
RAM
At least 2GB
HDD
5GB Free Disk Space
GPU
OpenGL 2.0+ support