Google PAC-MAN 30th Anniversary Online Game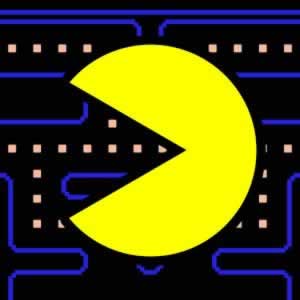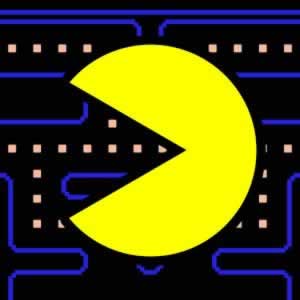 Join Mr. & Ms. Pac-Man in Google's 30th Anniversary - Download on PC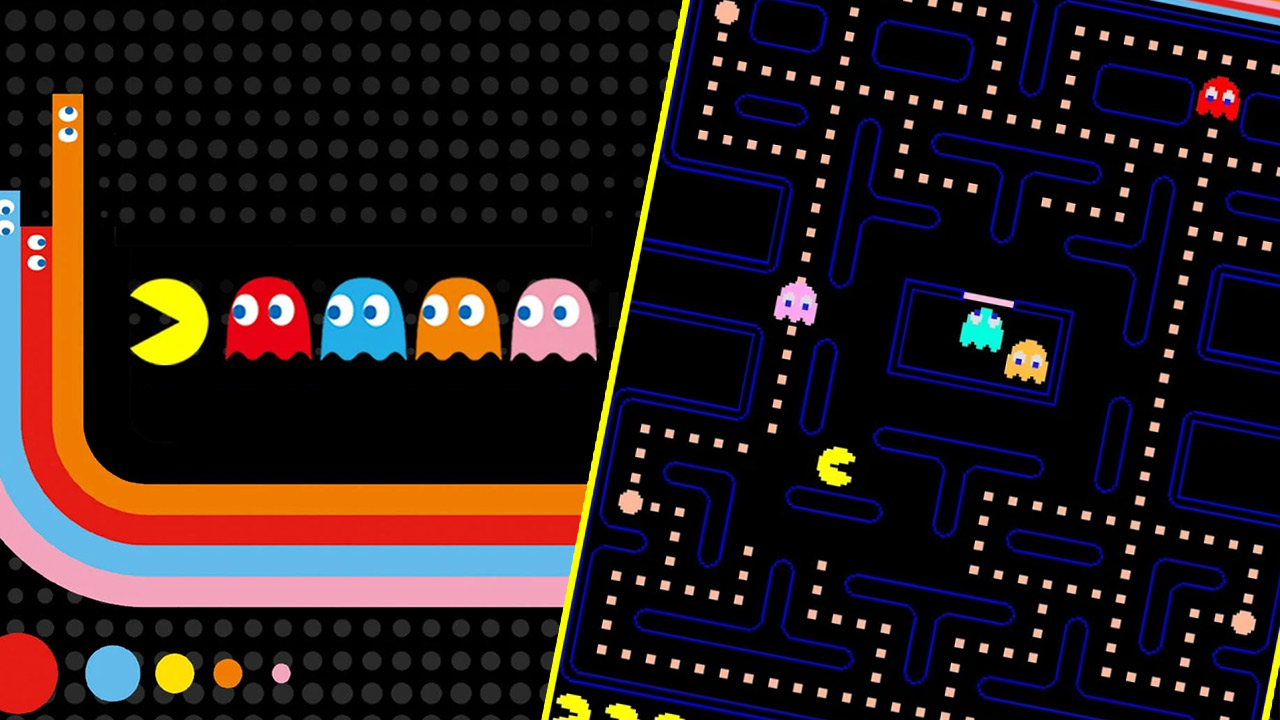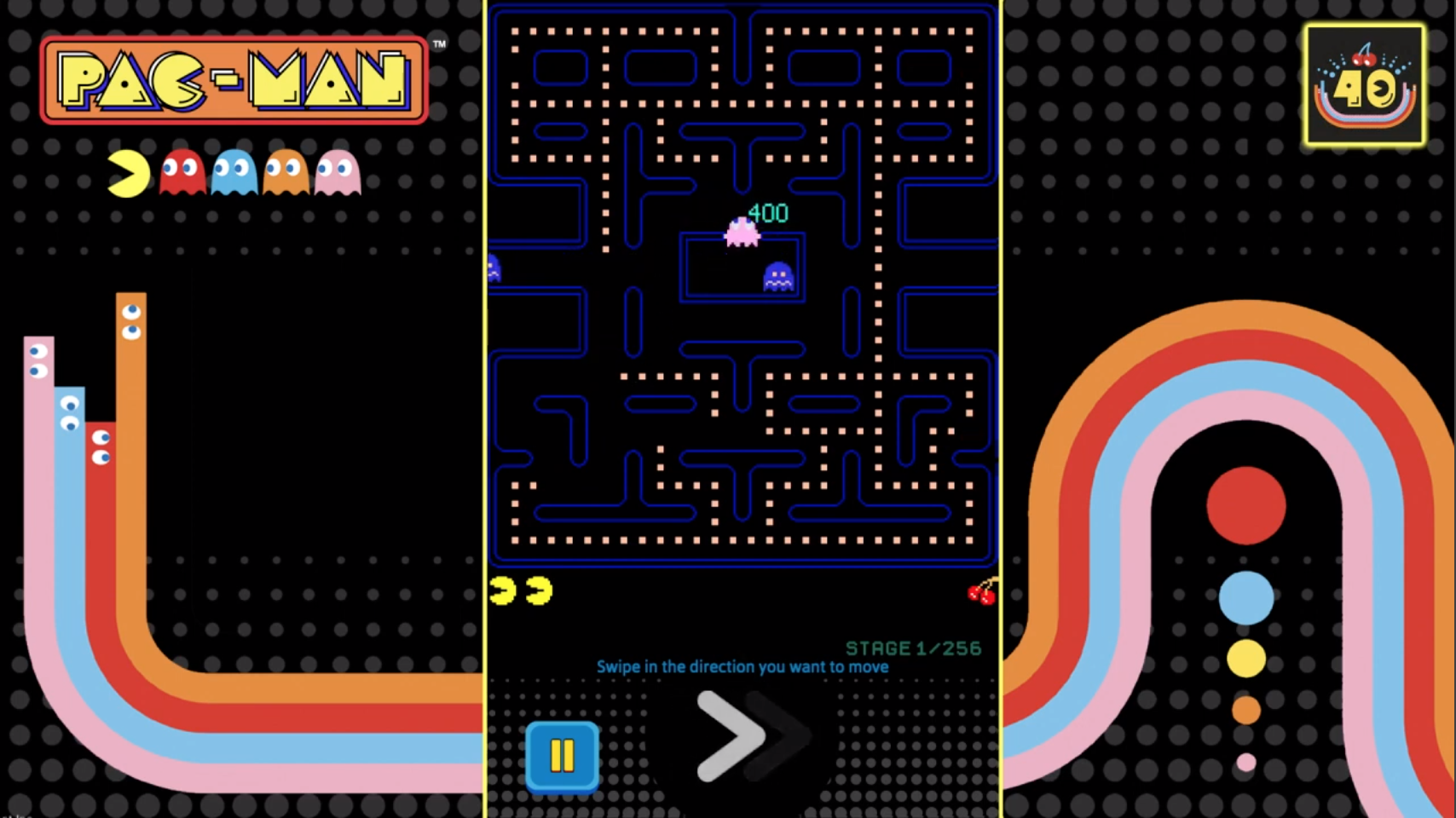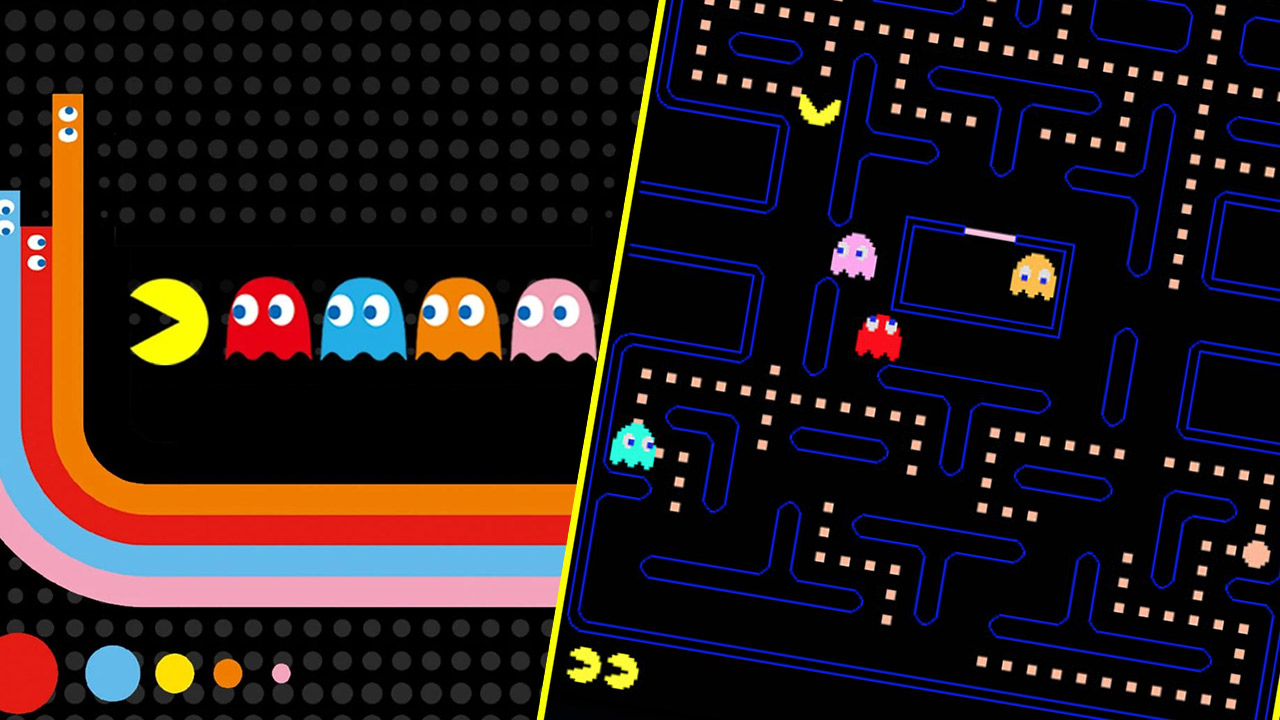 This game is one of the rare arcade games that has survived this long. Close to 40 years already! Since its inauguration in 1980 by Japanese video game designer Toru Iwatani, who first named it Puck Man, it has come a really long way with some improvements and variations in the character design (plus several spin-offs), starting from the original Pac-Man arcade but the concept still remains the same. Munch up all the blinking neon ghosts when it is safe! Help Pacman escape!
Developed by BANDAI NAMCO Entertainment America Inc, this game is surely one of the most addictive arcade games back in the day. The Pac Man arcade machine was a real hit and it was natural that people demanded a home platform for it. Today, you get to play it on PC. As we tried playing it yet again, we realize how this simple game still can get our hearts racing! We desperately need to catch those ghouly ghosts once we've eaten the ghost-transforming Pac-Dots! And we also need to escape them when they're in the normal state! No, this isn't like Pac-Man Dash!, this is your old-school 8-bit classic fun!
Get your fingers cracking and your lucky Pacman frog beside you because it's going to be a fast-paced, heart-pounding and unpredictable game like how it always has been for the past 40 years! PAC-MAN is great for all ages! You can never be too old for this fun unblocked games.
5 Game Features for PAC-MAN
Simple Gameplay
The rules are really easy to get. Just eat all the pellets on the game board to complete each level without getting eaten by the colorful ghosts! They may look friendly, but they're nowhere near it! Only when you eat the blinking big pellet do you get transformed into a stronger PAC-MAN and get to gobble up the ghosts as they turn a neon blue. There's no obligation to chomp all the ghosts because you don't want to stay too close as they start blinking! Eat the fruit on the game board to get extra bonus points!

Countless Levels & Challenges
It's gone a long way from being just a simple arcade game to a 257 level game! Ever since the Pacman 30th anniversary, the game received lots of much-needed fresh stages. Each level gets harder. For example, as you climb up the level ladder, the game shortens the time to eat the ghosts. This is the scoring system for the game:

Pac-Dots (the most amount of small dots on the board): 10 points each
Power Pellets (the ones that transform your ghosts into food for PAC-MAN): 50 points each
Eating the ghost! There are points for succession: x 1 = 200 points, x 2 in a row = 400, x 3 in a row = 800, x 4 in a row = 1600
Fruits! Cherries: 100 points, Strawberries: 300 points, Oranges: 500, Apples: 700, Melons: 1000
Other stuff! Galaxian Boss: 2000 points, Bell: 3000, Key: 5000
Unlock Mazes
There are 81 mazes! You start out with one free maze. Subsequently, you can choose from the different mazes, but at a cost! The mazes have cute names like "cute" (pun unintended), "cheese", "sushi", "boys"… so you can try out the different maps as you go. They require coins to unlock though. To earn coins, you need to fulfill missions, or you can purchase them in-store.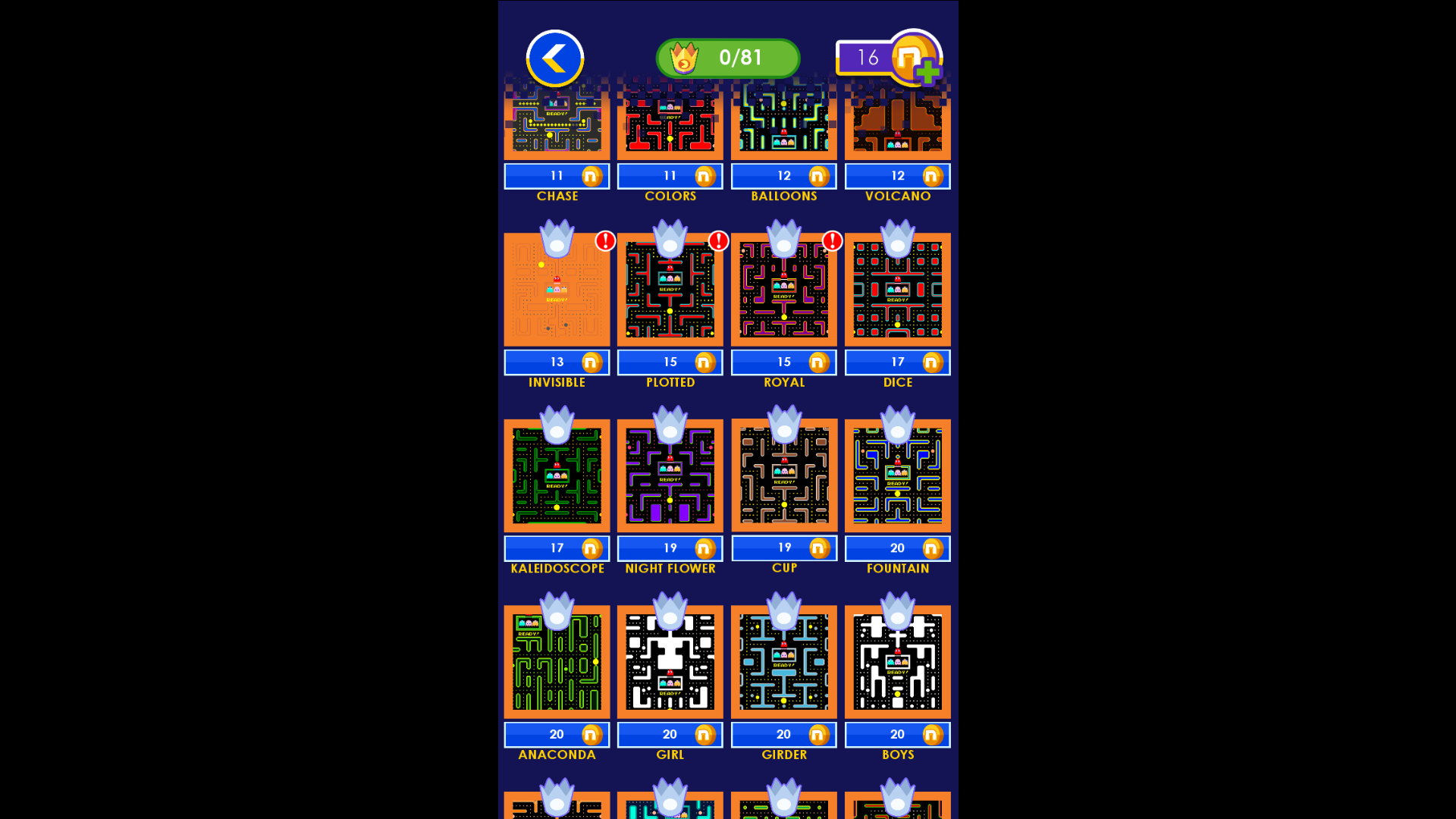 Unlock Tournaments
In order to unlock tournaments, you need to complete the mazes. What do tournaments do? Participate in them so you get to see how good you are against other players! How fun is that? Instead of going to an actual arcade machine (which I doubt there's any) to see who's on the leaderboard for the game, you can now play on PC and challenge other players!
PAC-Missions
This is how you earn more coins to unlock more mazes! Completing missions reward you with coins. Everything from the classic game to the mazes, to the tournaments are all interrelated! The PAC-Mission board is divided into two types: The Limited Time Challenges and the To-Dos. The limited time challenges should always be your priority and the other ones can come in later.

Tips, Tricks… & Ms PAC-MAN?
Before you aim for the stars…
The record for highest PAC points of 3,333,360 was first officially achieved by David Race using an original PAC-MAN machine! Before you jump into a blind frenzy playing this game in order to beat this world record, here are some basic strategies that can help you surpass at least 9,000 points! A long cry from the 3 million, but we must always start somewhere!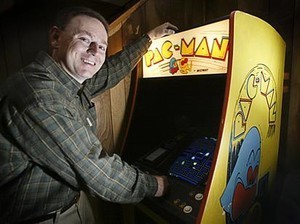 FIRSTLY, When Escaping, Don't Eat!
Have you noticed? The PAC-MAN moves slower than he does in the clear lanes when he is eating PAC-pellets. In this case, when there are ghosts chasing after you, don't go where there are plenty of pellets! Run to clear lanes to shake off these annoying ghosts!
Clear the Bottom of the Maze First
The bottom of the maze has fewer escape routes than the center and top, though to keep maneuvering left and right can be dangerous, especially in the middle. Try to finish up chomping all the pellets at the bottom and then work upwards, so when you get to the top it is easier to get away from these hungry ghosts!
Did You Know There's a Safe Spot? LOL!
Neither did we! There's actually a safe place to rest and hide from these ghosts till you're ready to roll again. It's located… at the bottom of the ghost generator box – just above the T-section position that rests beneath the ghost generator box. Rest, go to the toilet or whatever you want to do as you leave PAC-MAN in that spot! It's like a magic time-out corner!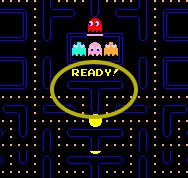 Ms PAC-MAN
Interestingly, when NAMCO released PAC-MAN, they found out that a majority of the players were women. Hence, Ms. PAC-MAN stepped into the gaming scene. The game is similar to PAC-MAN in almost every way except for some effects and slight visual differences! For example, the ghost Clyde was given the name Sue instead, and Ms PAC-MAN swoons and dies when she gets eaten by the ghost instead of folding in on herself like in PAC-MAN. Ode to the women, ya'll!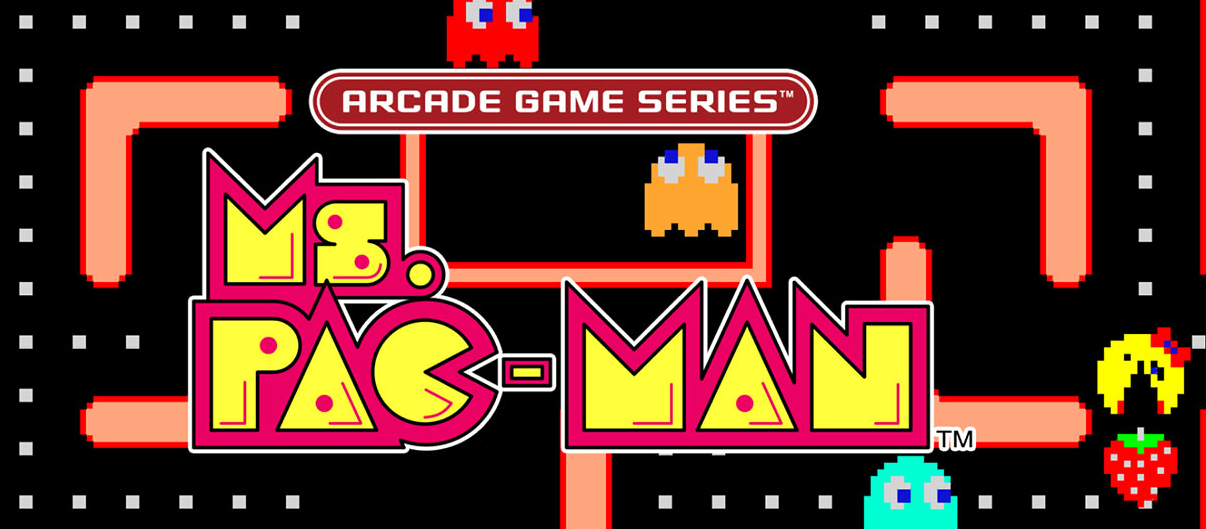 More Did-You-Know Facts About Pac-Man
Official Pac Man Costume
If you are a big fan of the classic 8-bit game, there's actually an official Pacman costume merchandise! Yes, these are legit outfits – from the protagonist Pac to the lovable ghouly group of Inky, Blinky, Pinky and Clyde! Also included here are Pac Man toys and a miniature replica of the Pac Man arcade.
More Than Just the Unblocked Game
Did you know that there is a Pac-Man game that's even bigger than what we already ported or even the Pacman machine itself? Yes, it's called World's Biggest Pac-Man and you can play it for free on your browser. Unlike the unblocked game, this one has THOUSANDS of mazes created by the community of Pac fans!
In fact, there are also other spin-off games including the beloved Pacman World, Pac Man World 2 a Pac Man kart game and the recent Pac-Man Dash!
Japanese vs English Pac Man Ghosts' Names
We know that the Pacman ghost names are Inky, Blinky, Pinky, and Clyde but did you know that their names are different in the Japanese version? Their original Pac Man ghost names were Fickle, Chaser, Ambusher and Stupid but those were changed since these names didn't suit their behavior in-game.
How to Install
Click
"Download"
on the website.
Install the Playstore
on your computer.
Open the Playstore
(Desktop shortcut).
Access your favorite
games and enjoy!
Minimum System Requirements
You can install Games.lol on any PC that meets the following requirements:
Operating System
Windows 7 or above
Processor
Intel or AMD
RAM
At least 2GB
HDD
5GB Free Disk Space
GPU
OpenGL 2.0+ support