The Wolf
Become The Wolf in the Wild | Online 3D Animal RPG Simulator | Free Game
Ever wondered how it feels like to be a free Wolf in the wild? Well, look no further. This role-playing game will let you experience it firsthand. Discover how it is like to be a Wolf in a wild environment that is full of different plants and creatures! Download and play The Wolf online for free wolf games. In order to explore a virtual world that is full of different types of flora and fauna.
You can either be a Gray Wolf, Dhole Wolf, or Black Wolf in this game. Chase down animals, explore the beautiful environment, and meet other players online to double the fun! Develop your wolf character to become the leader of your pack. Read on for a free gameplay guide, tips, and tricks.
The Wolf Online Game Features:
Develop The Wolf in You
Of course, you can't play The Wolf online without actually choosing and developing your own character. At the start of the game, you will be able to choose from 2 default types. These are the Gray Wolf and the Dhole Wolf. Each type has its own strengths and unique traits, but you can also improve their skills and attributes once you level up in the game.
The Gray Wolf is the common type, and it is capable enough to defeat enemies with its sharp teeth. The Dhole Wolf, however, is a more capable predator. It is fast, agile and strong, and it can defeat stronger types of creatures.
Once players progress in the game, there are other types of Wolves that can be unlocked. There's the Mexican Wolf, Black Wolf, White Wolf, and more! Each type has unique strengths, and some are well-suited for harsh environments.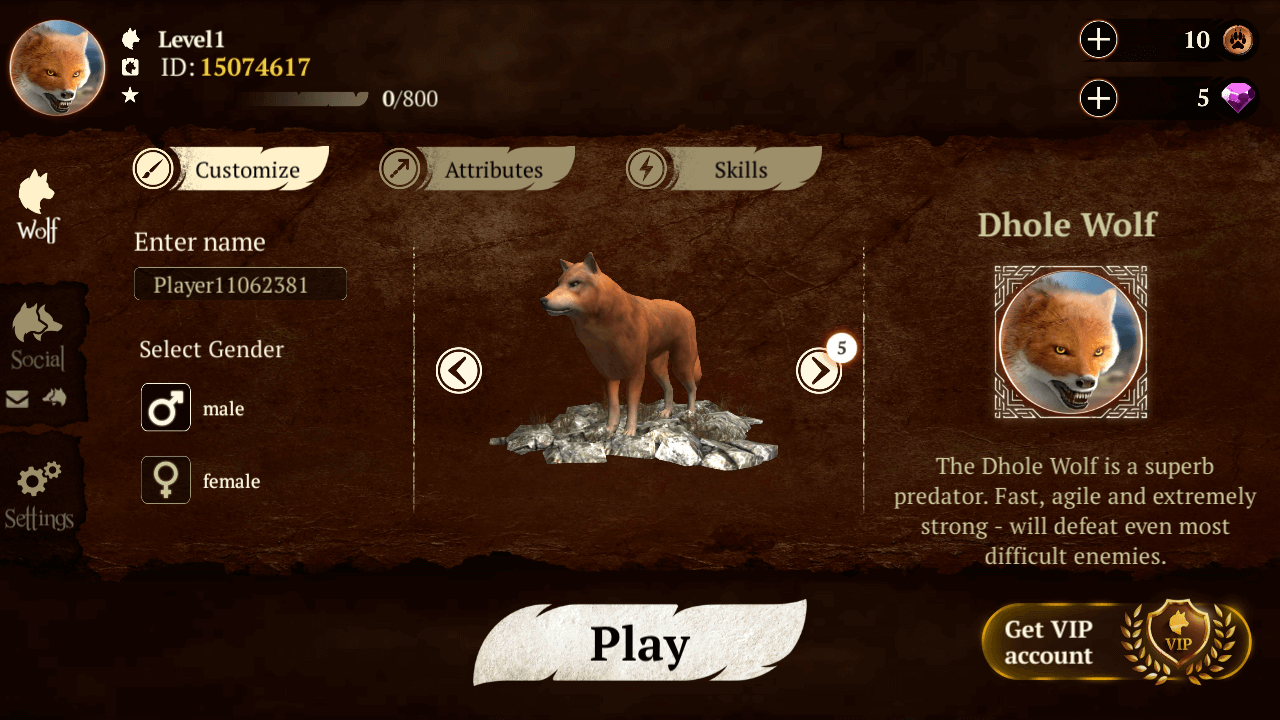 Explore Different Locations and Environments in The Wolf Online
At the start of Wolf online, players can only explore Green Hills. It is a green, sunny environment where you can roam around freely with gentle creatures such as Deer and Rabbits. The other locations are Dark Forest, Wild Tundra, and Legend Mountains. These are only unlocked once players reach level 10 and above. Each type of location features its own unique environment. In other words, they each have unique geography with different terrain and a diverse set of flora and fauna.
Easy to Learn Game Controls and Navigation
The upgradable skills and characteristics of your Wolf may be overwhelming. but the gameplay is fairly easy. Once you are situated in your chosen location, you can easily direct it to go towards any direction with the use of a joystick that is found at the lower left part of the screen. Players can also look around the environment in The Wolf online. Players only need to click a huge button that is found at the lower right part of the screen to attack.
The Wolf Simulator 3D Tips and Tricks:
Use the Navigation Map to Find More Animals
Although this is an open-ended exploration game, to unlock the other features of the game players are still required to level up in order to enjoy. To do this, you should roam around and hunt for animals to kill in The Wolf online. Killing animals will give you points that can help you level up. So how can you find other animals in the wide environment you are in? It's simple. Just look at the small navigation map guide that is shown at the upper right part of your screen. The small white arrow is you, and the green icons are big animals in your location. White circles represent smaller animals like Rats and Rabbits.
Level Up The Wolf Online Fast
Leveling up has its perks because you get to enjoy new features in the game. Such as a new location, skins, and upgradable skills and attributes. To get there fast, you have to kill any animal you encounter. Whether big or small, just kill everything you see! Once you reach level 5 and unlock PvP mode, play the game on PvP mode and start fighting every other player you see. This mode will give you more XP points and will help you level up faster than that in CO-OP Mode.
Discover the world of The Wolf online simulator and download for PC now! For more adventure and exploration, check out our Role-Playing Games like Guild of Heroes – fantasy RPG and Dragon City!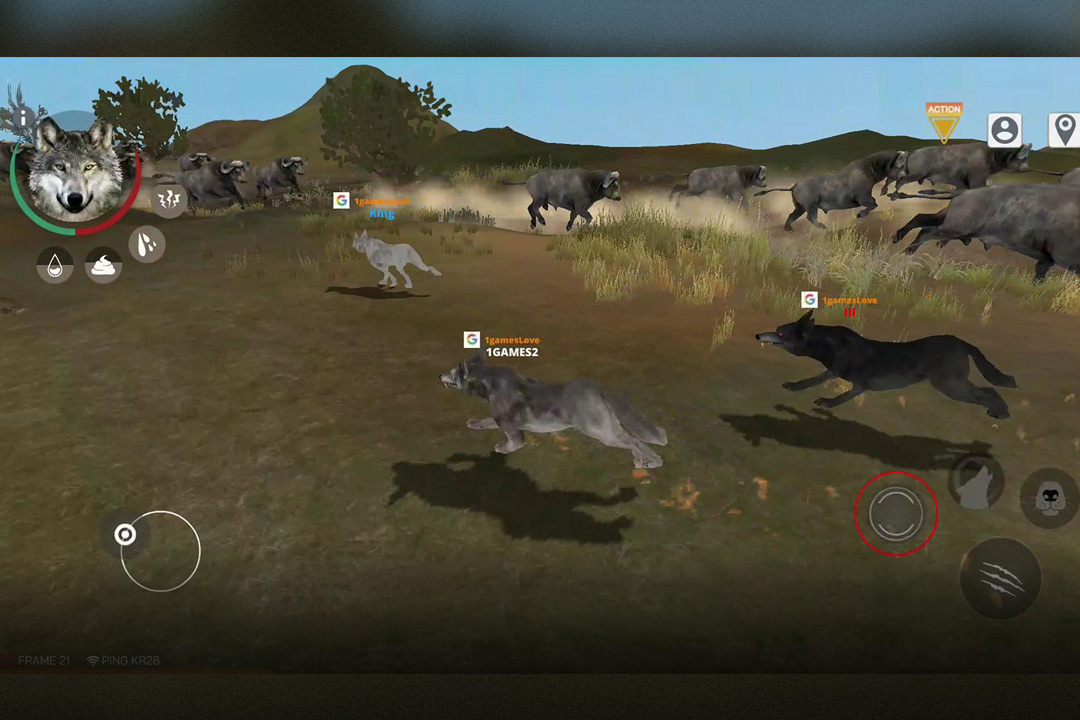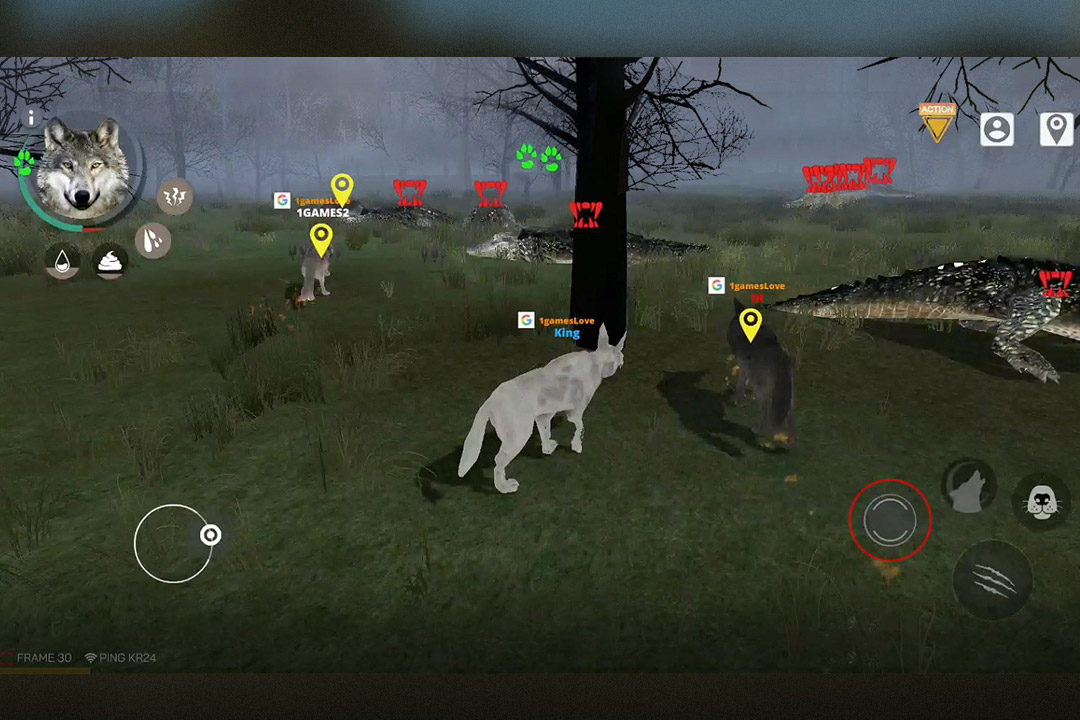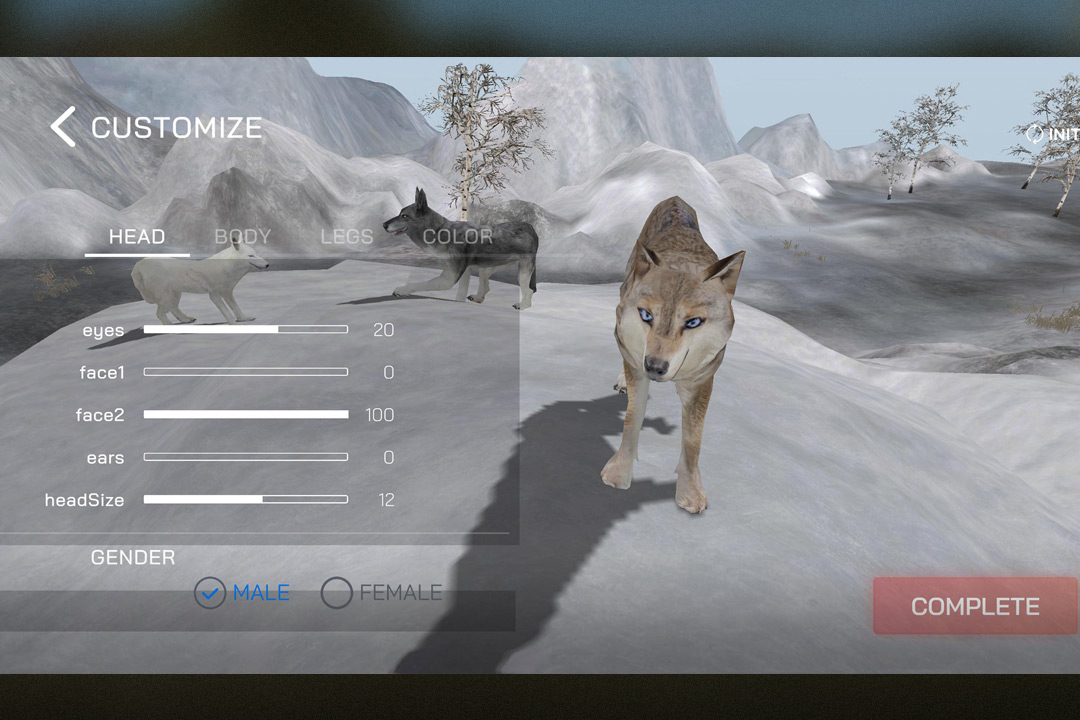 How to Install
Click
"Download"
on the website.
Install the Playstore
on your computer.
Open the Playstore
(Desktop shortcut).
Access your favorite
games and enjoy!