Extreme Car Driving Simulator
Extreme Car Driving Simulator - Play Car Racing Simulation Game to Your PC for Free
Extreme Car Driving Simulator is dubbed as the best car driving simulator of 2014. With its advanced real physics engine feature, it will feel like you're in a real sports car. The game has three modes you can choose from: Free, Checkpoint, and Traffic. The first mode has free driving, designated points to reach in the second, and real traffic with cars in the last mode. Download the online Extreme Car Driving Simulator game to your PC and learn tips about the game here at Games.lol
Control your car with three options: using the steering wheel, accelerometer, or arrows. Use whichever you are most comfortable with. Don't let the realistic car damage worry you. You can still drive it around normally, while you enjoy the dynamic 3D environment. Do stunts, burn asphalt, and ride as fast as you can with Extreme Car Driving Simulator online game. Live out your dreams of being a drag racer and enjoy hours of fast-paced entertainment.
Extreme Car Driving Simulator Game Features
If you're looking for an online car racing game with a twist, Extreme Car Driving Simulator is the one you're looking for. You can play in different game modes as well as choose and customize your own car. Read on and find more features and tips about Extreme Car Driving Simulator.
Zoom Away
Try the Extreme Car Driving Simulator download and marvel at its full real HUD (head-up display) revs, gear, and speed. What could be better than realistic driving physics? As soon as you lift the garage door, the game will welcome you to its main menu. You can drive as soon as you want to, with the first available sports car.
Visit the garage to check which other vehicles you have unlocked. They will be available the more you play. More mileage means more vehicles to choose from. There are over 20 different ones you can select from. Some of them can be unlocked using virtual cash (credits) earned from the game. You can start using cars with gathering collectibles (cars inside starburst symbols) in the game.
Explore & Customize
You can explore the main menu for more options to customize your game. Some of these are language, controls, ads, and access to the leaderboards. One issue that can be noted is the ads. There is an option to have them removed through an in-app purchase ($1.87). If not, the player will have to bear with video ads before, in-game, and after completing a level.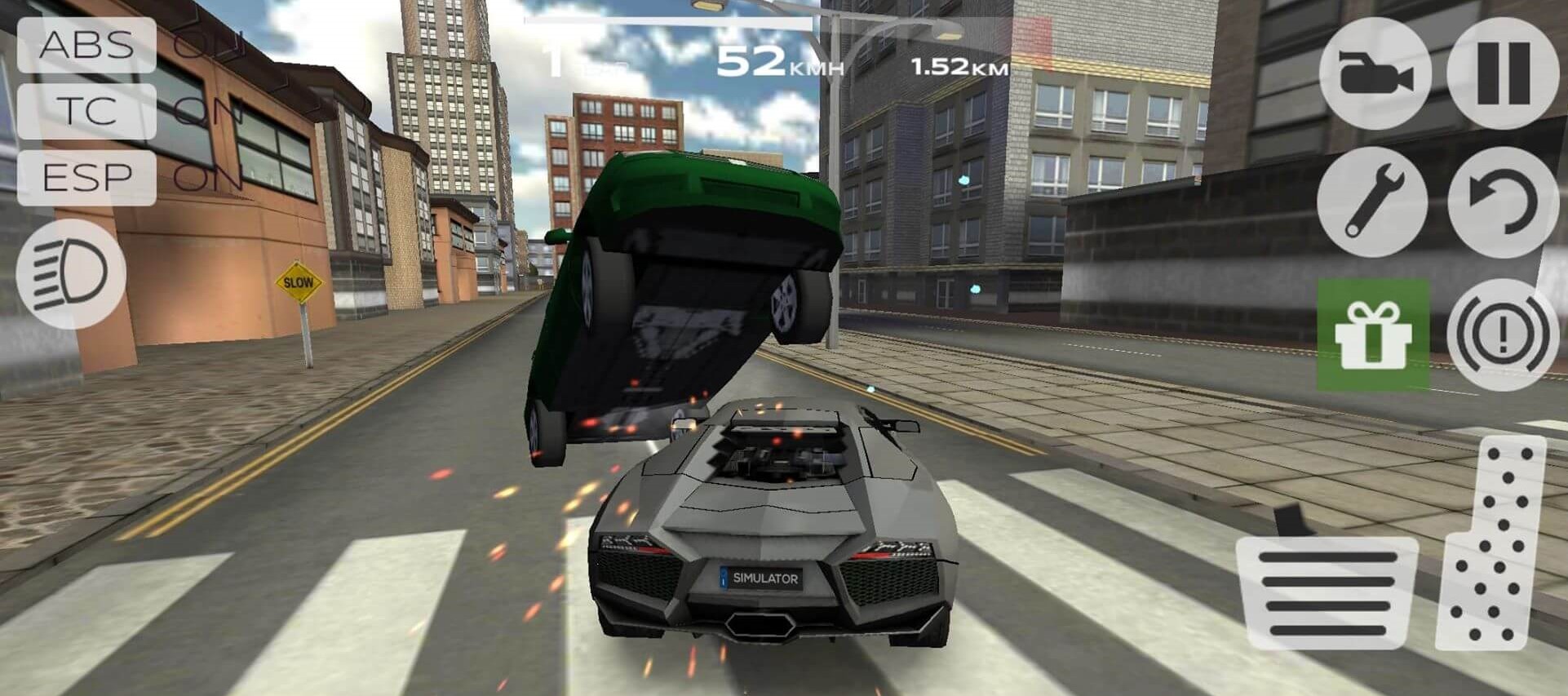 Extreme Car Driving Simulator Game Details
AxesInMotion Racing first released Extreme Car Driving Simulator on July 15, 2014. It is recommended for ages 3 years old and above. Hence, it is definitely safe for your child to play with it.
The current version of 4.17.6 was recently updated last September 28, 2018. The release update included bug fixes, day-night mode, dynamic lighting system, improved speed feeling, and crash special effects. The developers also added enhanced off-road environment, destruction events, car pack, and speed camera events.
Did we mention that there is also a new mini-game checkpoint mode and driving with traffic? Yes, they are now all available in Extreme Car Driving Simulator! The game has been downloaded over a million times and counting.
Extreme Car Driving Simulator Tips & Tricks
In Extreme Car Driving Simulator, you won't just be driving around. You'll also see floating cars. Yep, you read that right! Be sure to collect them as you can use to unlock even sicker rides. Read on below on how to do these tips and tricks.
Collect & Collect
Tips for a driving game? We know, the player should be "free" in these kinds of games. Consequently, we still have a few tips and tricks to offer. Be on the lookout for collectibles. These cars are floating above the streets or buildings. Actually, you can find them anywhere imaginable. Make sure to get these cars, as they will give you rewards (unlocked vehicles, mileage, or even cash). Also, don't worry about losing points if you collide with other vehicles. Tipping over on your back and getting off track will not give you any deductions either. Just enjoy your freedom!
Just Like The Real World
To add to the game's realistic feel, the Extreme Car Driving Simulator game allows you to change camera views. Depending on which you prefer, you can select to be inside the car, in front of the steering wheel.
The game can be customized to make the player feel most comfortable while speeding around in their chosen driving machine. The gear gauge and other meters add to this vibe. Your car even has working headlights.
Come on and download Extreme Car Driving Simulator racing game today! Have fun driving around, you speed lover! We have more fun and exciting games for you! Check out Zombie Guard for a different kind of action game or try out puzzle games such Fishdom for PC now!
How to Install
Click
"Download"
on the website.
Install the Playstore
on your computer.
Open the Playstore
(Desktop shortcut).
Access your favorite
games and enjoy!