Angry Birds Star Wars
Download Angry Birds Star Wars Free for PC - Gameplay Tips & More
In a galaxy far, far away,  there exists the Luke Skywalker Bird, Freedom Fighter. He is a true member of the Bird Rebels and a true hero. Step into the world of Bird vs Pig wars in this iconic collaboration between Angry Birds and Star Wars! Join an incredibly exciting journey with the Angry Birds Rebellion in a bid to save the galaxy from the arrogant pig troopers–and many other pig-headed characters!

Developed by Rovio, this addictive strategy game will leave you spellbound with all the gorgeous graphics of the different universes like Tatooine, Death Star, Hoth, Cloud City, Moon of Endor, Death Star 2, and more. The mini-storyline and cute characters will find a way to stay in your heart for a long, long time… be it the Angry Birds Star Wars character toys or the new game editions! It's time to protect the galaxy from the dark side. May the force be tweet you!
Angry Birds Star Wars
Over 200+ Levels of Gameplay
Saving the galaxy is no easy task! In Angry Birds Star Wars, you need to fight in over 200 fun-filled games unblocked levels and scenarios. Moreover, every level presents a fresh new challenge, with the pig troopers getting more and more evolved with their buildings each time (though sometimes you wonder why they have TNT crates in their structures)! The rebels mustn't give up. Freedom is worth risking everything for!
6 Worlds of around 40 levels each
You won't just be on Tatooine, but you'll be on Death Star, completing Boba Fett Missions, Hoth, Cloud City, Jedi Path and bonus levels! If you thought that the world of Star Wars couldn't be accurately caught in this game–then, you're wrong! Be mesmerized by the hundreds of features that define each world! Enjoy the landscapes as you take down the pig troopers' towers!

New Birds with Special Powers
These birds aren't just wearing star wars costumes. They possess the force too!
Black Bird Obi-Wan, in Tatooine 1-5, can use the force to throw nearby blocks! Just double-click the mouse on the area where you're targeting.
Red Bird Luke Skywalker, when upgraded in Tatooine 1-9, will be able to wield a blue lightsaber
Yellow Bird as Han Solo in Tatooine 1-17 can shoot three blasts out of the laser gun he's holding when you click on the area with your mouse.
Blue Bird as Rebel Pilot, in Death Star 2-1, is able to split into three birds upon clicking after launch
Big Brother Bird as Chewbacca in Death Star 2-11, doesn't possess any special power but he is massive and will cause lots of damage!
White Bird possibly as C-3P0, unlocked in Bonus Level, will self-destruct and exploding metal everywhere, causing damage to his surroundings, especially to TNT boxes!
Pink Bird as Princess Leia in Hoth 3-3, and she has the power to lift things with her "Gravitational Field Disruptor" abilities.
There are more, but we won't get into too much detail!
Simple Gameplay
It's not astrophysics, even though this game technically involves something to that degree with all the space mechanics! The game is simple to pick up. It involves launching the bird into space with a clear aim of wiping out all the stormtrooper pigs, mustache pigs, and pig bosses! Once you get the hang of the launching process in order to target where you need to go, then you'll be used to how much to pull back with what kind of degree for each bird's send off.

Great storyline & fun comics
Star Wars with an Angry Bird twist is what this game is all about. Throughout the game, you'll receive treats for the Star Wars fan in you! Comics and cute drawings! There's nothing boring about this game, and as you progress, the more stories you will unlock. So, immerse yourself into the world of Angry Birds Star Wars!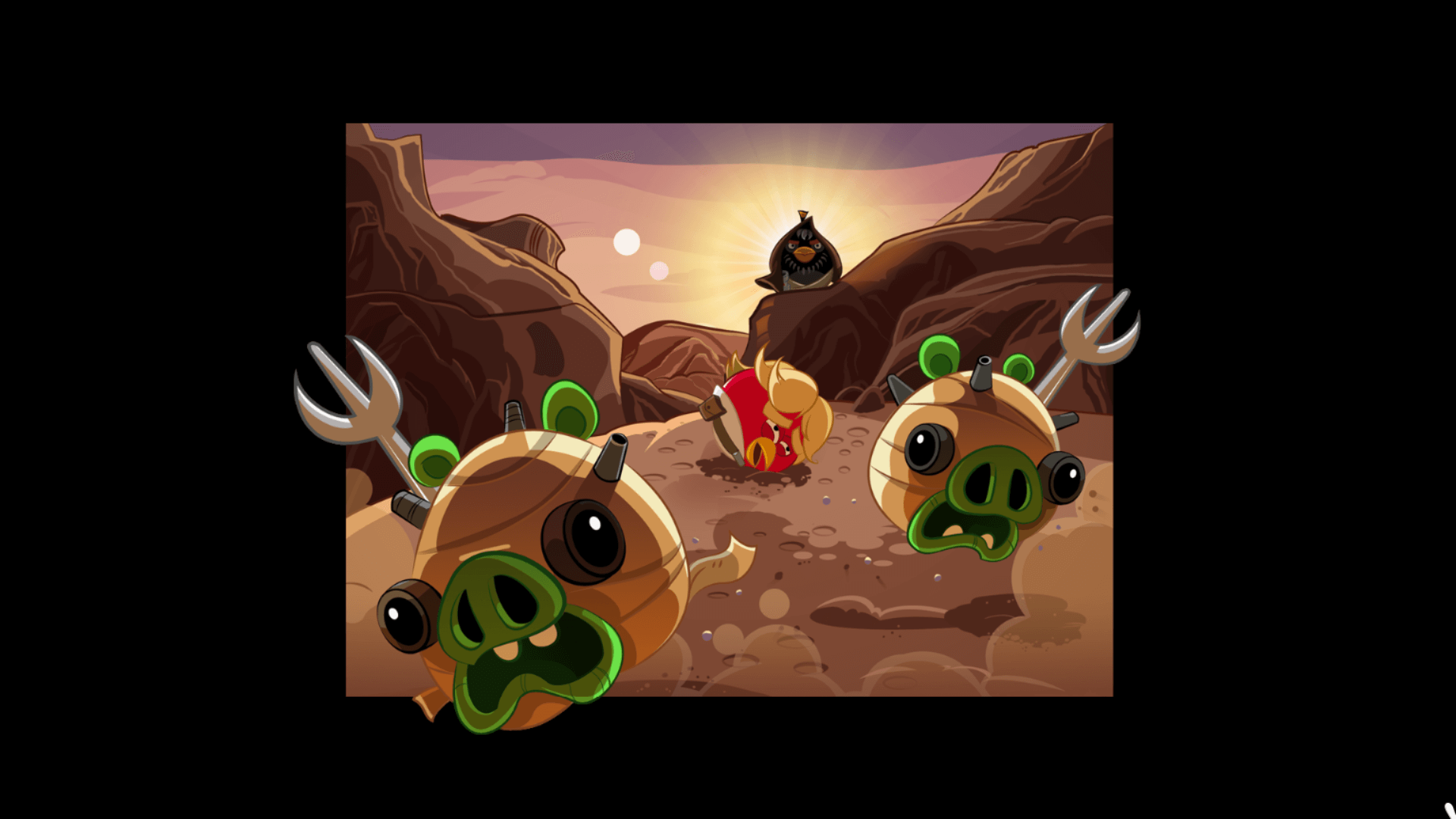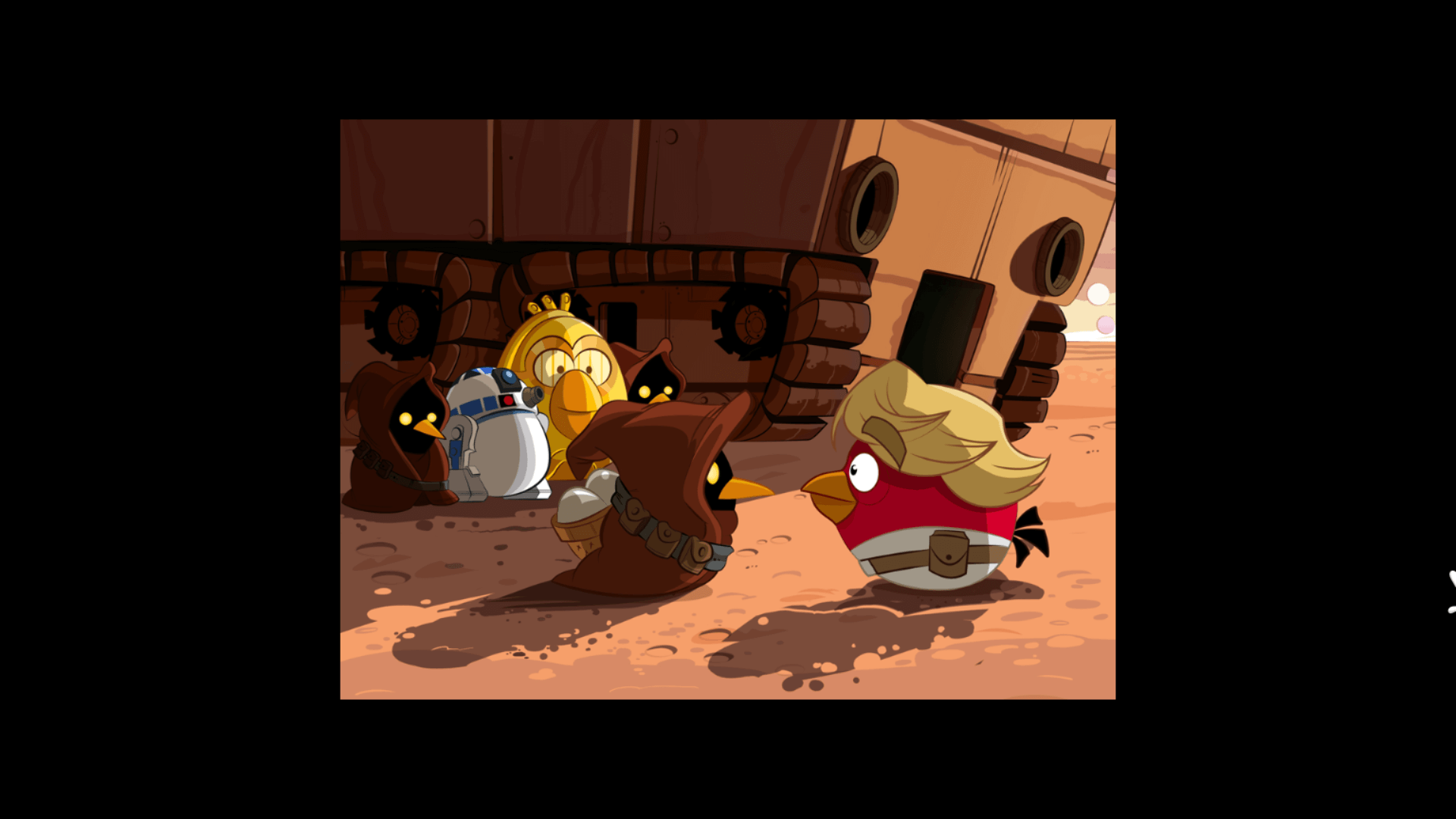 Walkthrough, Tips & Tricks
Wondering how come you can't get 3 Stars?? Here's how to get three stars when you launch your Star Wars Angry Birds, for Tatooine 1-1 to 1-10.

Tatooine 1-1: Launch your Luke Skywalker Bird at the horizontal piece of wood closest to you.
Tatooine 1-2: Launch the Luke Skywalker Bird at the top ice cube block, and the structure will come tumbling down!
Tatooine 1-3: Launch the Luke Skywalker Bird at the horizontal piece of wood that resides most at the bottom.
Tatooine 1-4: Launch the Luke Skywalker Bird at the front of the structure located at the back – there's a wooden beam that supports the structure. It ought to crumble the entire tower.
Tatooine 1-5: Launch your Obi-Wan black bird straight into the wooden blocks located in front, then apply the blue force by clicking your mouse, which will result in the blocks getting pushed to the right.
Tatooine 1-6: Launch the Obi-Wan black bird at the stormtrooper pig who is firing away. Then, apply the blue force push to the right to topple everything.
Tatooine 1-7: Launch the Luke Skywalker bird, avoiding the blaster fire, into the top-most glassy cube at the back.
Tatooine 1-8: Launch Obi-Wan black bird into the pile of rock blocks, using blue force to push everything up and to the right. This should result in having one of the rocks hit the TNT box.
Tatooine 1-9: Launch Luke Skywalker black bird, aiming to get in-between the wooden blocks separating two stormtrooper pigs. Once landed, activate the lightsaber to slash!
Tatooine 1-10: Launch Luke Skywalker, avoiding the blaster fire, over in an arc. Aim for the back, and switch on your lightsaber. This will tear down the TNT.
Download Angry Birds Star Wars for PC today! Looking for more arcade/adventure games? Try out Subway Surfers and Pixel Gun 3D!
How to Install
Click
"Download"
on the website.
Install the Playstore
on your computer.
Open the Playstore
(Desktop shortcut).
Access your favorite
games and enjoy!
Minimum System Requirements
You can install Games.lol on any PC that meets the following requirements:
Operating System
Windows 7 or above
Processor
Intel or AMD
RAM
At least 2GB
HDD
5GB Free Disk Space
GPU
OpenGL 2.0+ support