Bloons TD Battles
Bloons TD Battles: Download Free Fun Tower Defense Game
The wild, balloon-popping, monkey business continues with Bloons TD Battles! Build the ultimate defense against Bloons, and measure your Tower Defense game against players worldwide in a fun and fast-paced multiplayer combat! Feast your eyes on new monkey towers, and powerful upgrades. Control the flow of Bloons, and send them directly to your opponent's base to gain the upper hand!
Bloons TD Battles is an online free-to-play tower defense game that takes the concept of the classic TD strategy games, with two-player battles. Your goal is to stop "Bloons" from getting through your defenses with powerful monkey towers. It is available on both Android and iOS app stores.
Play Different Bloons Tower Defense Modes with Friends
The Bloons TD Battles game offers four new modes that will let you test your strategy gaming skills against opposing monkeys. All the modes are playable in one-on-one multiplayer battles. Each game mode comes with unique game-changing features that'll continuously challenge your TD game.
Assault Mode – It's an all-out war as you build the ultimate defense against Bloons, and gain the power to send Bloons to your opponent's Battle tracks pressing the advantage.
Defense Mode – It's a Last-Monkey-Standing match as you try to outlast your opponents by saving up funds to build the ultimate defense.
Card Battles Mode – It's a fight to see who is the wisest monkey in the jungle. Build a powerful deck of tower and Bloons card, and outwit your enemy!
Battle Arena Mode – The stakes are higher as you pit your medallions against your nemesis, in this winner-take-all Assault match!
New Maps, Monkey Towers, and Upgrades at Your Disposal!
The battle against Bloons never stops as we give you 27 new custom Battle tracks to test your skills on. 27 new menacing monkey towers to show off against your opponents, and eight devastating tower upgrades that'll annihilate Bloons! You can also customize your Bloons, with awesome decals to add salt to your opponent's wounds when they lose to your superior tower defense game!
So what are you waiting for? Hop on to your app store, and join the war against Bloons!
Hacks and tips for Bloons TD Battles
Even if you are a veteran of the older Bloons TD Battles games, the franchise is always evolving. In fact, the head-to-head multiplayer aspect of this iteration adds an entirely new dimension to the tower defense gameplay that you might be used to. Here are some quick tips and tricks that will get you started: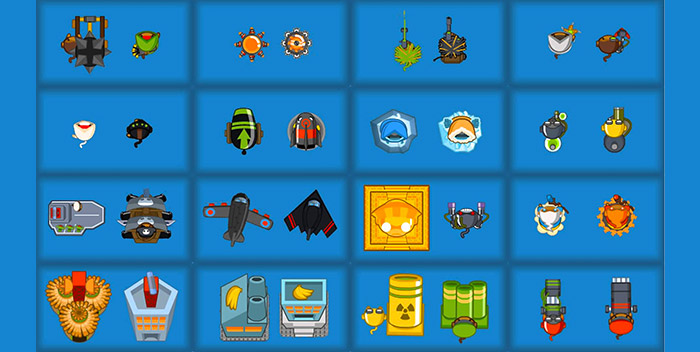 Beware the COBRA (Covert Ops Battles Response Agent) tower! It is a game-changer, and it can accelerate things up because of its ability to send a ZOMG Bloon very early on in the game. So be careful!
You may feel short-changed if you landed a Sniper Monkey for your deck. All is not lost if you received a Sniper Monkey, contrary to popular belief! Upgrade your Sniper Monkey to the fourth tier and you can unlock the power for it to stun M.O.A.B (Massive Ornary Air Blimp) Bloons!
Invest in skins that make your game more visually appealing and "home-y" for more incentive to stay focused! Instead of a banana farm, you can change it into a candy factory! Sweet, huh?
Don't use the tack tower so early on in the game unless you're ready to upgrade it to its highest potential when you actually place it in. Try not to put it near the end of the Bloons lane, put it nearer to the center.
Ninja monkeys are great to target the source of the Bloons, so put them near there or towards the center.
Place dart monkeys in inconspicuous corners; they will target stray Bloons for you!
Why Monkeys In Bloons TD Battles Hate Colorful Bloons
Our answer as to why monkeys hate Bloons and vice versa: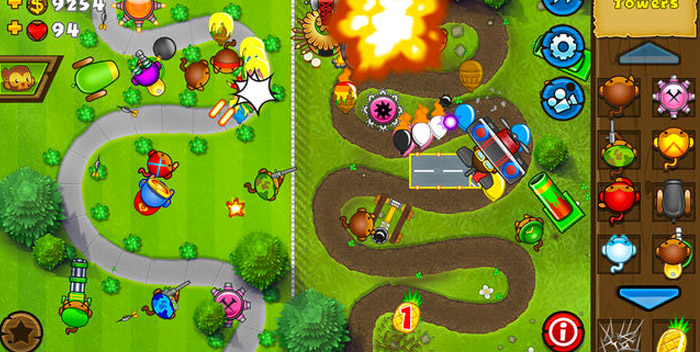 Angry monkeys bursting Bloons!
Left alone, Bloons will multiply and grow until they have the unmalicious ability to clog up the entire Monkey Kingdom. They can be friendly if they want to, but the overpopulation can really be frustrating for the monkeys. Bloons can have 100 family members or more, and they are relentless in growing and modifying themselves. The monkeys are pretty much clumsy creatures. If each leap they make into the air is going to cost the Bloons kingdom five Bloons, then living together is not an option. These monkeys accidentally pop Bloons with their fur and hands all the time.
"Accidental" doesn't cut it for the Bloons anymore.
Especially when it comes to the baby ones. So the Bloons decided that if they need land, they'd have to get rid of these monkey Bloons-poppers.
And well, the rest is history.
How to Install
Click
"Download"
on the website.
Install the Playstore
on your computer.
Open the Playstore
(Desktop shortcut).
Access your favorite
games and enjoy!