Hungry Shark Evolution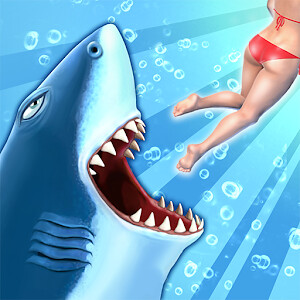 Hungry Shark Evolution for PC - Hack, Cheats, Game Map & Part 2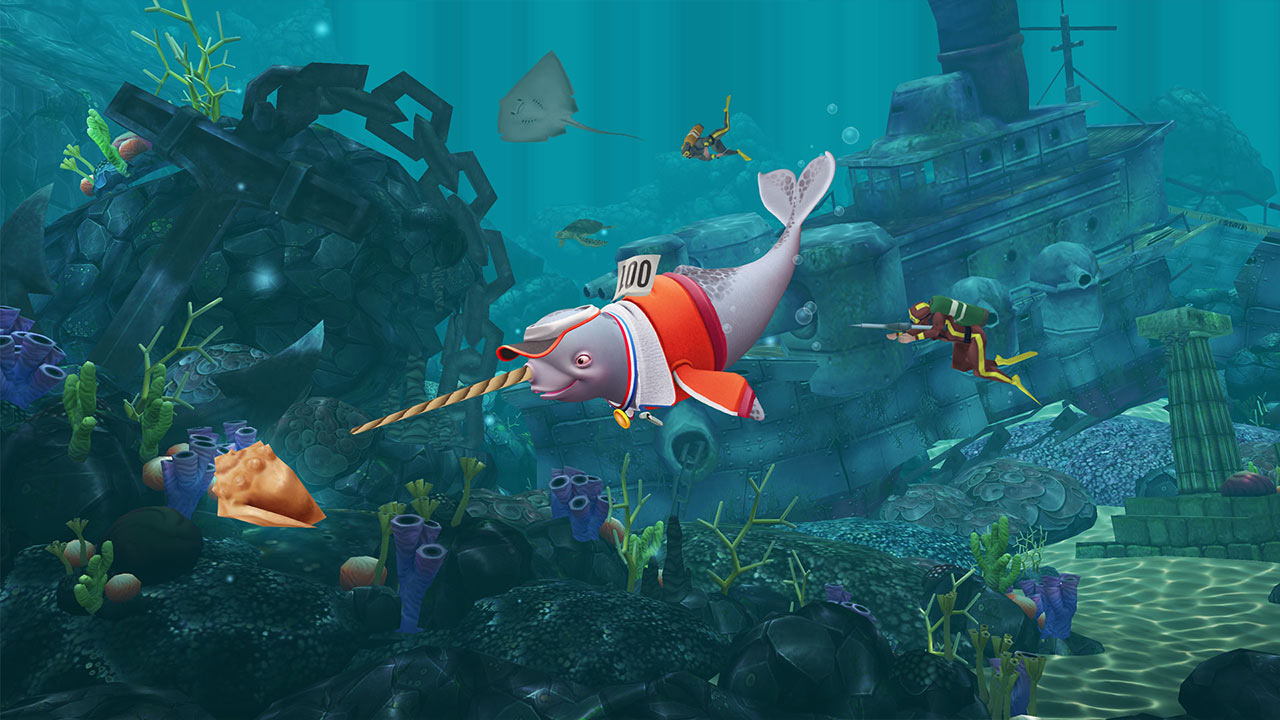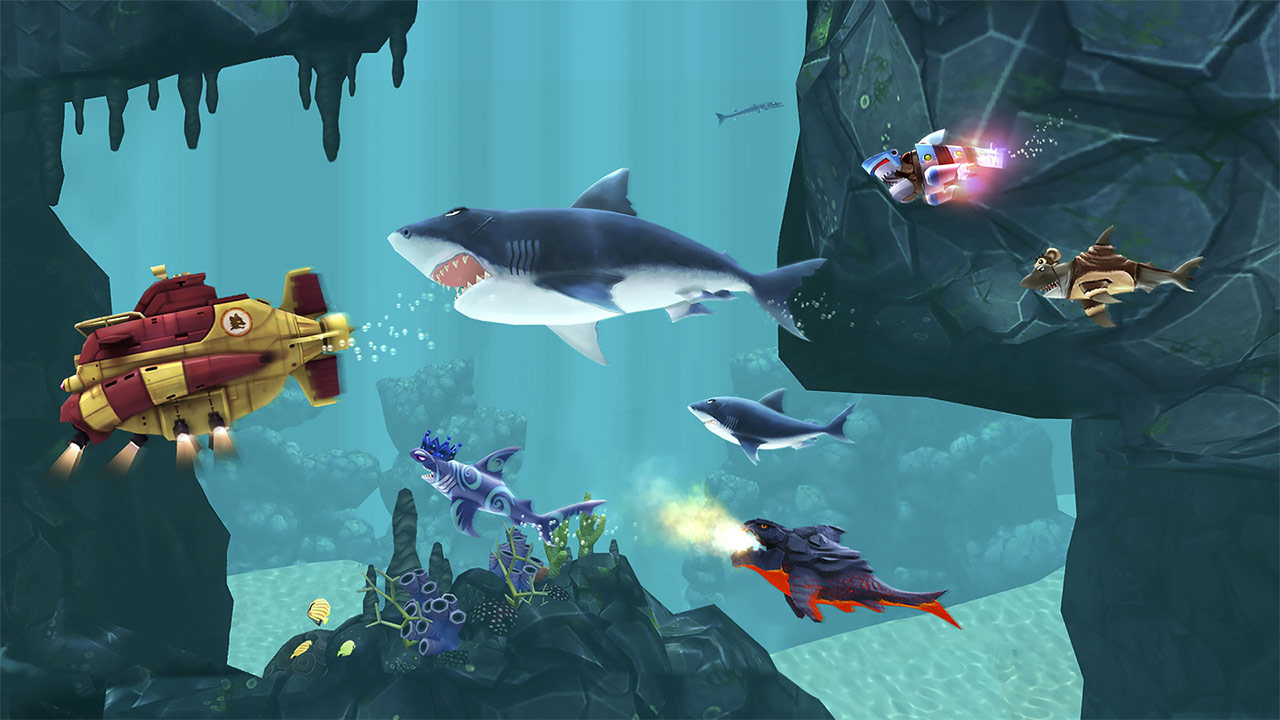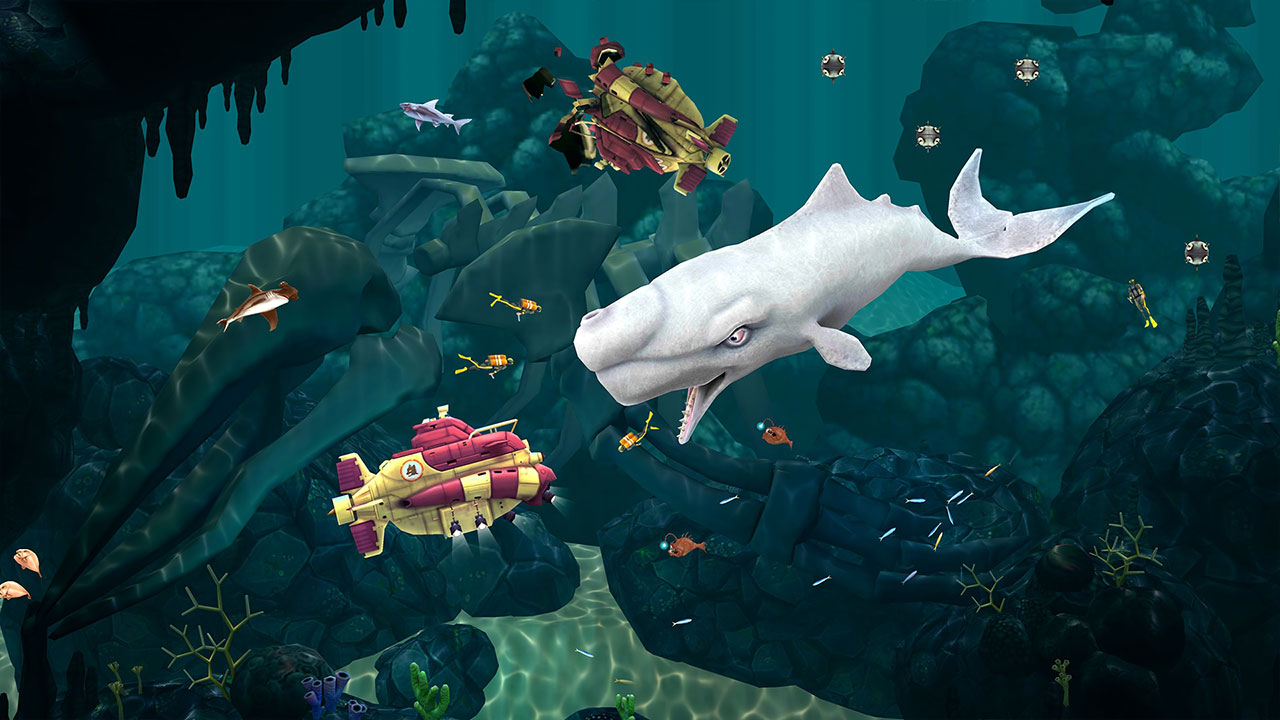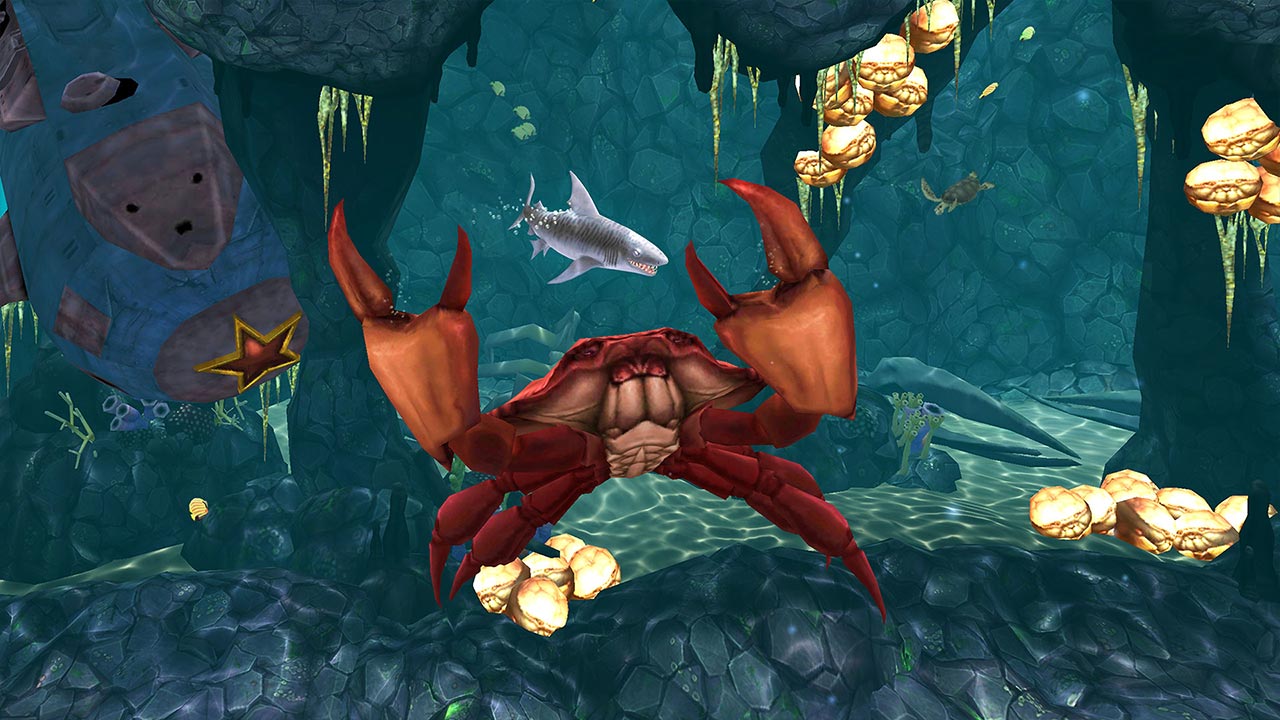 Your sharks are very hungry and on a rampage for food! They will eat anyone and anything in their way! Go on an underwater adventure with Hungry Shark Evolution and explore the underwater world filled with anything and everything that screams "FOOD!!". So chomp down those delicious and exotic sea creatures and fill the sharks' tummies in this underwater unblocked games!
Survive as long as possible by eating everything and everyone in your way! Sharks can either swim up to the surface and jump out of the water to eat humans or go down deep into the ocean, withstanding the water pressure, to hunt for the rarer creatures. Many iconic sharks to collect and evolve. Start filling up your collection with Hungry Shark Evolution!
With awesome 3D graphics and realistic sound effects, it adds more thrill and excitement to the game! Equip your sharks with accessories to boost their hunting power. Complete missions to obtain gold and exclusive prizes. Challenge your friends online and see who is the better predator! Join the Hungry Shark Evolution on PC today!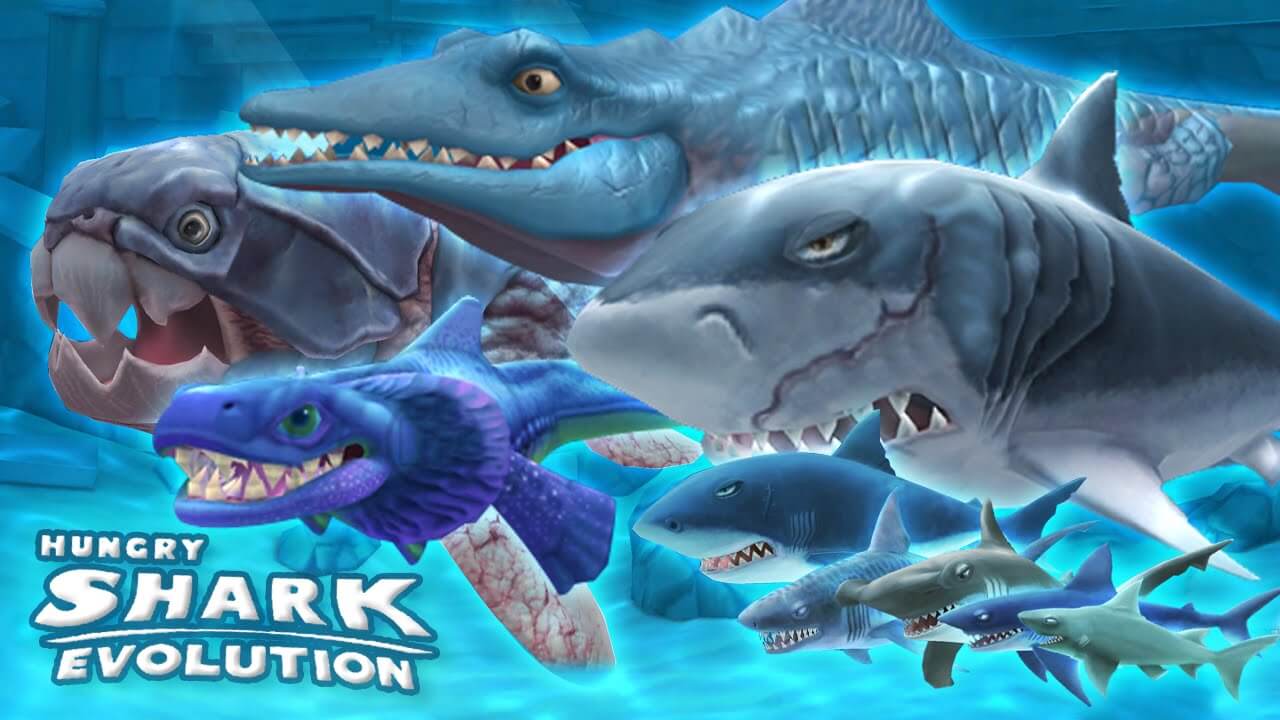 Hungry Shark Evolution Game Features:
Eat More as You Grow
Ever wanted to become like Jaws? If you manage to eat enough, of course, you can! Start off being as small as a small shark eating crabs, small fish, and seashells. Once you eat enough, you evolve into something larger – a more powerful being that will soon rip and gulp anything in its path.
As you evolve, you'll soon eat people, unsuspecting bystanders and even hang gliders given that you can leap really high. Soon after that, you'll turn into a behemoth that can rip apart scuba cages, other large animals like the orca or giant squid or even take on a robot!
Pick Your Predator
Hungry Shark Evolution game is filled with the best in biological beasts of the sea AND some additions of the extinct yet legendary sharks of the old period. Play as small but terrible mako shark, be a brute force as a hungry hammerhead shark, be on the prowl for unaware victims as a tiger shark or be the ultimate behemoth of the sea as the mighty great white shark!
But if the edgy classics don't thrill you anymore, you can go for ridiculous ones such as a zombie shark or a robot shark with FRICKIN' LASERS.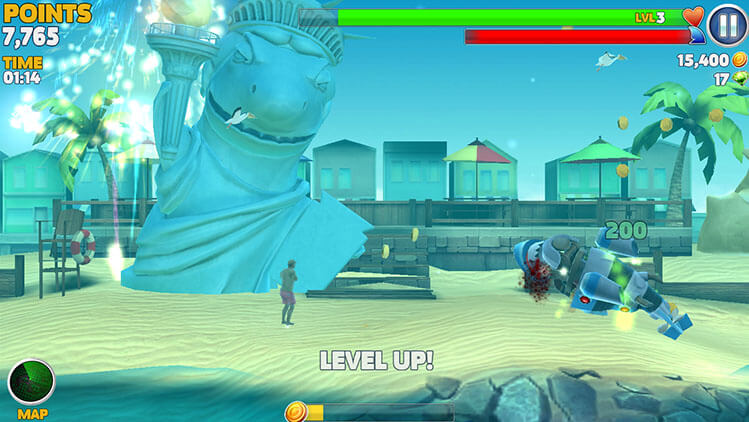 Feast on Different Locales
Go on a global culinary tour in search of the fattest and bloodiest meats in the region. Pick the classic beach that you always see in popular B-movies, wander a cave filled with fantastic beasts and foodtastic feasts, explore the downtown where the last thing people would suspect after Sharknado is a shark that's right in the main streets, or even become a shark with a cause by devouring on evil scientists who have captured your shark friends and turning them into weapons of mass destruction!
Your place, your bite!
Hungry Shark Evolution Cheats & Hacks:
Eat Easy, Die Hard.
Hungry Shark Evolution game is simple enough: you eat, you don't die. And the more you eat, the bigger you become. Early game is always both easy and hard at the same time – you get to eat small bastards but at the same time, you can get killed easily.
Become big and you're almost indestructible against harpoons, other competing predators, and underwater mines. The only thing you have to worry about when you finally get big enough is having a lot of food to eat as you become hungrier than ever before. Chomp whatever you see!
Becoming Big Opens New Explorations
Not only becoming large and in charge is very fun but it's also a perk on gaining access to things you never thought were possible: destroying scuba cages, leap out of the water and eat people on land, bust down steel doors in a secret base and eat a giant sea creature that's loaded with things it has already eaten that you can turn into multipliers.
Of course, there are some sacrifices: you won't be able to go through narrow passages, you're more prone to enemy attacks, you get hungrier faster and dangerous obstacles are barely avoidable.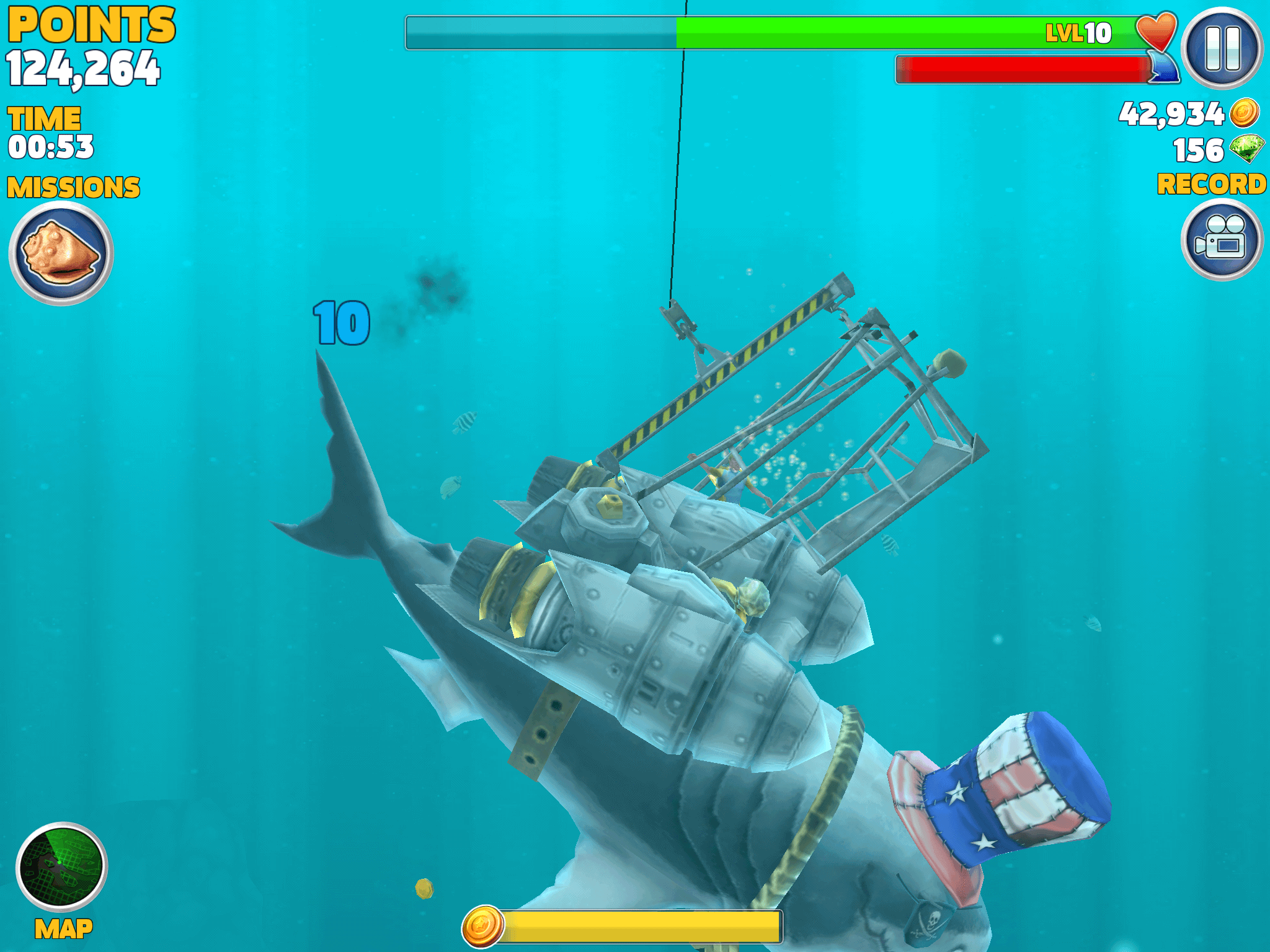 You Are Gold
It may look highly unlikely but did you know that sharks love gold as much as eating? We're just kidding by the way, but if you're looking to upgrade your shark even more, you'll need gold. Lots and LOTS of gold.
There are two effective ways to earn it fast:  First is the daily log-in as the payouts are always quite large.  The second way is through the mini-game of Gold Rush that happens during the game itself. To achieve Gold Rush mode, make sure you eat consecutively, not missing out on a target for more than one second. You'll know it starts when the banjo plays and it's blinking GOLD RUSH at the bottom of the screen.
So what are you waiting for?! Become a Hungry Shark and download and play this game for free on your PC and Mac! If you like Arcade Games like this one, you can also check out Subway Surfers here at Games.lol!
How to Install
Click
"Download"
on the website.
Install the Playstore
on your computer.
Open the Playstore
(Desktop shortcut).
Access your favorite
games and enjoy!
Minimum System Requirements
You can install Games.lol on any PC that meets the following requirements:
Operating System
Windows 7 or above
Processor
Intel or AMD
RAM
At least 2GB
HDD
5GB Free Disk Space
GPU
OpenGL 2.0+ support