Jetpack Joyride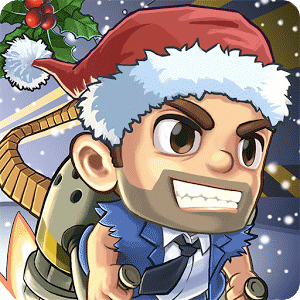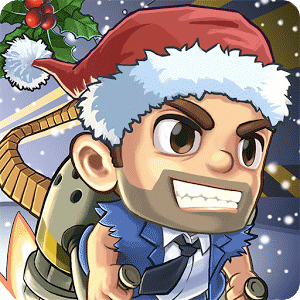 Play Jetpack Joyride - Download Arcade Game to Your PC for Free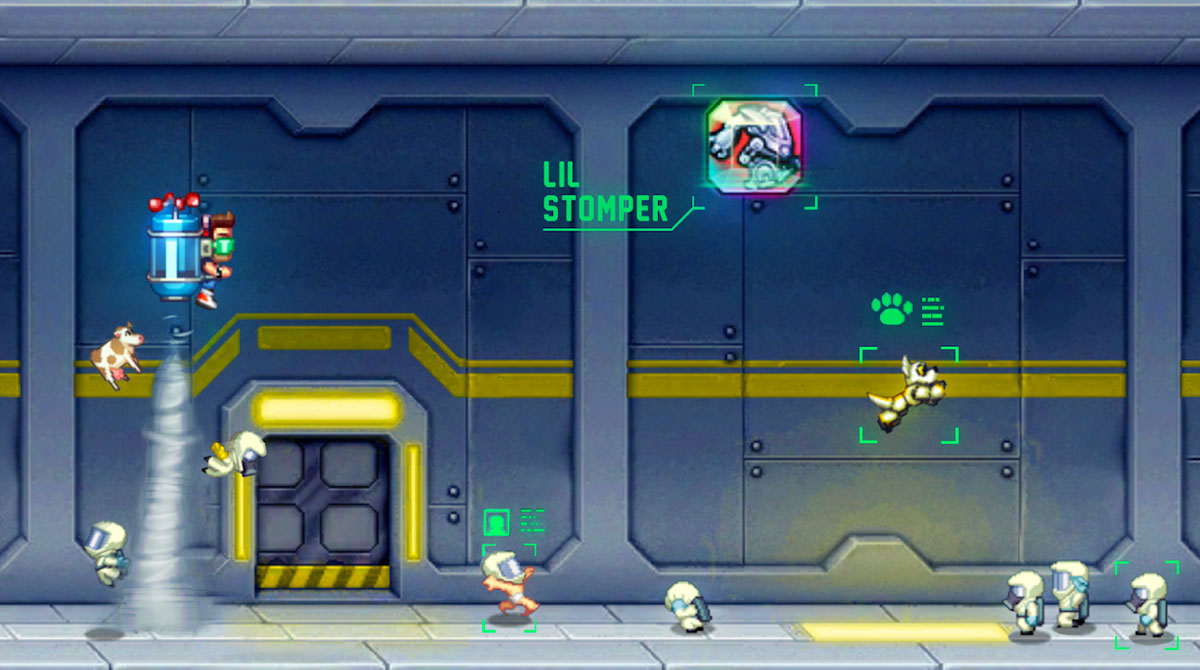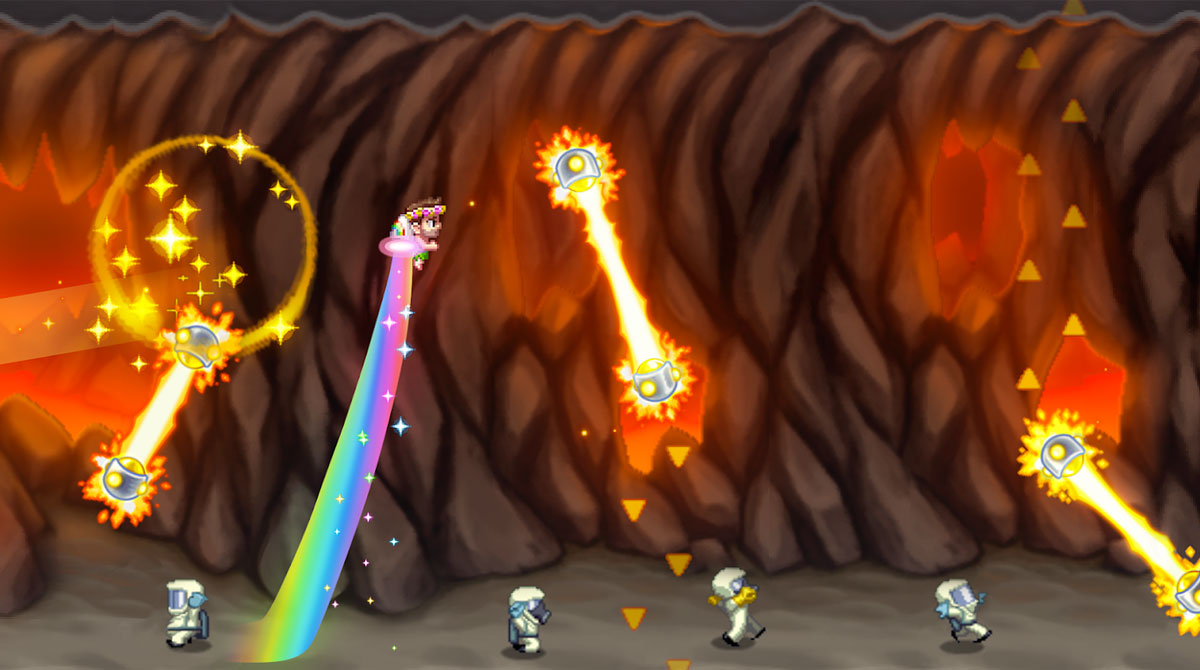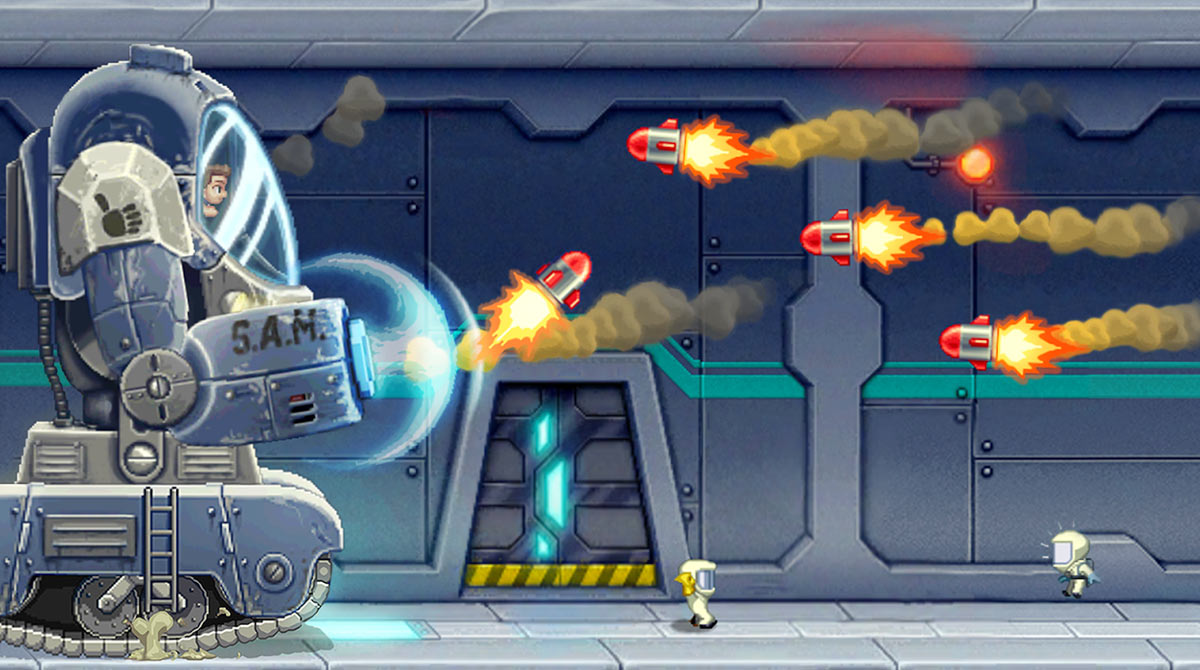 Halfbrick Studios made another exciting and addicting game after Fruit Ninja. This time, it's a side-scrolling, running online arcade game called Jetpack Joyride. You're going to play as Barry Steakfries, a vigilante who stole a jetpack armed with a machine gun. This special jetpack will help you escape the lair of the mad scientist who made it. Use it on your advantage and hover through the air, shoot the scientists and commandeer various transports.
Complete all the missions, equip yourself with high-tech bonus weapons and gadgets, and even customize your looks for a more fun experience! Help Barry Steakfries in this endless escape and download Jetpack Joyride today. Read more to find out the other perks of this game, as well as some helpful Jetpack Joyride tips and tricks.
Jetpack Joyride Online Game Features
A different kind of endless running game awaits you playing Jetpack Joyride. Aside from the various types of jetpacks, you can use and which can also be upgraded, the game has other fun features. Check them out below:
Run Endlessly In This Side-Scrolling Action
The concept of this online version of Jetpack Joyride game is simple, you have to escape from the people scurrying on the ground trying to get near your tail. Do whatever it takes; slide, jump, shoot people and survive the narrow escapes to get from one level to another. Also, missiles and lasers will randomly come at you. As you progress, the obstacles and traps become trickier, making it exhilarating for Barry Steakfries.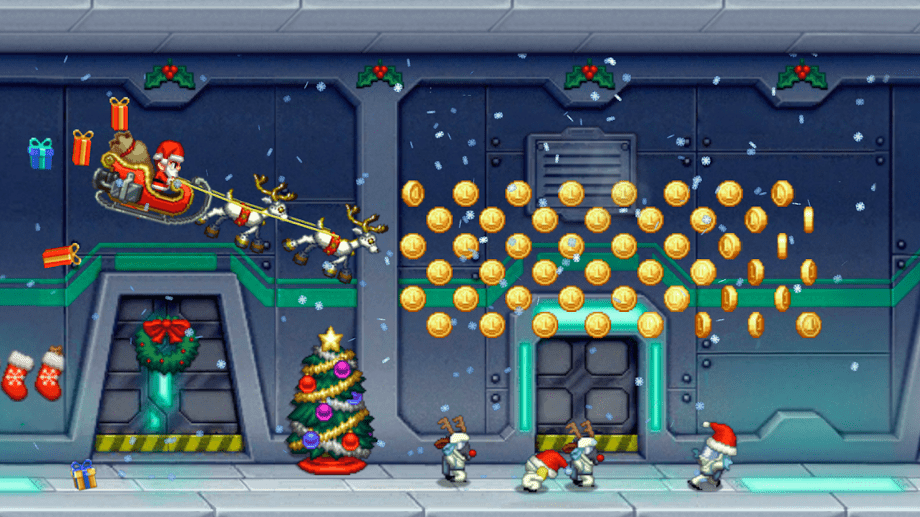 Slick Vehicles
The machine gun jetpack has its perks, and we love all of them. Shooting people while you're flying above the ground? Super cool! And what's even cooler is that you can also pick up various vehicles along the way. Take control of the popular ones like Profit Bird, Bad Ass Hog, Lil Stomper, and Crazy Freaking Teleporter. Ever wondered how it feels like to ride a giant mechanical dragon? You can now! Experiment and discover the tricks you can do with them!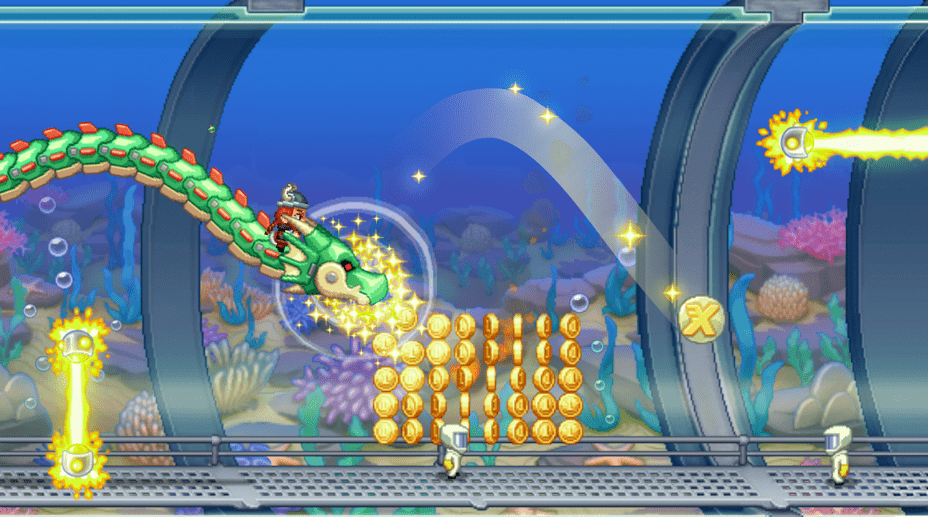 Mission Complete
One of the reasons why Jetpack Joyride is loved by many is the impressive mission system it has. No dull time. Playing won't make you feel like you're stuck in a slump. In fact, it's the epitome of "one more level" mantra that makes you want to complete more missions. Reach a certain distance, survive the game without getting hit by a missile and many more! The more missions you complete, the more stars and titles you earn. What would you strive for, then?
Whether you want to complete objectives or rank in the leaderboard (even both), you'll never run out of fresh runs. There are additional missions that the developers add to Jetpack Joyride, so be sure to download them once they are available.
Extra Jetpack Joyride Enjoyment
Aside from the action-packed side-scrolling action, there are tons of extras and bonuses you can make use of. Purchase bonus weapons like distance-boosting bombs, a feather for the jetpack (for a smooth momentum!), coin magnets to the vehicles and many more! And Barry Streakfries can't just look like a dull character the entire time, dress him up and customize his looks!
It's Christmas Y'all!
Jetpack Joyride's customization has reached its peak. You can now play the game in Christmas style! Put on your Christmas hat, ride a sleigh, and hover around the endless path to freedom.
Jetpack Joyride Tips & Tricks
Many of the endless running games that you see require you to just run around, non-stop. Not in Jetpack Joyride. As you start to play the game, you can experiment on how you want to move, giving you time to plan your strategy. We have more tips and tricks for Jetpack Joyride below so just read on:
Plan Your Move
Hovering in the middle is a safe move especially if you're a new player. Settling in the middle area will give you more chances of dodging the electric poles and other obstacles. Once you're ready to get out of the safe zone, experiment on the other areas. Missiles also randomly appear, so you got to be alert.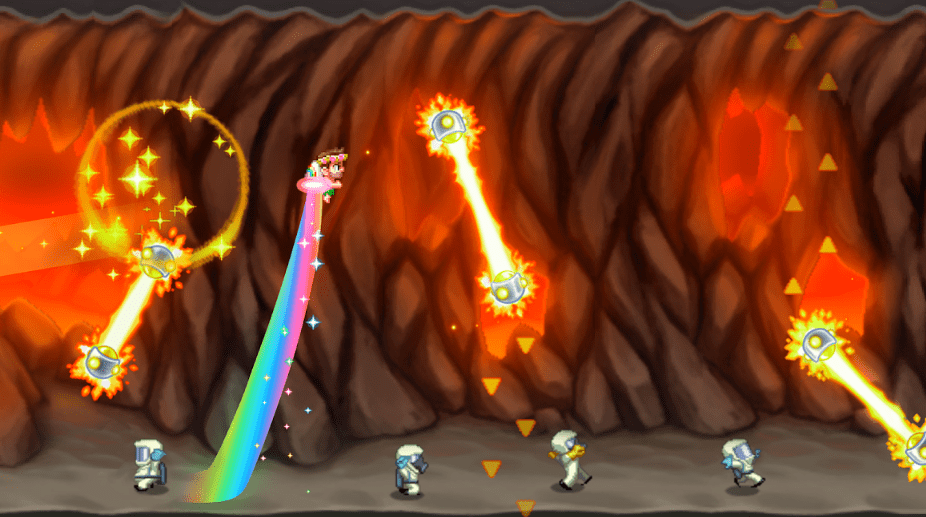 Finish Them Jetpack Joyride Missions!
The central part of the game is to complete the mission. If you want to rank higher, level more, and earn more coins (necessary for upgrades and customization), you should complete the missions one at a time. One of our tips, especially when given the mission to slide 50 yards on your face, is to move quickly (running is advisable) so you'll have a longer face slide. Other missions are fairly easy to accomplish, like avoiding missiles and reaching a certain distance.
Spin If You're Lucky
After every ranking, a slot machine randomly appears. It doles out bonuses that can help you complete your missions. To have a better chance of winning, pull the arm of the machine as the red flashes past the last arrow.
Up Your Power With Power-ups!
When you're just kicking it off, don't invest on useless power-ups like boost rings. Purchase the coin magnet instead so coins would be automatically accumulated. You can also try out the gravity belt or better yet complete all the types of jetpacks and experiment on what works for you.
Isn't Jetpack Joyride an amazing game to try out? Download and play Jetpack Joyride online on PC for free today! We have more fun and crazy arcade games here at Games.lol such as Run Sausage Run! and Bottle Flip! Download and play on your PC today!
How to Install
Click
"Download"
on the website.
Install the Playstore
on your computer.
Open the Playstore
(Desktop shortcut).
Access your favorite
games and enjoy!