Tap Titans
Become a Hero on Tap Titans 3 PC Download | Free Online | Unlock Guide, Wiki, Tips
The world needs you! Unleash your inner hero on Tap Titans 1. This is the game that started it all before Tap Titans 3 or Tap Titans 2.  In this game, you'll save the world from terrible monsters and titans that are wreaking havoc in their wake. Just tap to slay your enemies, and tap to summon more warriors and heroes. They will help you complete your mission to save the world! Fight and become a world-class hero in this action role-playing game.
Join more players through tournaments and friendly battles to double the fun! Develop your own battle strategies and explore a vast world that is full of mystery and adventure. Don't forget to collect artifacts, resources, and other items that can help your character. Do this by improving their weapons and skills on the battlefield. Are you looking for Tap Titans 2 guide, Tap Titans 2 wiki, or even Tap Titans 2 update?  Then you can get more tips by reading our free gameplay guide of Tap Titans here.
Tap Titans Game Features:
Get Straight Into Action and Kill Monster Enemies
Similar to Tap Titans 3, in this version players are sent straight into battle. After naming your character, you will immediately face a wave of monster enemies. And they can only be killed once you hit them with your sword! Kill your enemies fast and collect coins or rare artifacts as you progress along in the game. Tap to kill, tap to upgrade, and tap to collect. You will enjoy hours of pure action-adventure fun in the Tap Titan game!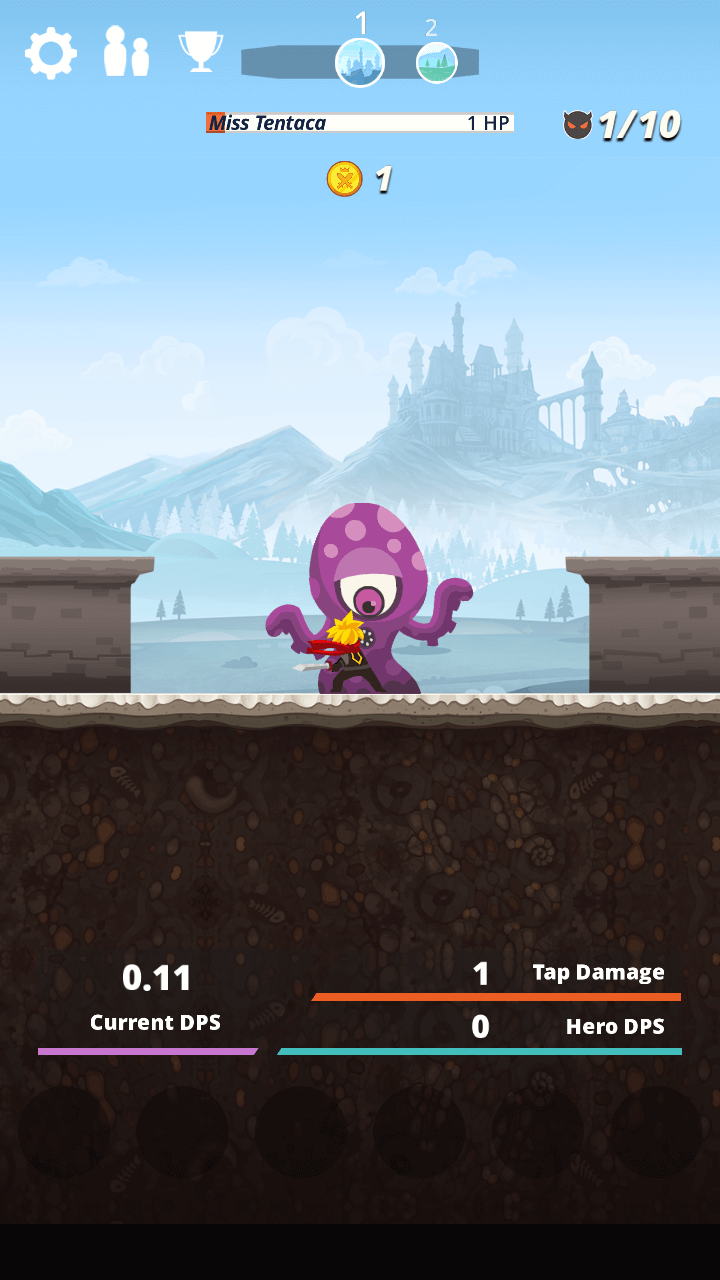 Easy to Learn Game Controls
Tap Titans will not give players much introduction. Because characters are sent to battle right away! However, the game will guide you to tap new functions and upgrades once they become available. So no worries there.
To defeat enemies, all you have to do is to tap the screen as fast as you can. Yes, just tap anywhere to strike a blow and defeat your enemy. The faster you tap, the better. And remember, you only need to defeat enemies and bosses within 30 seconds. So just keep tapping away!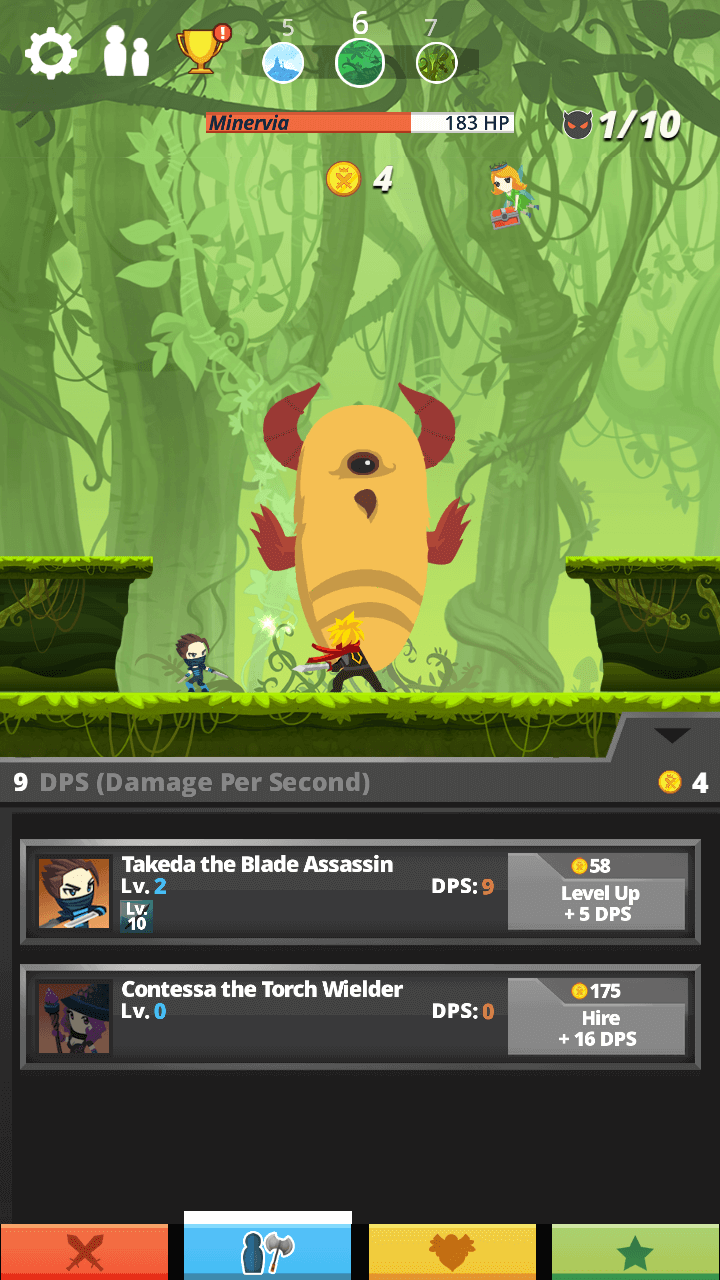 Upgrade Your Tap Titan and Hire Warriors
As you level up in the game, you will encounter stronger monsters in different locations. You cannot easily defeat them all without a little help. That's why the game has several warriors that are available for hire!
You can take your pick from a bladed assassin, mysterious witch, and many more. Each hired warrior is also upgradable, but they usually cost a huge amount of coins. You can also upgrade your character to make him stronger. And it is cheaper to do so than hiring or upgrading your warriors. Either way, you need coins to upgrade yourself and your team. So make sure you tap on all those coins once you defeat an enemy in the game!
Tap Titans Tips and Tricks:
How to Get More Gems in Tap Titan
Players are usually rewarded with coins during the actual battle, and thus gems are harder to come by. Unless you are willing to purchase some with real money. Gems are also useful if you want to make use of perks. One such example is "Make It Rain" which will basically reward you with a 19.63K worth of Gold coins. However, this will cost you 100 Gems. So what should you do?
A great way to earn gems is by accomplishing achievements. A list of achievements is found once you tap the trophy icon. Accomplish all these to collect many gems as possible! Each achievement will reward you with 15 gems.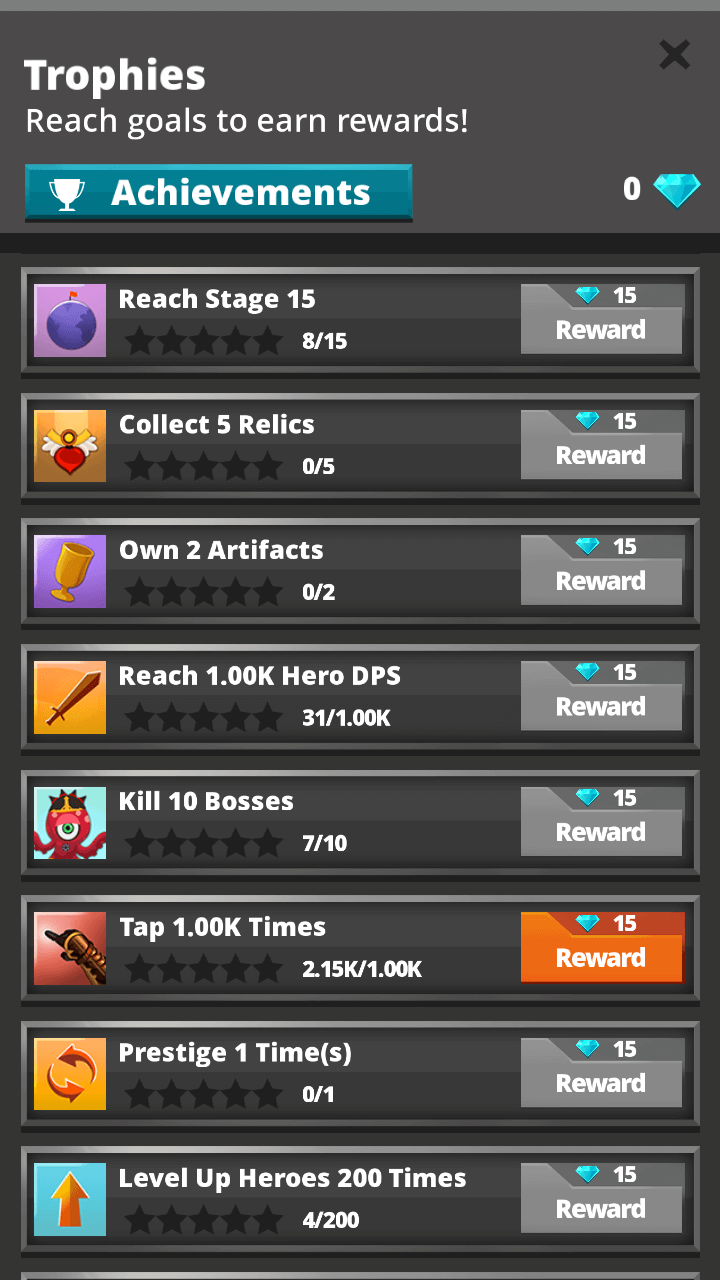 Reserve Treasure Chest Boosts For Boss Fights
Whenever you find a little fairy hovering above you during a battle, this means that your treasure chest has arrived! Treasure chests contain free items and resources. Such as gold coins, gems, and even extra power boosts. If it does contain power-ups or boosts, it can greatly help you during difficult boss fights.
So if you see a fairy hovering around, and a boss fight is coming up. Hold it off to make sure its boosting effects can still damage the boss. But if the boss level is still far away, just tap on the chest to redeem it. The fairy won't be staying too long, and will actually fly away if you don't redeem it.
Get started on an endless killing spree in Tap Titans, so get the free download now! Check out its notable difference with Tap Titans 2 and Tap Titans 3.  Head on over to our Role-Playing Games page for more games that'll quench your thirst for adventures, such as Star Wars™: Galaxy of Heroes and MapleStory M!
How to Install
Click
"Download"
on the website.
Install the Playstore
on your computer.
Open the Playstore
(Desktop shortcut).
Access your favorite
games and enjoy!