Animal Restaurant is a fun management simulation game where you own an animal restaurant. You will cook scrumptious food, decorate the place with awesome furniture, and many more. One aspect of this game that you'll do is collect letters. These are items that you'll receive and there are many of them for you to collect. But to help you in collecting these letters, we will provide you with a comprehensive Animal Restaurant letters guide.
In this blog, we will discuss some information about letters. How you start acquiring them and what you need to do to get all of the letters available in this casual management simulation game.
What You Need To Do to Acquire Letters in Animal Restaurant
When you start playing Animal Restaurant, you won't immediately start getting these letters. There are several things you need to do first to start getting letters in this management game. The first thing you need to do is to unlock the garden area of the game. It's one of the game's upgrades. But you need to fill it with 100,000 fish first, as well as obtain a restaurant rating of 500 stars to unlock it.
After unlocking the garden, you need to purchase a mailbox. There are many different mailboxes available to choose from. Although they don't necessarily affect the kind of letters you get, they do offer features that can help your messenger, Hedwig the Owl. Once you get a mailbox, you can hire Hedwig for 50,000 fish. To find him just navigate to the staff menu of Animal Restaurant. Once you have all of these, you can start getting letters.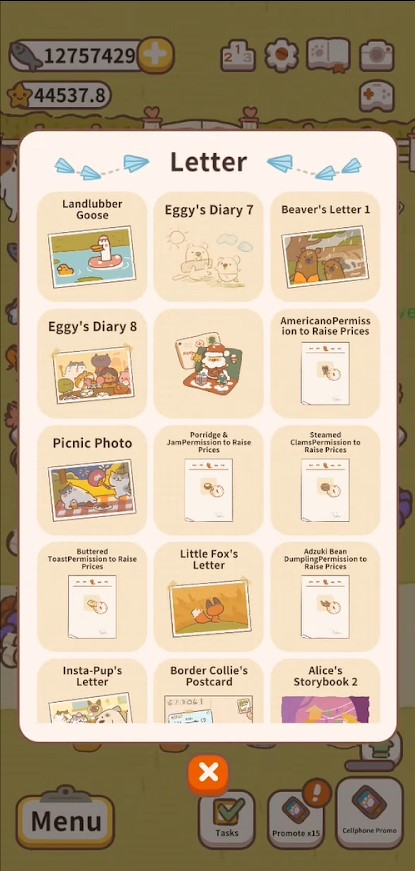 How To Receive Letters
Next in this Animal Restaurant letter guide, we'll discuss how getting letters works in the game. Hedwig, the messenger, will leave and go on adventures. How long it takes him to come back will always depend on his level. Increasing the level decreases the time needed before he returns from an adventure. When he comes back, he usually brings items, including letters. This is how you will receive letters in the game. Most of the time, the kind of letters you will get is random.
In total, there are 157 letters that you can collect, and it includes 22 letters about Permission to Raise Prices. Though the letters you will get are random, it doesn't mean you can't influence the kinds of letters that Hedwig brings back.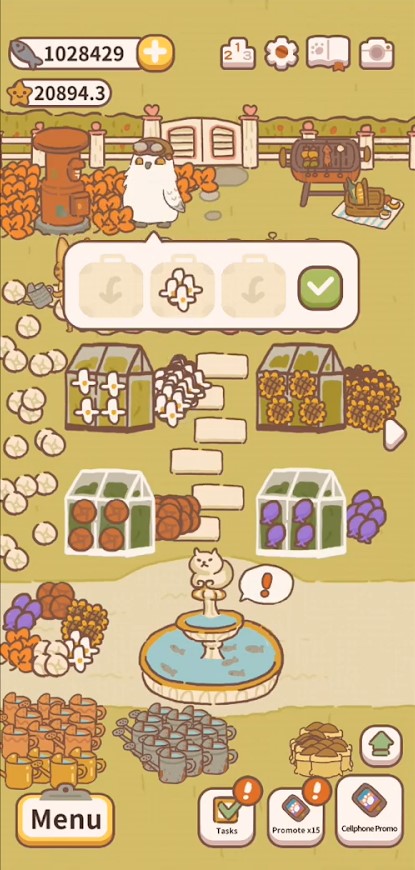 Animal Restaurant provides a way for you to get certain letters based on the flowers you'll put in Hedwig's suitcase before he goes on his adventure. Take note, though, that certain letters are time-specific, and Hedwig can't help you get them. But for the most part, letters are acquired through Hedwig's adventures.
Influencing the Letters Hedwig Brings Back
Generally, Hedwig has three slots in his suitcase for you to put flowers in and there are many different flowers available. So, you'll have plenty of combination options to try and a particular letter to acquire. There are also regular flowers like the daisy, sunflower, rose, and bluebell, and rare/seasonal flowers like the white rose, Sakura, four-leaf clover, maple leaf, and snowflake.
Take note that each flower has a corresponding level and it will play a role in influencing the kinds of letters that Hedwig can bring back. For example, maple 1 combined with snowflake 1 and bluebell 1, as well as maple 4 with bluebell 4 and snowflake 2 can bring back Egg's Diary 7. Aside from flowers, gardening tools can also influence the kinds of letters that Hedwig will bring back. There are four types of watering cans, they are iron, copper, gold watering can, and seeds.


Some letters will need gardening tools along with flowers for Hedwig to get them. Some examples include Alice's Storybook, Beaver's Letter 1 and 2, Border Collie's Letter, Egg's Diary 1, and so on. It's important to remember that the arrangement of the items on the slots doesn't play a factor in influencing the letters you get. For example, sunflower 4, rose 4, and clover 2 are just the same as clover 2, rose 4, and sunflower 4. That's not considered a new combination. Both can influence getting the Little Fox's Diary 2.
It's also worth noting that letters will have more than one combination to influence getting them. Let's look at New Zealand Journal Page 1. The following combinations will influence getting the letter:
Daisy 4, Rose 4, Bluebell 3
Rose 1, Bluebell 1, Daisy 2
Bluebell 3, Rose 4 Sunflower 4
Why Acquire Letters
What's great about the Animal Restaurant letters is that they're not just there to provide you with some completion objective. Many of the letters will provide a bonus or unlock certain features in the game. Most of them provide bonus stars, while others will unlock features or a combination of both bonus stars and features.
One example is Newspaper 3, which provides 120 bonus stars while the Little Fox's Letter will unlock the little fox in the game. Another example is the Border Collie's Postcard, which gives 120 bonus stars and unlocks the coconut cassia wine. Acquiring letters is a great way to get stars and have certain features or items unlocked and usable in Animal Restaurant.

Take Away – Animal Restaurant Letter Guide
Acquiring letters in the Animal Restaurant game is important. It not only provides bonus stars, but it also unlocks certain features or items. The letters you get from Hedwig's adventure are random but you can influence them by making Hedwig take certain items during his adventure. You can also try different combinations to get certain letters.
Make sure to also get the complete list of available letters in the game and use this Animal Restaurant Letter guide to get them all. For more comprehensive game guides, reviews, and news, be sure to stay tuned only here on Games.lol!