Are you dreaming about having a pet? But, you can't manage to have one due to some varied circumstances such as you don't have enough time due to your occupation or your place is not a suitable place to live for a pet. So, why settle for your sadness if you can still have your own pet by playing virtual pet games?
Virtual pet games are some sort of simulation game where you'll perform usual activities like what is meant to take good care of a pet, including feeding, cleaning, training, and raising. These games are renowned for being adorable and family-friendly; even toddlers can play on them.
There are loads of available virtual pet games available on the game pool, and to help you sort out the best games to play, here is a list of the best virtual pet games you can play on your PC today.
1. My Talking Tom 2
Starting our list of the best virtual pet games is the iconic cat game My Talking Tom 2. It's one of the famous creations of Outfit7 Limited, and it has joyfully surpassed different ages from the time of its predecessor. In this casual game, you'll get a chance to own an adorable black cat.
Just like in the first installment, you still need to raise Tom like a typical cat, which means you need to feed, bathe and play with him. But, you still need to know what Tom needs; if he needs to pee, you need to let him go to the bathroom, his favorite food, and when is the time he needs to play. Again, like a typical pet, you must be keen on Tom's reaction; you need to ensure that he's happy and not starving.
What's more amazing about My Talking Tom 2 is you can play with Tom through his toys and mini-games. You can actually tickle him if you want him to laugh. In addition, if you wish to unleash your fashion style, you can choose to dress up Tom with your preferred clothes, hats, and accessories.
2. Talking Ginger 2
Reserve the second spot of best virtual pet games is another captivating cat game called Talking Ginger 2. Like Talking Tom, this game was published by Outfit7 Limited. Furthermore, if you prefer playing with a female cat, then you should not miss playing with Ginger. The gameplay and mechanics are just the same as Talking Tom has, such as raising, feeding, tickling, poking, and playing mini-games.
But, what makes Talking Ginger 2 unique is it offers a birthday theme where you and Ginger can play engaging, wholesome birthday activities such as blowing candles, party whistles and eating. So, if you're looking for a perfect game that can boost your little one's imagination, you better not miss downloading this game!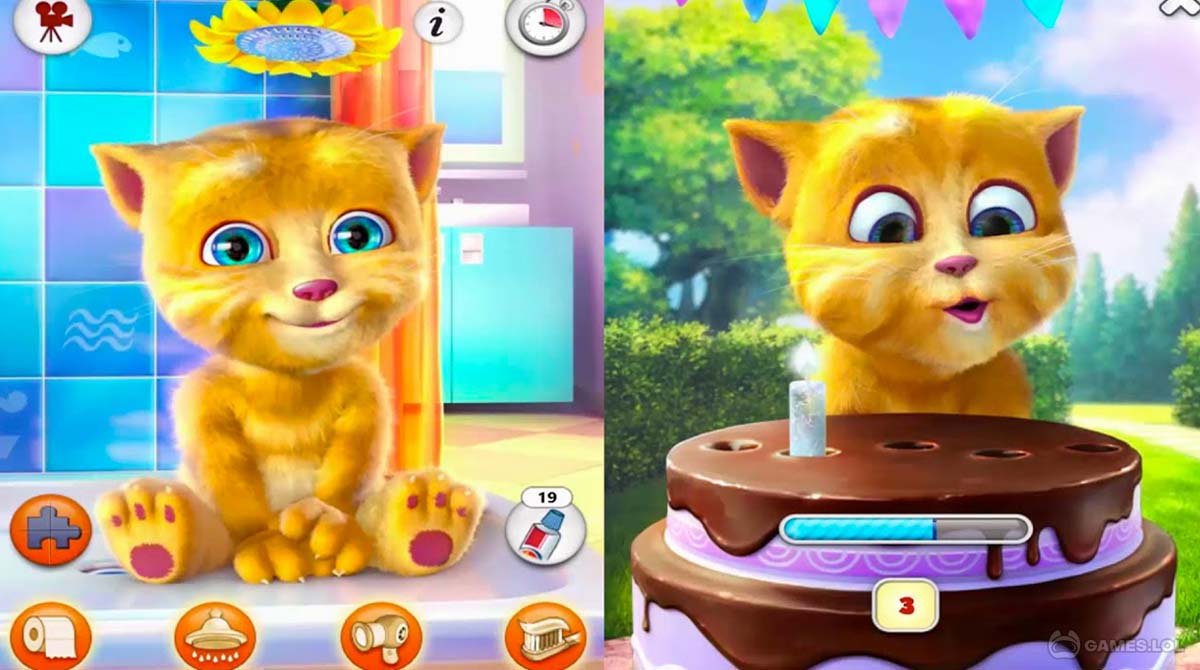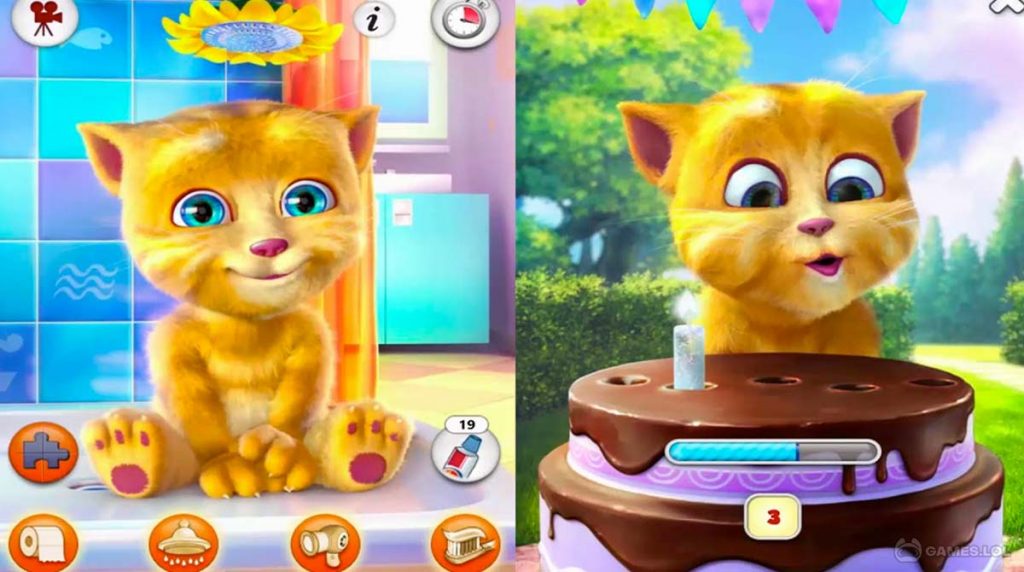 3. Talking Ben the Dog
If you're a man's best friend, then you should not miss the chance to play Talking Ben the Dog. This casual game shares the same devs as the first two virtual pet games, with the same elements as well. If you're already tired of playing with the cats, you might consider raising a dog. But, what sets this game apart is Ben is not a puppy but an adult dog.
There's no need to deal with baby talks and playful activities when playing with Talking Ben the Dog. All Ben wants is to live a peaceful life out of stress. However, behind that serious face, you can still capture Ben smiling through tickling and poking. If your little one prefers dogs, you can alternatively let them play this virtual pet game to hone their imagination.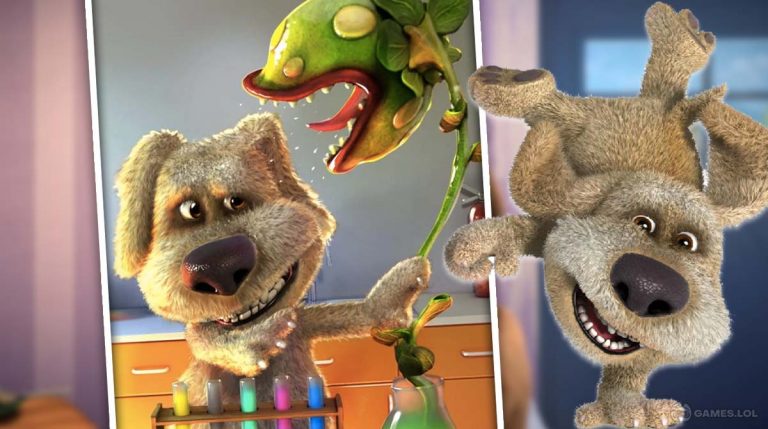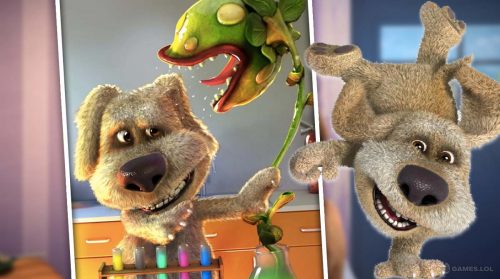 4. Bubbu – My Virtual Pet
Another addition to the captivating roster of virtual pet games is Bubadu's Bubbu – My Virtual Pet. In this casual game, you'll get a chance to raise an adorable cat named Bubbu. Though the game doesn't offer a tutorial, you'll surely figure out its gameplay once you've started playing it. So, instead of the tutorial, this cat game will inform you what Bubbu needs.
Like the mentioned virtual pet games above, you are responsible for Bubbu's feeding, bathing, playing, and even sleeping. To accurately know what Bubbu needs, you can access the gauges in the upper left corner of the game screen. From there, you can figure out if your charming cat needs to play, eat or sleep. Just like what have with Tom and Ginger, Bubbu also has a separate bathroom, kitchen, and playroom.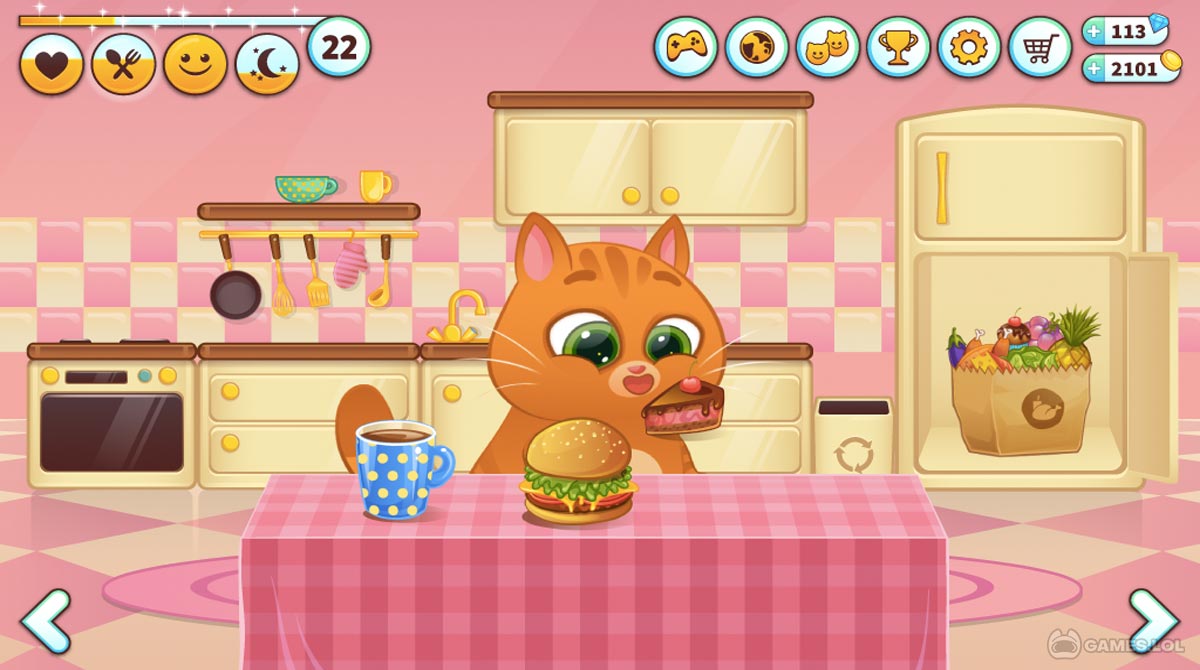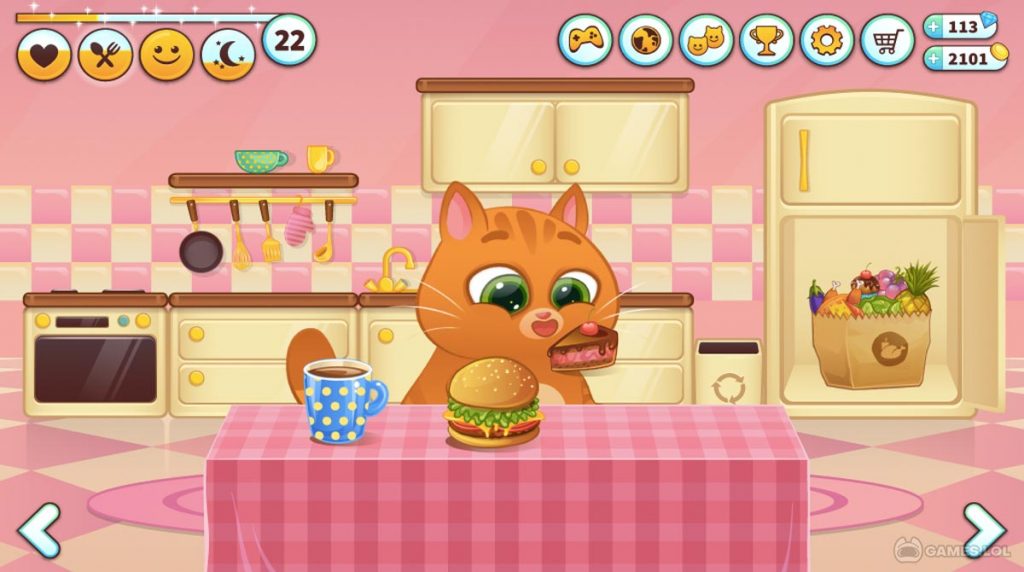 5. Moy 7 Virtual Pet Game
Last but definitely not least is Frojo Apps' Moy 7 Virtual Pet Game. If you're tired of raising pets like cats and dogs and wish to have a unique pet, then you shouldn't miss the chance to play with Moy. This virtual pet doesn't correspond to a particular type of animal, but he looks like a slime creature with similar needs to other virtual animals.
In playing Moy 7 Virtual Pet Game, you can choose to watch the cinematic introduction or not. But, if you want to know Moy deeply, it's highly recommended not to skip that part. Once you've finished watching the intro, you can get an option to rename Moy to whatever name you want. Then, you need to do the typical pet-raising activities such as feeding, bathing, playing, exercising, and even dressing up. What's more impressive about this virtual pet game is that you can explore various locations and play more exhilarating mini-games.
So, there you have it! We hope that this list of the best virtual pet games can help you decide which games you wish to play today. If you're worried about spending cash playing these games, fortunately, these games are free-to-play on your PC. To check more exciting freemium virtual pet games, feel free to grab more here in Games.lol.