Who would have thought that you can combine a dating simulation and action game? Well, that's what Date A Live: Spirit Pledge just did. It's an action RPG that also includes a dating simulation gameplay. In this game, a vast portal has brought magical beings that can cause massive destruction to the planet. These Spirits are so powerful that Mechanical Warriors created to combat them supposedly were not enough.
And now it's up to you to do something about it, which is by dating these Spirits and making them fall in love with you. It's a unique game that involves a dating sim, where you can choose the dialogues during the dates. It's also a game where you will go into battle using these Spirits. As interesting as it sounds, is it a good game? Let's find out in this review of Date a Live: Spirit Pledge.
A Game That's Based on the Popular Anime
If you're someone who watches a lot of anime, then you probably would have recognized this game. This is because this game is based on the 2013 anime Date A Live. It follows the same story where the protagonist Shido Itsuka stumbled upon his fate of dating these powerful Spirits. These Spirits can wipe out a country. And the best way to stop them is by dating them and making them fall in love with you.
The Date A Live: Spirit Pledge follows the same storyline and narrative. You play the role of the protagonist, and you go on dates with various spirits. The date usually goes the same way as the anime narrative. But there are some added variations since you can select certain dialogues that will solicit a unique response.
Visual Novel Format Gameplay
Since the game will closely follow the anime's story, the gameplay is more like a visual novel game than a typical RPG. When you play, the story is split up into chapters, and each chapter will focus on a particular Spirit. The chapter will be broken down into segments where you will either go on a date, have dialogue and then unlock CGs. When you go on dates, you take them to various locations.
You show the Spirits what it's like to be humans in hopes of making them fall in love. During the dates, you engage in various conversations. There are moments where you will have to select what your dialogue will be, and you're given three options. Regardless of what you choose, they won't affect the story. You can also choose to fast forward or rewind dialogues, which can make the game more fun. Some segments will be battles where you will fight using the Spirit you are currently focusing on.
The Battle Gameplay
When it comes to the battle, it follows the beat them up side-scrolling gameplay. During the battle, you'll be completing a certain objective. It could be defeating a certain number of enemies, surviving for a certain duration, or taking down bosses. Since the battle sequence follows the beat them up gameplay, your left side is the directional button, while the right is for your attacks and skills.
Each Spirit will have unique skills and abilities. All skills of the Spirits are powerful, but they do have a cooldown. So you have to know when to use them during the battle properly. The great thing about the game is you can adjust the difficulty setting, starting with easy first so you'll have an easier time when you play.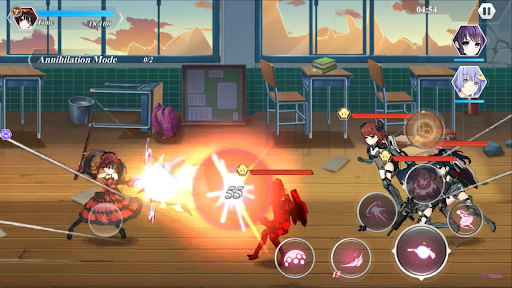 What's Good About the Game?
You can see from the gameplay that Date A Live: Spirit Pledge can be a fun and entertaining game. Not only do you get to enjoy playing a dating simulation, but you also get to enjoy a battle sequence. The battle itself is fascinating since you'll be completing various objectives. But what's enjoyable about this RPG is that it's based on the Date A Live anime. If you've watched that anime before, or if you're just a fan of anime in general, then you'll enjoy playing this game.
What's Bad About the Game?
Of course, not everything about Date A Live: Spirit Pledge is good. There are also things about the game that you might find a bit annoying. One example is the fact that the dialogue option won't have an impact on the game's storyline. It probably would have been better if there was some sort of consequence for choosing the wrong dialogue like the Spirit becoming mad.
Another thing that's annoying here is that some Spirits are locked in gacha. There are those that you can grind in the game so you can unlock them. But some will be harder to get and will likely require you to spend money.
Verdict (4/5)
Date A Live: Spirit Pledge is a fun and entertaining game that successfully combines dating simulation with beat them up gameplay. In this game, you get to go on dates with various Spirit girls, having a dialogue with them, and even choosing what you want to say. Then you also get to use them in combat, in beat them up style and battling various enemies. Some things can be a bit annoying with the game, but they're not enough to make you think about playing this game or not.