One of the most iconic legendary creatures that many people are always intrigued with is dragons. These flying and fire-breathing creatures are usually portrayed as majestic, powerful, and dangerous creatures in movies, TV shows, and video games. That's what makes them intriguing and interesting creatures. One of the best ways to interact with them is by playing dragon games. Unlike movies or TV shows, dragon games will allow you to have interaction with these legendary creatures, use/ride them, or even play as the dragons themselves.
So, if you're looking for ways to experience these legendary creatures in a fun way, then playing dragon games is your best activity. But what kind of dragon games should you play? There are likely hundreds of them out there, so finding several that are good will be difficult. Fortunately, we have a list of 10 dragon games that will keep you entertained.
The Top 10 Dragon Games You Can Play on PC
Below is a list of dragon games available that you can play on your PC;
Dragon City
One of the most entertaining dragon games you can play is Dragon City. It's a game where you get to build a city for dragons. Here, you breed, feed, and raise dragons. Furthermore, your goal is to collect all the available dragons and form a powerful team you can use for battle. You can go on missions or invite your friends and have a friendly dragon team battle to see who's stronger.

Dragon Raja – SEA
If you prefer a game where you don't control dragons, but they are companions on your journey, then try playing Dragon Raja – SEA. It's an MMORPG where you get to explore a fantasy world and battle various creatures you encounter. But what's great here is that you won't explore it alone since you can summon dragons to accompany you. There are many different dragons to summon, each one possessing unique skills. The best ones are those that complement your character's skills.

Merge Dragons
If you're looking for a more casual dragon game, then give Merge Dragons a try. It's an immersive puzzle game where your goal is to rebuild the dragon world and fill it up with dragons. To rebuild and acquire dragons, all you have to do is to merge similar items. You need at least 3 of each to form a new item. For dragons, you just merge 3 similar dragon eggs to hatch a new dragon that will occupy your new dragon world.
Dragon Tamer
If you think you have what it takes to tame and train dragons, Dragon Tamer is the game for you. It's a simulation strategy where your goal is to tame and breed dragons and assemble a powerful team. You then battle with other dragon tamers to see who has the superior dragon team. There are 100 dragons to collect, each one possessing unique abilities. Once you've got a dragon, make sure to develop and strengthen them, so they can become more powerful.

Hungry Dragon
It's interesting and fun to collect and train dragons, as well as use them in battle. But the real fun is when you play as a dragon. Well, the Hungry Dragon game will let you experience that. It's an arcade game where you get to play as a dragon, terrorizing and eating every creature you see. The great thing about this game is that there are many different and unique dragons to collect. So, try and collect them all to experience playing different types of dragons.

Dragon Island
Dragons are known to be scary creatures. But they can also be cute, just like in the arcade game Dragon Island. It's a game where you get to go on an exciting adventure and raise different firedrakes (dragons). The great thing about this game is that the firedrakes are charming and cute. They're not the typical scary dragon, which provides you with a different view of dragons. Furthermore, it's a cool game that's worth trying since it will keep you entertained.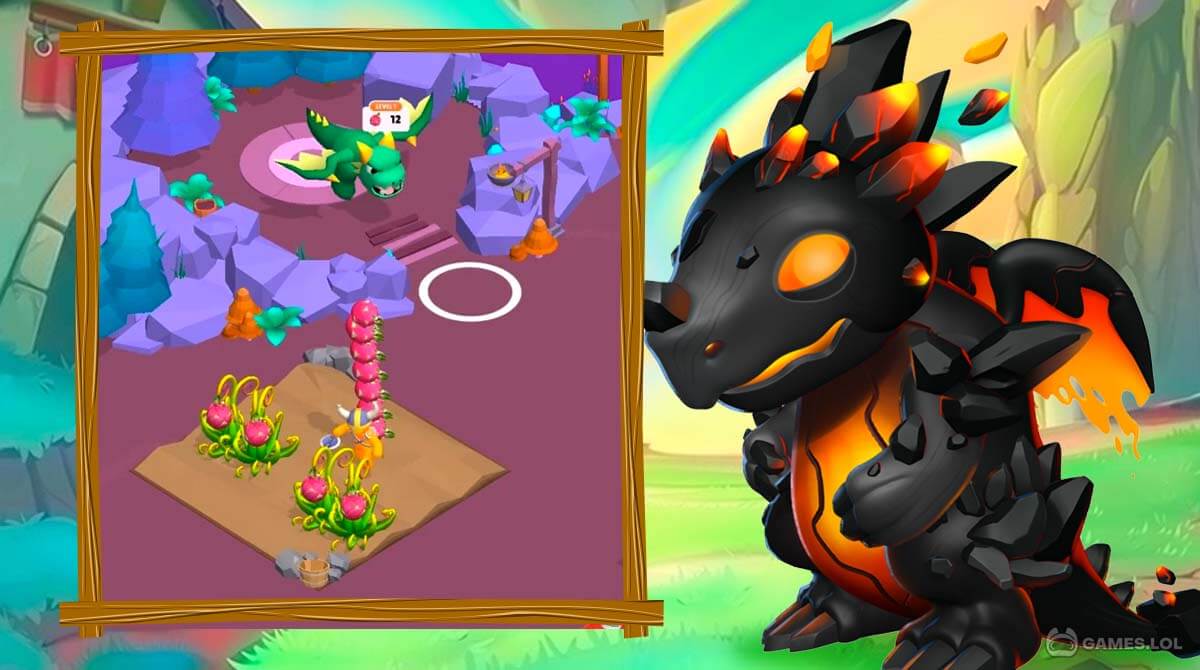 Dragonscapes Adventure
Do you think you can befriend dragons? Well, in Dragonscapes Adventure, you definitely can. It's a simulation adventure game where you get to explore a mysterious island, which is full of different types of dragons, and rebuild it. But don't worry because these dragons are not scary. They are friendly and you can befriend them. It's a unique game where you don't have to tame dragons or collect them. Instead, your goal is to become their friend.

Dragon Village M
If you enjoy playing role-playing games, then Dragon Village M is a good game for you to try. It's a game where you get to play the role of dragon trainer, befriending various dragons and then training them to become powerful. These dragons will accompany you on your journey while also protecting you and fighting alongside you as you deal with various enemies on your adventure. It's a fun and exciting game that's full of actions and dragons.

World of Dragon Nest
Do you think you can be a powerful hero and go on an epic adventure while battling various dragons and bosses in a world where dragons exist? Then try playing World of Dragon Nest. It's an adventure RPG where you get to play a hero and choose the type of class you want your hero to be in. From there, you go on a journey, developing and strengthening your hero along the way while you battle various monsters and bosses.
It's an interesting game where the focus is more on your character with dragons playing a supporting role.

Dragon Brawlers
The last, but not the least entertaining dragon game you can play is Dragon Brawlers. It's an action 2D MOBA game where you get to select dragon riders and participate in a 3×3 battle. You get to randomly be teamed up with other dragon riders or invite your friends to team up with you and you battle other dragon riders inside a battle arena. Additionally, it's an action-packed fun game that you'll enjoy if you love playing multiplayer PVP games.

That's it for our top dragon games you can play on your PC for free. Make sure to grab them only here in Games.lol!