When talking about famous game genres nowadays, you'll surely not miss hearing tower defense games. Though most of the time, this type of game genre is renowned as a simple strategy game for typical gamers, it still requires you to have a sharp mind, quick reflexes, and excruciating improvisation skills.
Generally speaking, tower defense games are excellent subgenres that can keep you entertained not only for minutes but for hours. Aside from being exciting, TD games nowadays are renowned for their stunning visuals, captivating soundtrack, and brain-teasing mechanics, which will require you to develop effective strategies.
The next question now is, what are the best tower defense games worth playing next? With the abundance of the available TD titles, you'll surely see yourself stuck on what to play next. To help you decide what TD game you must play, we have curated a list for you!
7 Best Free Tower Defense Games to Play on PC
Below is a list of the best tower defense games worth playing on your PC for free;
1. Clash Royale
Starting our list of best tower defense games is the iconic creation of Supercell – the Clash Royale. This TD title is known as an iconic card-based multiplayer game derived from its sister strategy game named Clash of Clans. Here, you need to execute some real-time strategies and collectible card elements to make the whole game more fun and exciting.
In Clash Royale, you need to participate in real-time duels with your powerful decks. Furthermore, you can choose to play with your friends or even with random opponents worldwide. To withstand competitive players, it will be best if you'll upgrade your decks. This TD game works with a trophy-cased progression system, meaning you need to track the trophy road to earn more trophies and exciting cards.

2. Arknights
Another addition to our list of best TD games is Yostar Limited's Arknights. You'll be placed in a post-apocalyptic world where various operators are about to battle in this strategy game. Here, you'll take the role of a commander in charge of different unique characters known as operators. These operators depict specific skills and abilities that you can enhance as you progress. Therefore, you need to unleash your best strategy and ensure that your operators are stabilized every time you upgrade.
If you're an extreme fan of anime-style artworks, you must not miss the chance to play Arknights. With its highly-detailed visuals, audio effects, and base-building features, you'll surely enjoy every single detail playing this impressive TD title. If you're not familiar with how this type of game works, you better not skip the tutorial to learn the controls and mechanics of the game.

3. Bloons TD Battles
If you're looking for a TD game that will significantly test your mettle, you better power up your PC and download Bloons TD Battles. In this strategy game, you'll be set with various monkeys who will do their best to defend themselves from the balloons. If you think playing this game is easy as 123, you better think twice as loads of challenges awaits. So you need to apply your best tactics in the 27 battle tracks available.
In playing Bloons TD, you will not only be aiming balloons, but you also need to defeat the live enemies. Here, you can play with 22 awesome monkey towers, which depict eight potential upgrades. What's more impressive about this TD game is it features four game modes, and each of them portrays unique mechanics suitable to your preferences. Just a piece of advice, one of the simple ways to beat your enemies is by securing that all balloons on your side are successfully popped.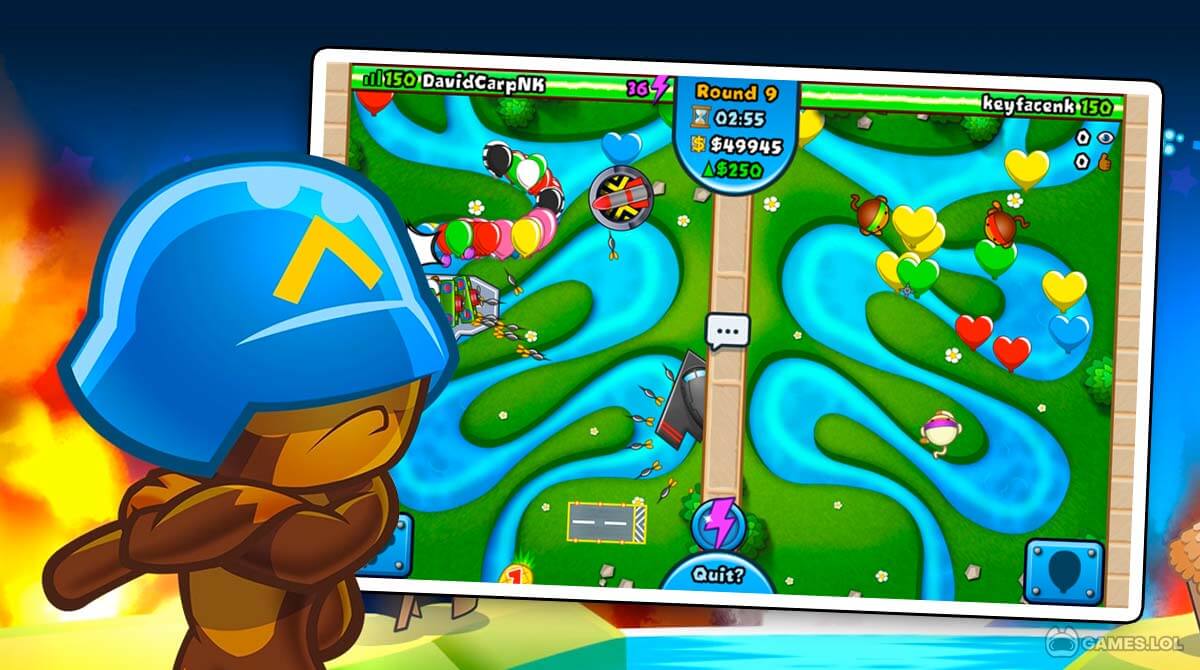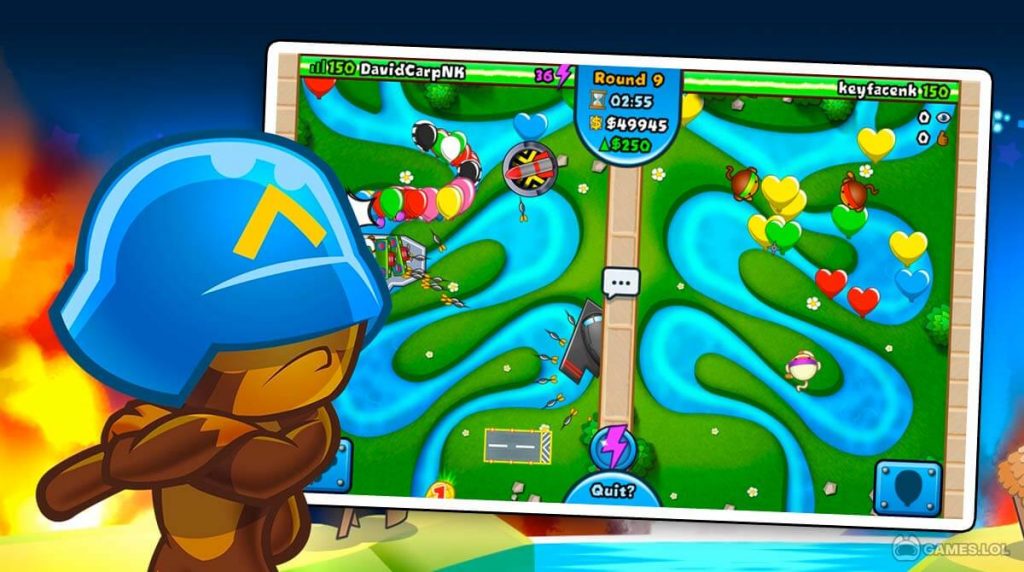 4. Kingdom Rush
If you're a player who immensely loves playing in a medieval fantasy set-up, you must opt to play Kingdom Rush. It is an incredible creation of Ironhide Games and has been renowned as one of the best tower defense games for years. As a matter of fact, there are more than 10 million gamers currently playing this game, and you might become one of them.
In this TD title, your main task is to unleash your best strategies to defend the kingdom from vast waves of monsters like demons and goblins. To do this, you need to deploy different defensive towers in the path of the city to prevent them from invading your territory. Thus, you can choose to add towers like Mages Guild, Artillery, Barracks, and Archer Tower. To support your towers, you need to come up with an effective strategy for the position of your towers to ensure that enemies cannot access your base.

5. The Battle Cats
If you're looking for adventure and action, then you better step up and play PONOS' The Battle Cats. Who said that cats are only for cute games? Did you know that these furry-like creatures can actually run the world? In this casual strategy game, you'll take the role of a commander, and you need to lead groups of valiant cats in various battles. Though the game depicts a simple premise, there are loads of exhilarating features that await you. Here, you just simply need to click the cat you wish to battle for you.
Similar to the usual TD titles, The Battle Cats also enables you to level up your cats simultaneously and aim for more XP to withstand challenging enemies. Once your cat is upgraded, you'll witness its true form and notice its unbearable power to dominate the entire world. In addition, don't forget to recruit various cats while opting for the wonderful rewards.

6. Toy Defense Fantasy
Securing the sixth place on our list of best tower defense games is Melsoft's Toy Defense Fantasy. If you think your defense skills are enough to protect your territory, let's test them out in this casual strategy game. Here, you'll be immersed in a medieval-era setting where you are tasked to be a mindful king and ensure that no one will invade your base.
What's more astonishing about Toy Defense is that it doesn't only require you to develop ground attacks. In fact, you need to come up with air attacks to secure your kingdom fully. Furthermore, you can freely build and command your infantry according to your tactics. If you wish to test out the efficiency of your tactics, you can choose to battle against a friend or release all of your strategies in the tournament mode, where you'll play against multiple players.

7. Grow Tower
Landing on the last spot of our list of best TD games is Grow Tower. It's an entertaining tower defense game created by CookApps. It portrays an incredible mixture of different subgenres that will surely keep you hooked. Regardless of what kind of player you are, this game has something to offer.
Upon playing Grow Tower, you need to be keen on your tower choices and their placement as well. There's a limited number of tower slots available. Therefore, it's best to install those towers you think are powerful enough to withstand various enemies. Aside from your towers, you can also deploy different heroes that can help you make the victory more favorable for you. However, take note that these heroes are not each to get, and you need to invest in various efforts and time to unlock them.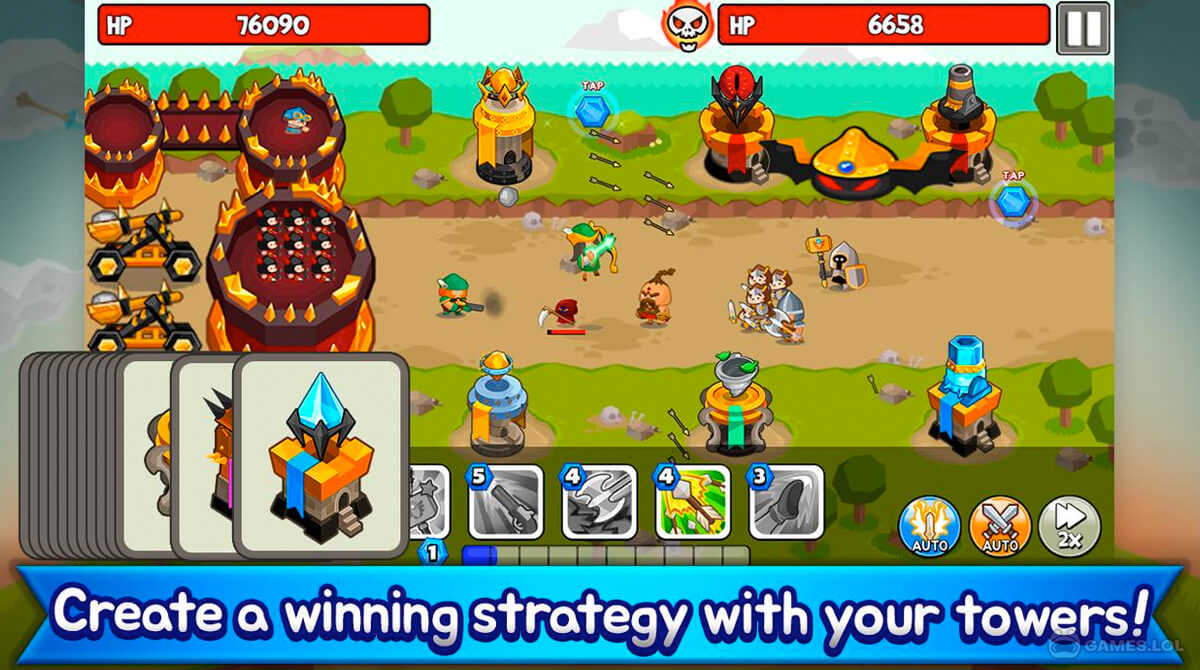 So, that's it for our list of tower defense games! Did you figure out what tower defense fits your playstyle and preferences? If you think you still need more options, feel free to explore more astounding free tower defense titles here in Games.lol for free!