Do you love cooking games? Have you dreamed of becoming a great cook in the kitchen? If so, then it's time for you to enjoy Cooking Mama: Let's Cook! Join Mama and Papa in this great cooking adventure, filled with tasty and delicious dishes that you can share with your friends and neighbors. The game has over 130 recipes, and here are some of the newest recipes you might want to try and cook. Lastly, don't forget to serve these appetizing dishes to your customers and neighbors as well.
New Tasty Dishes in Cooking Mama: Let's Cook!
If you haven't tried all the dishes yet, here are some that you should check out! Mash, grind, saute, and bake these goodies all you want. Help Mama prepare the most delectable dishes for everyone to enjoy!

Breakfast Plate
Cooking Mama lets you cook an all-out breakfast plate featuring Pancakes, Eggs, and Bacon. The ingredients are Egg, Cake Flour, Sugar, Milk, Baking Powder, Butter, Bacon, and topped with syrup, Butter, Broccoli, and Cherry Tomatoes!
Fruit Sandwich
This is not your ordinary sandwich because instead of something salty and savory, the Fruit Sandwich is a variety of cream-filled sandwiches with delicious fruits. Furthermore, the ingredients are Strawberry, Kiwi, Peach, Bread, Fresh Cream, and garnished with Strawberries, Blueberries, and Mint.
Spaghetti in Squid Ink
Spaghetti Squid Ink is known as a Venetian dish. The flavor of squid ink infused in pasta makes this a favorite among Italians and tourists in Italy. The ingredients are Spaghetti, Egg, Squid Ink, Cake Flour, Semolina, Bread Flour, Olive Oil, Salt, Squid, Garlic, Red Chilli Pepper, Wine, and Parsley for garnishment.
Flower Bavarois
Flower Bavarois is a dessert similar to Panna Cotta. To make this dish, you need Vanilla cream mixed with Gelatin and edible flowers. You also need Egg Yolk, Sugar, Milk, Vanilla Extract, Gelatin, Fresh Cream, and Liquid Jelly.
Roast Chicken
It's roasted chicken with Teriyaki marinade. Ingredients used are Ginger, Garlic, Soy Sauce, Cooking Wine (sake), Rice Wine (mirin), Sugar, Bone-in Chicken Leg, and garnished with Broccoli, Cherry Tomatoes, Rosemary, and Nanten (heavenly Bamboo) leaves.
Zoni
This is a Japanese dish that has Mochi in it. Zoni is usually served during the Japanese New Year and is a part of osechi-ryōri. Furthermore, the ingredients used are Glutinous Rice, Chicken, Carrot, Daikon Radish, Soy Sauce, Rice Wine Salt, and Mitsuba.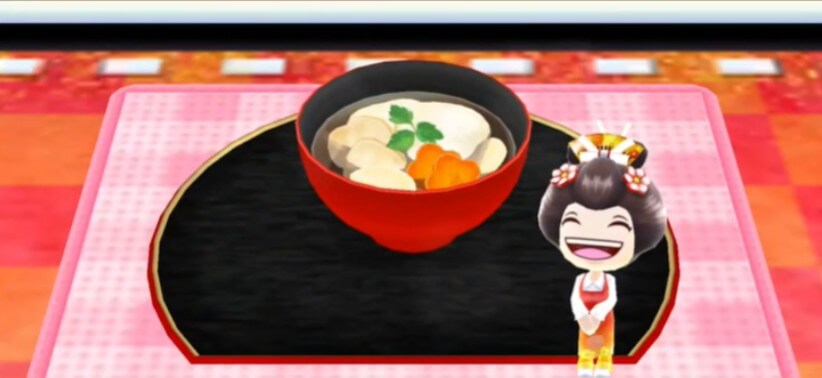 Heart Ganache
Heart Ganache is a French chocolate confection. It's made from Couverture Chocolate, Fresh Cream, Crackers, Pink Candy Hearts, Silver Dragees, and Yellow Candy Stars.
Miso Mackerel
This dish consists of Japanese Mackerel grilled in yuan-yaki style. In other words, the fish is marinated before grilling. The ingredients are Japanese Spanish Mackerel (sawara), Salt, Miso, Sugar, Cooking Wine, Rice Wine, and served with half Lime and grated Daikon on top of a Shiso leaf. Furthermore, Cherry blossoms and Seri water leaves are usually used for decoration.
Devilled Eggs
These are cold appetizers with sliced boiled eggs filled with seasoning. The ingredients are Egg, Pickle, Egg Yolk, and garnished with Cherry Tomatoes, Broccoli, Parsley, and an Easter egg.
Sōmen Noodles
This dish mainly consists of thin noodles made with wheat flour. Ingredients used are Ginger, Cherry Tomatoes, Orange, Noodles, ice, Japanese Maple Leaves, Green Onion, and Tsuyu (dipping sauce).
These are some of the newest dishes you can try cooking in Cooking Mama: Let's Cook! There are tons of other new dishes that are truly appetizing and will make your mouth water. But in the meantime, try these out and you may even want to whip up these dishes in real life too!