One of the fun and addictive puzzle games that you can play right now is EverMerge. It's a casual puzzle game published by Big Fish Games. It's a game that's set in the magical world of EverMerge. But the magical world is in peril as a mysterious fog sweeps the world and puts everyone to sleep. And it's your duty to help get rid of the fog and restore the world to its former glory.
Doing that requires you to merge similar items to form an even better item. From the items you form, you try to rebuild EverMerge, as you drive away from the fog. It's an interesting puzzle game that also features sandbox-style gameplay. Though it is a casual game, the sandbox style can be a bit confusing for new players. To help with that, this blog post will be an EverMerge beginner's guide and provide details and tips about the gameplay.
Learning The Gameplay of EverMerge
When it comes to gameplay, there are two things that you'll do in EverMerge. One is the merge puzzle where you'll merge three similar items to create a better one. This will be the main thing that you'll do in this puzzle game. Merging is how you will rebuild the magical kingdom. As you clear fogs and open areas, you also get to discover items and characters in the game. One example is the gnomes who chop trees and fix houses. There are also special items in the game, which unlock fairy tale characters after merging.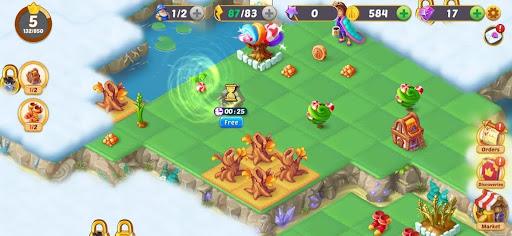 One example is the boots, which can unlock the Puss in Boots character. So be on the lookout for that as well. There will be various quests available that will guide you on what you need to do next in the game. Another thing that you'll do is to decorate and rebuild EverMerge. Many of the better items you get after merging will be used in rebuilding the magical kingdom. The great thing about this part is that you have the freedom of how you want to rearrange things.
It also offers a wide range of possibilities when it comes to the combination of certain items. You'll be creating castles, houses, farm areas, and so on. You just need to find the right items and materials to merge to get what you need. Removing fog requires the magic wand, which you can get for completing Sleeping Beauty's requests. Some areas will also have a wand that you can pick up and use. Now that you know the gameplay of EverMerge, it's now time to discuss tips for playing the game.
Always Try To Go For The 5-Merge Combo
Rebuilding EverMerge will require certain items. Many of them can be acquired by merging similar regular items and creating better ones. To merge, you will need to merge at least three similar items to create a better item. Sometimes, you'll need a lot of items for a quest or to build something. To speed up the process, you should try merging five similar items. This will result in getting two better items and you won't even need six minimum items for it. Merging five minimum items will not only provide you with two better items, but you also gain more XP.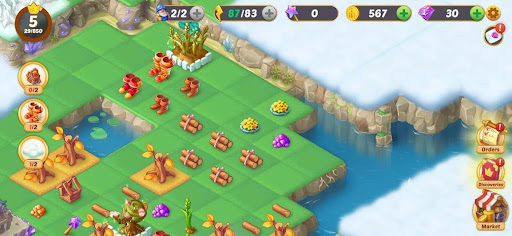 Always Save As Much Energy As Possible
To build in EverMerge, you'll need materials and resources like wood, stone, and so on. These things can be found on certain objects that you can mine from. For example, you can chop trees to produce wood or hit boulders to produce stone. These activities, though, will require energy to complete. You won't feel the limitations of energy in the beginning since you'll have plenty of it for completing quests and leveling up.
But as you progress and it becomes harder to level up, you'll start to experience the limitations of your energy. Fortunately, the game provides several ways where you can get more energy. One way is to check out the Shop frequently for scratch tickets with additional energy. You can also watch ads to get more energy. If you have enough gold and you won't use it on anything more important, you can buy energy.
Complete Various Quests In EverMerge
It's also important that you try to complete as many of the available quests as possible. Not only do you get rewards like coins and gems, but you also gain experience points. This will help you in leveling up faster in EverMerge. The additional coins and gems you acquire will make it easier to save resources for future use.
EverMerge is a fun and awesome puzzle game that also features sandbox-style gameplay. It can get a bit confusing and overwhelming, especially for beginners. But with the information provided in this blog, as well as the tips, you'll be able to play the game properly. So try the tips out by playing EverMerge on PC today. Download our Games.lol client for a more immersive experience!