With a lot of driving and racing games online, there's no wonder that you've encountered Faily Brakes in the scene. "Seriously? Is Faily Brakes even a cool driving game?" You might ask. Published by Splunged Games Pty Ltd, Daily Brakes is a fun driving simulation game online. The task of the game is to manage and control your car because your brakes have completely gone out of nowhere. Thus, the only thing that you can do is to drive down the hill and avoid all the obstacles that come along the way.
It is a challenging and thrilling game where getting the highest best score is your goal. Earn coins and unlock gifts as you try to play Faily Brakes on PC. Best of all, the fun thing about this game is about collecting each car style model available in the store! If you're thrilled enough to discover how the gameplay goes, we've got some guide for you to check out on this post. Look it out here for more details.

Stay Focus in Faily Brakes
The first rule to remember when playing Faily Brakes is about maintaining your focus. The game doesn't have much any controls rather than the right and left arrows keys. You have no power on increasing your decreasing speed as you can only go sideways. It is important that your timing will match your direction to prevent you from bumping into any certain objects or vehicles.
Faily Brakes system is sensitive, so meaning, even a single tree can make your journey over. The key is, don't get too excited and comfortable, especially when you feel you're already hitting your record. Do note that every time you reach a certain score, you can unlock more vehicles and earn more chances in getting gifts.
The First Jump is Important
As you go off the road, you will take your first jump down the hill. Players who have tried playing Faily Brakes a lot of times, have stated that this is the most important part of the gameplay. As soon as your car lifts the air, you can do some advanced strategies to think ahead on which sides you will avoid and go through. You can calculate your move and run through a speed with the perfect direction that you're aiming to.
Again, know that the car will be hard to control, as you can only go left or right. But, if you know what's ahead of you, you'll be able to meet the highest score you would want to achieve. The key is not only within its wheels but also with your strategies. So, good luck!

Use The Shield Power-Up
Along the way, you'll encounter some shield power up scattered throughout the road. Don't mind thinking straight ahead to get this power-up, as this can protect you. You name it, trees, woods, walls, and even vehicles. It is so powerful that you can pass through each object and vehicle without dying in the game. But don't enjoy too much of this luck, because it will disappear after a few seconds. Hopefully, you'll be able to get this item right in between where you're crossing a road or jumping through a cliff. Because you'll be thankful for it in the end.
Earn Free Coins
Like the shield power-up, free coins are also available in the game. As you drive on the road, you can see these coins placed before a tree or in a free, wide space. Collect as many coins as you would want as these can help you purchase cars and earn gifts at the end of every round. But remember to avoid all these trees and woods on the road because these might cause your death! Be careful not to bump any of those just for you to earn some coins! Besides, there are still many coins that await you, as the road is endless!


Faily Brakes Car Collection
You might guess that choosing the default car will keep you safe from failing in Faily Brakes. Thus, each one of these vehicles has a different performance. Do note that the cars you can avail in the game have various height, weight balance or length. You might have thought that a compact car would run smooth and safe with obstacles, but you are wrong. There are cars that might look luxurious like the Hamilton but it is too hard to maneuver. So, what's on your side? Take the best car that you would think can let you drive more than a thousand score!
Steering your Car Wheels
As you get started with the game, your goal is to help Phil Faily to control and maneuver the car because it's out of brakes. Now, the only thing that matters is how you go sideways and avoid all the obstacles that will run into your way. You may encounter a lot of problems and one of them is steering your car wheels. The technique of winning the game and staying strong in the end is just about to steer the wheel in a balanced way. Never go over steering towards your left and right because this might push you off the road too much.
A soft click on the right or left arrow direction would suffice for Phil's car to turn in the specific direction. Remember to keep all your instincts on the road and help Phil steer the wheel perfectly. Because for most players, this is where they certainly fail in winning the game. The lighter steer on the arrow keys, the smoother Phil can go in the longest run.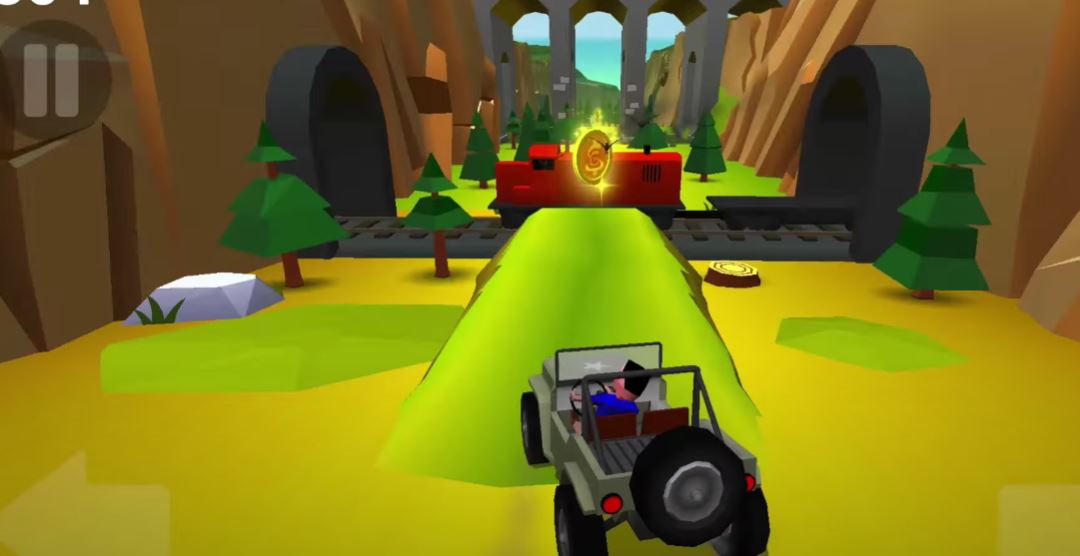 Faily Brakes End Review
Faily Brakes is such an intense and thrilling driving game that can certainly make you go crazy with no doubts. Believe it or not, you might not stop until you hit that 1000 score. Above all, Faily Brakes did its part for being one of the best yet crazy drives that you can play on PC.
With Faily Brakes being one of those addictive matches online, you can truly say that is worth downloading for and trying. So, what are you waiting for? Share this game with your friends and family. Download Faily Brakes for free on PC!