Released in October 2016, Honkai Impact is one of the most played free-to-play RPGs of all time. Ever since its first release in China, it has already garnered a lot of attention from avid gamers. Then, as it spread throughout Asia, particularly in Japan, it reached 1 million downloads already in just 11 days after its release. Fast forward to 2018, IGN reported that it has accumulated over 35 million downloads worldwide.
If there's one thing that we should give credit for this game's popularity, it's its high-quality graphics and fantastic missions to venture. Apart from that, it has solid, action-packed gameplay wherein players can take full control of their characters. Thus, it's a game that every player shouldn't miss playing.
If you've already been a player of Honkai Impact, you would know that choosing a character plays a big role in winning the game. To guide you on your journey, we bring you the ultimate tier list of the best characters of the game from Reddit user u/deckerstar12: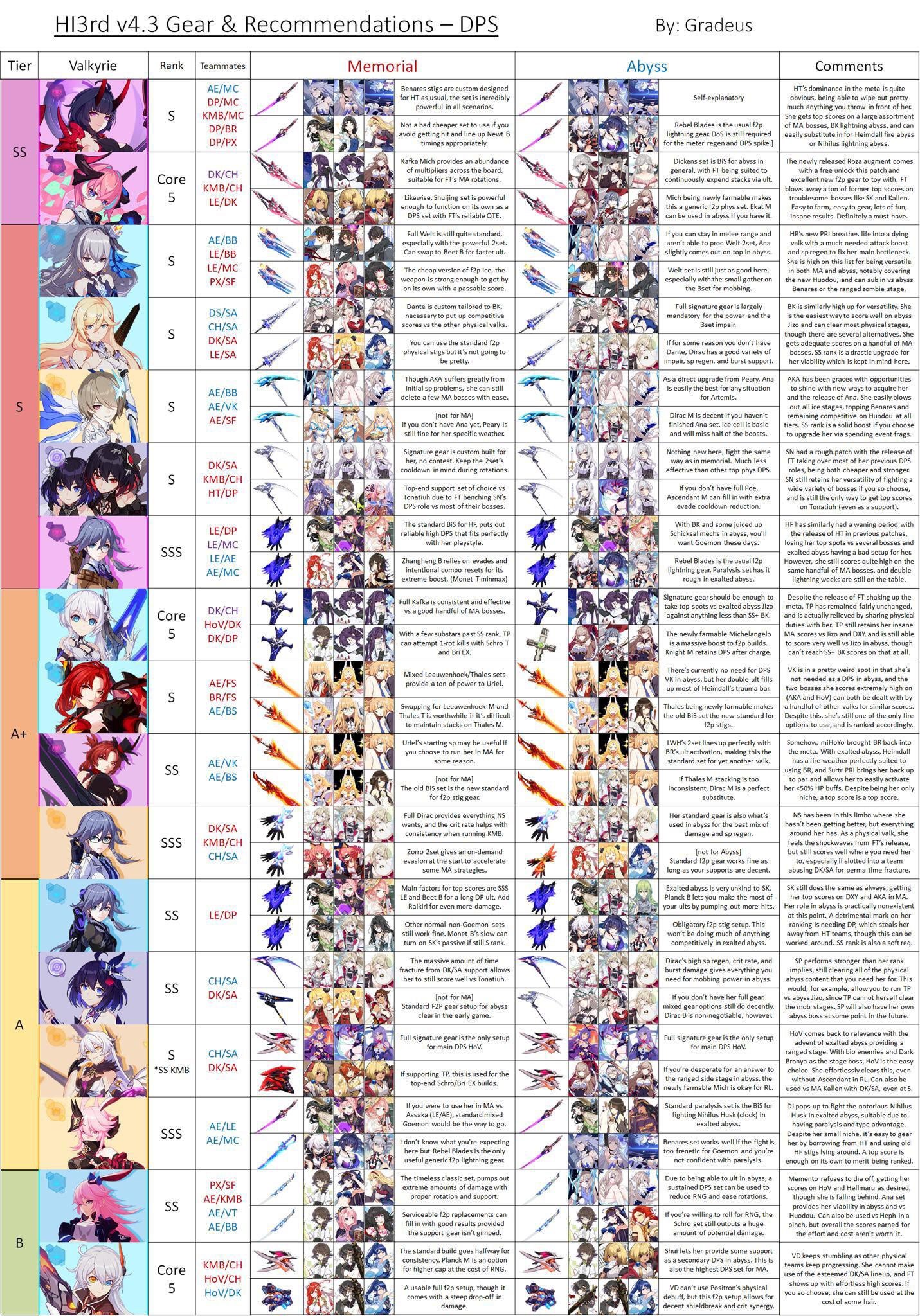 SS-Tier
The following are the SS-tier Valkyries of Honkai Impact in version 4.3:
Raiden Mei (Herrscher of Thunder)
If you're looking for the toughest character in the latest version of Honkai Impact, choose Raiden Mei in the Herrscher of Thunder battlesuit. A mecha-type Valkyrie, she can deal a massive amount of damage, especially when she unleashes her ultimate—Amaterasu's Ride.
Raiden Mei's core strength when armored in the Herrscher of Thunder is Paralyze, Lightning DMG, Fast ATK, Burst, and Time Mastery. Furthermore, she is a great addition to a team full of Psychic battlesuits as she provides bonus SP for her PSY teammates.
Fervent Tempo Delta
Fervent Tempo Delta is the augment battlesuit of the Molotov Cherry. Furthermore, it's the combination of twins Rozaliya and Liliya Olenyeva. What's great about FT is that she has bonus damage multiplier compared to other Bio opponents, has a top-tier physical DPS, and best of all, a farmable S-Rank in version 4.3. This means that FT is free to play!
As an SS-tier character, there's no doubt that FT Delta deals stronger attacks than any other Valkyries. But to make her insanely powerful, make sure to put her in Fervent Mode. You can only access this mode from her Ultimate Attack and at Charged Attack, which requires full Cyan and Pink Juice.
S-Tier
Now, let's proceed to the S-tier Valkyries:
Bronya Zaychik (Herrscher of Reason)
The Herrscher of Reason is another S-ranked battlesuit from Bronya Zaychik. She is under the Mecha type and she mainly deals Elemental Ice damage. What makes the Herrscher of Reason an S-rank is her ultimate, Cyberangel.cfg. When entering the bike mode (Burst Mode), not only does she deliver a strong spin attack and automatic attacks, but she gains a huge boost in durability, mobility, and survivability. What's more, she can't die and her health recovery speeds up to 17 seconds.
Durandal (Bright Knight – Excelsis)
The Bright Knight – Excelsis can deal massive physical damage after retaliation. Though she relies heavily on Charged Attack, you won't have to worry about anything as you can repeatedly use it as long as you time the button perfectly. Furthermore, as a mecha-type, Bright Knight – Excelsis has a great edge against Creature enemies.
Rita Rossweisse (Argent Knight: Artemis)
Rita Rossweisse in the Argent Knight: Artemis battlesuit is a Bio-type Elemental Valkyrie. Mainly, she deals with Ice DMG. But to deal a burst amount of damage, she has to apply two stacks of Hypothermia and release them with a Charged Attack. To further increase her DMG, make sure to equip her with the Skadi Ondurgud. However, you can also gear her with Robert Peary Set, Gene Reaper, or Carmine Steal.
A+ Tier
Moving on, these are the Valkyries under A+ tier in Honkai Impact:
Murata Himeko (Vermilion Knight: Eclipse)
The Vermillion Knight: Eclipse is a mecha type. Although her ultimate is powerful enough to deal with enemies, you must do chain ultimates to further increase damage. Moreover, you must keep in mind that her ultimate type is Activated Burst. Therefore, this type can gain an advantage from Burst-related skill effects and Ultimate Damage effects.
A-Tier
Now that we're done with the top tiers, let's proceed with the A-tier Valkyries:
Fu Hua (Shadow Knight)
If you're looking for a Valkyrie that deals a huge amount of consistent lightning damage against a group of enemies, you can choose Shadow Knight. She is a Mecha Elemental Lightning damage dealer. Aside from her increased deal of damage, most of her weapons and stigmata are both farmable and gacha. Thus, you won't have to pay real money to equip her with superb items and weapons.
Seele Vollerei (Swallowtail Phantasm)
The Swallowtail Phantasm is Quantum type. As such, only a Quantum type can deal her a great amount of damage since the mentioned types are self-countering. Besides that, even though it's Seele Vollerei's first battlesuit, she's already an A-rank and deals a good amount of damage. When performing Ultimate Evasion, she can restore her Veil, and prolong her ultimate.
B-Tier
Here are the B-tier Valkyries from version 4.3 of Honkai Impact:
Yae Sakura (Goushinnso Memento)
During the first release of Honkai Impact, the Goushinnso Memento was one of the strongest battlesuits. It's capable of dealing with high burst damage. But after the release of several patches when newer and stronger battlesuits were introduced, Memento's ATK became less ineffective. However, it can still go against the ranks of competent damage dealers.
Conclusion
Here concludes the tier list of the best characters in Honkai Impact. Keep in mind that even though these powerful characters can deal a great amount of damage, how you play them matters. Thus, make sure to master their techniques and combination attacks to deal massive damage effectively against opponents.
If you want to practice your play with these characters, download Honkai Impact on PC today!