Released in October 2016, Honkai Impact is one of the most played free-to-play RPGs of all time. Ever since its first release in China, it has already garnered a lot of attention from avid gamers. Then, as it spread throughout Asia, particularly in Japan, it reached 1 million downloads in just 11 days after its release. Fast forward to 2018, IGN reported that it has accumulated over 35 million downloads worldwide.
If there's one thing that we should give credit for this game's popularity, is its high-quality graphics and fantastic missions to venture. Apart from that, it has solid, action-packed gameplay where players can take full control of their characters. Thus, it's a game that every player shouldn't miss playing.
If you've already been a player of Honkai Impact, you would know that choosing a character plays a big role in winning the game. To guide you on your journey, we bring you the ultimate tier list of the best characters of the game from YouTuber & Honkai Impact 3rd web contributor Marisa Honkai: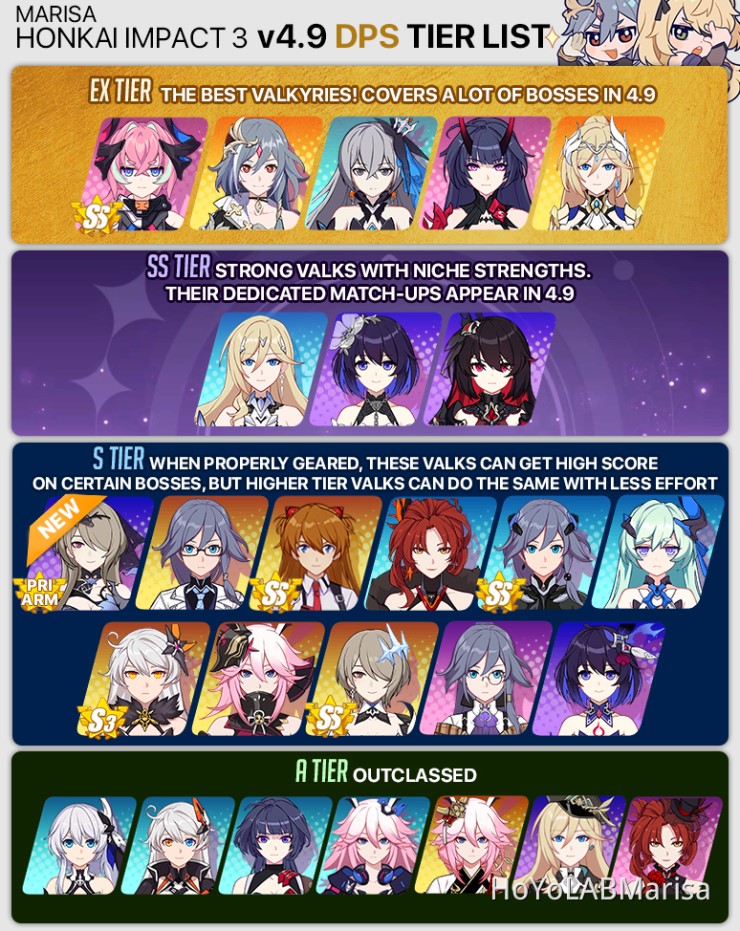 EX-Tier
The following are four EX-tier Valkyries of Honkai Impact in version 4.9. They are considered the best Valkyries to use against any bosses:
Raiden Mei (Herrscher of Thunder)
If you're looking for the toughest character in the latest version of Honkai Impact, choose Raiden Mei in the Herrscher of Thunder battlesuit. A mecha-type Valkyrie, she can deal a massive amount of damage, especially when she unleashes her ultimate—Amaterasu's Ride.
Raiden Mei's core strength when armored in the Herrscher of Thunder is Paralyze, Lightning DMG, Fast ATK, Burst, and Time Mastery. Furthermore, she is a great addition to a team full of Psychic battlesuits as she provides bonus SP for her PSY teammates.
Fu Hua (Herrscher of Sentience)
The Herrscher of Sentience is Fu Hua's BIO battlesuit. It's one of the most powerful yet most elegant in the Honkai universe. The Herrscher of Sentience can provide great physical support and can impair enemies. She can even deal high damage through combo slashes whenever she activates her ultimate.
Her ultimate, A Worldful of Woes, is an excellent support ability if you want to gather enemies and apply buffs/debuffs, especially in Herrscher form. When activating her ult, she can swiftly impair opponents by 75% while gaining Ignore Interrupt and Total DMG Reduction for 15 seconds. It can even pause all timers, including Abyss Timer and Newton B.
Fervent Tempo Delta
Fervent Tempo Delta is the augmented battlesuit of the Molotov Cherry. Furthermore, it's the combination of twins Rozaliya and Liliya Olenyeva. What's great about FT is that she has a bonus damage multiplier compared to other Bio opponents, has a top-tier physical DPS, and best of all, a farmable S-Rank in version 4.9. This means that FT is free to play!
As an SS-tier character, there's no doubt that FT Delta deals with stronger attacks than any other Valkyries. But to make her insanely powerful, make sure to put her in Fervent Mode. You can only access this mode from her Ultimate Attack and at Charged Attack, which requires full Cyan and Pink Juice.
Durandal (Dea Anchora)
Dea Anchora is the BIO battlesuit of Durandal. She deals melee fire damage, can subdue enemies with her Throws, and can even deal intense damage through her Leader Skill (Crux Galactica) and Special Attack (Hercules the Warrior).
When activating Crux Galactica, she can increase her team's total ULT attacks by 18%. Whenever she has three Valkyries with fire damage on her team, she can increase total ULT damage by 21%. Moreover, Dea Achora can also perform three different modes when activating her ultimate, Sagittarius the Archer. She can do melee mode (Astral Flares), lance mode (Voidstar Anchor), and arrow mode (Seirios Ballista).
SS-Tier
Now, let's proceed to the SS-tier Valkyries:
Durandal (Bright Knight – Excelsis)
The Bright Knight – Excelsis can deal massive physical damage after retaliation. Though she relies heavily on Charged Attack, you won't have to worry about anything as you can repeatedly use it as long as you time the button perfectly. Furthermore, as a mecha-type, Bright Knight – Excelsis has a great edge against Creature enemies.
Seele Vollerei (Stygian Nymph & Starchasm Nyx)
Just like the Swallowtail Phantasm, the Stygian Nymph is a Quantum type. Mainly, she deals with physical damage. Moreover, she possesses two forms—Saule (light form) and Veliona (dark form)—where players can easily switch when using her Ultimate. Aside from her powerful attacks, she can do Ultimate Evasion whenever she passes enemies.
Meanwhile, Starchasm Nyx is also a Quantum type. However, in this battlesuit, she deals ice damage. She is capable of handling intense damage to multiple enemies due to her Nightmare Thorn skill, which transfers the damage to affected enemies. On the other hand, her Ultimate, Moment of Collapse, can deal immense burst damage, dealing 700% ice damage ATK and inflicting a Quantum Explosion towards affected enemies.
S-Tier
Here are four of the best S-tier characters from Honkai Impact version 4.9:
Rita Rossweisse (Argent Knight: Artemis)
Rita Rossweisse in the Argent Knight: Artemis battlesuit is a BIO-type Elemental Valkyrie. Mainly, she deals with Ice DMG. But to deal a burst amount of damage, she has to apply two stacks of Hypothermia and release them with a Charged Attack. To further increase her DMG, make sure to equip her with the Skadi Ondurgud. However, you can also gear her with Robert Peary Set, Gene Reaper, or Carmine Steal.
Yae Sakura (Darkbolt Jonin)
Darkbolt Jonin is a ruthless AOE damage dealer. She also deals massive lightning damage. As a ninja, she performs an impressive mobile combat style on the field compared to other Valkyries. Whenever she activates her ultimate, Raksha's Rage, she unleashes Rakshamaru's might, dealing 300% + 80% + 6×30% lightning attack on AOE before her. Activating her ULT again within 12 seconds will further deal 7×120% + 7×180% attack of AOE lightning damage and paralyze enemies for 4 seconds.
Fu Hua (Shadow Knight)
If you're looking for a Valkyrie that deals a huge amount of consistent lightning damage against a group of enemies, you can choose Shadow Knight. She is a Mecha Elemental Lightning damage dealer. Aside from her increased deal of damage, most of her weapons and stigmata are both farmable and gacha. Thus, you won't have to pay real money to equip her with superb items and weapons.
Seele Vollerei (Swallowtail Phantasm)
The Swallowtail Phantasm is a Quantum type. As such, only a Quantum type can deal her a great amount of damage since the mentioned types are self-countering. Besides that, even though it's Seele Vollerei's first battlesuit, she's already an A-rank and deals a good amount of damage. When performing Ultimate Evasion, she can restore her Veil, and prolong her ultimate.
A-Tier
Now that we're done with the top tiers, let's proceed with the A-tier Valkyries. For this list, let's discuss two A-tiered Valkyries:
Durandal (Valkyrie Gloria)
Valkyrie Gloria is one of the strongest Schicksal Valkyrie. She mainly deals with close-ranged fire damage and controls enemies using her Thrown skill. Her ultimate, Eruptio Magnifica, brings an insane amount of damage as she leaps forward and gathers nearby enemies, dealing 2×300% physical damage attack and a 2×300% fire damage attack. Whenever she throws her massive lance, she can further deal 500% physical damage attack and 1800% fire damage attack, inflict Quantum Implosion, and activates Aura Ignis on the field.
Yae Sakura (Goushinnso Memento)
The Goushinnso Memento was one of the strongest battlesuits during Honkai Impact 3rd's release. She's capable of dealing high burst damage. But after several patches further, when newer and stronger battlesuits were introduced, Memento's ATK became less ineffective. However, she can still go against the ranks of competent damage dealers.
Conclusion
Here concludes the tier list of the best characters in Honkai Impact. Keep in mind that even though these powerful characters can deal a great amount of damage, how you play them matters. Thus, make sure to master their techniques and combination attacks to deal massive damage effectively against opponents.
If you want to practice your play with these characters, download Honkai Impact 3 on PC today!