Since its inception in the world of entertainment, the industry of video games has evolved to become one of the largest and fastest-growing industries in the market. It's fascinating that what began as dots on a Cathode Ray Tube is now a major entertainment platform. Although its inevitable growth was lead by video game giants like Sony, Nintendo, and Microsoft. It wasn't until the rise of casual games that the entire industry exceeded everyone's expectations.
The Era of Casual Gaming
The strong growth of casual gaming, for the most part, is the end-result of the collaborative advancement of the internet and mobile devices. Without those two elements, the free-to-play or the Freemium market will cease to exist and mobile games would have retained their status as pre-installed extras on mobile devices. That said, playing games on these platforms isn't without flaws. After all, gaming isn't the only feature of a smartphone.
Playing games on your smartphone won't only ruin the batteries of your device but the overall performance too. As much as we want our mobile devices to run the games as seamlessly as possible, there will come a time that we'll need to decide whether we prefer the euphoric effects of video games or increase our productivity through mobile devices. This dilemma usually occurs when your device is already suffering the consequences of playing too many video games than it can handle.
To help with this dilemma, members of the gaming community came up with a solution that will allow mobile and casual video game players to enjoy endless hours of gameplay without compromising their smartphones and tablets. The very first tools employed by the gaming community were emulators. For those new to the term, emulators are downloadable third-party apps that emulate mobile games on PC. As promising as the concept or the app may be, playing games using third-party emulators has its own negative effect on the PC.
Third-party emulators, for the most part, take too much space in the PC's RAM, which eventually slows down the device. As frustrating as that may sound, the gaming community is a resilient bunch that will never give up that easily. Thus came the next generation of innovation that eliminates the need for downloadable third-party emulators.
Games.lol and Poki Platform Comparison
As you may have noticed, we chose two of the most efficient ways to play casual games on PC. The first one is Games.lol, which is a software application installer, and Poki, which is an online Web-based gaming platform. Both tools are great, safe places to experience casual games completely free of charge.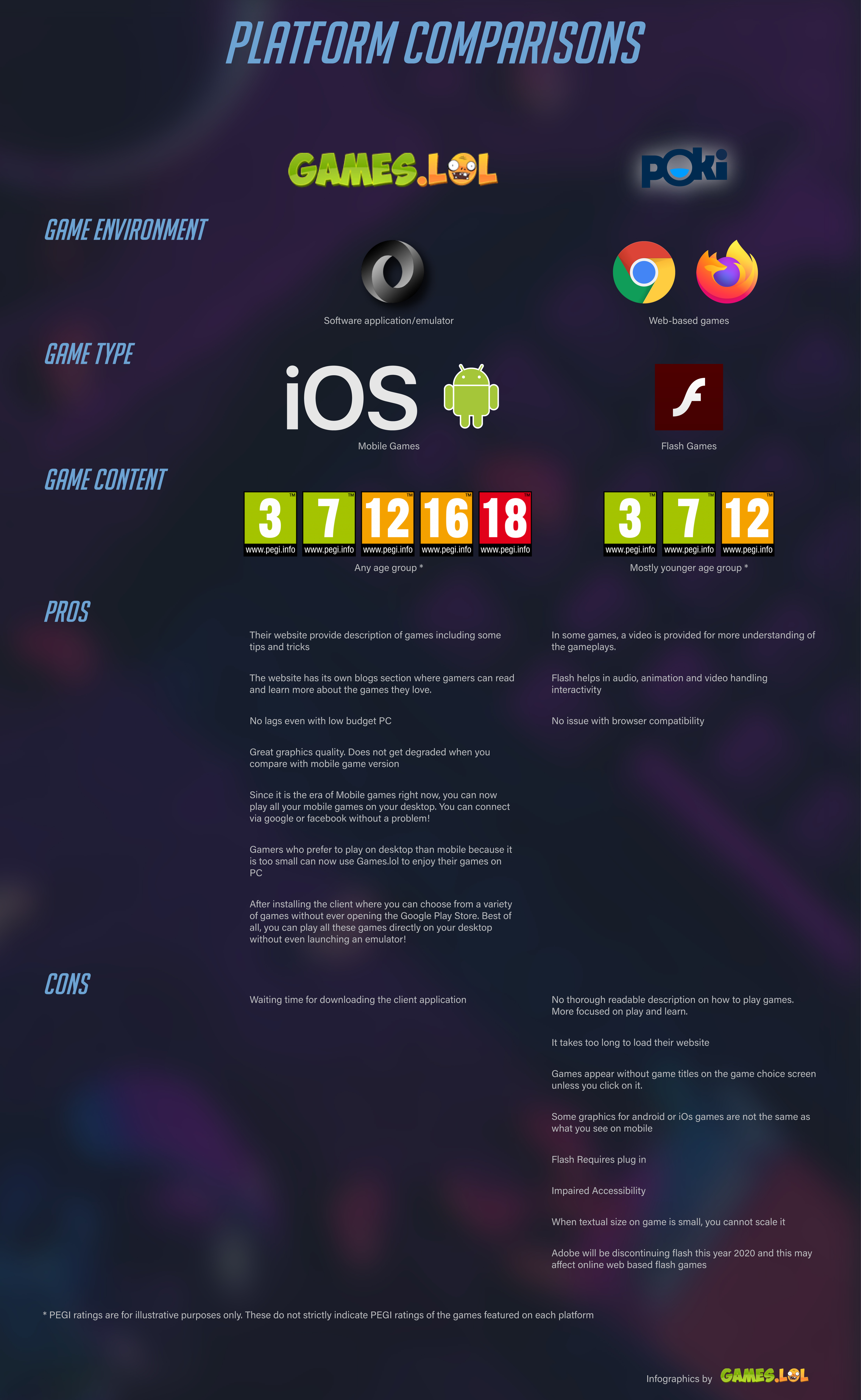 Gameplay and Installation Process
Although both are platforms that host casual games, the two hubs don't utilize the same process during execution. Games.lol, for example, allows you to install the full game on your PC while Poki only gives you access to games on-site. Meaning that you can't play games on Poki if you don't have an internet connection.
Games.lol is a hub for mobile game titles that works the same way as the popular Steam Client. In other words, The above-mentioned software allows you to install the complete version of the game straight to your PC. This process removes the requirement for an actual emulator. Thus, all you need to do is click on the icon on your desktop if you want to play the game.
If you look at the pros or the positives of playing casual games on both platforms, you'll notice that our game launcher comes with an overwhelming list of benefits. This is because an online experience is best played when the game is installed on your PC. Poki, for the most part, is a great platform for playing flash games but other than that; you can't play iconic titles like PUBG Mobile and Call of Duty Mobile. Games.lol, however, will allow you to play these games seamlessly and without lag from even a budget PC.
Measuring The Performance
In terms of running video games, there's no doubt that the titles on the Games.lol client perform better than flash games on the Poki website. Every gamer knows that streaming or playing video games online is not as seamless as playing them on PC. On top of that, our game client features the latest AAA mobile games on-site.
Weighing The Softwares' Compatibility
Both Poki and Games.lol don't have compatibility issues in any of the games in their library. You can play games on the Poki site using any browser. The prior, on the other hand, also functions well on any browser. The latter does employ the use of browsers to allow its online store to emulate the installation process. This means that Games.lol uses the same browser technology seen in Poki but instead of streaming, we require you to install the game on your PC for a better experience.
Just like Poki, you can use any browser to access our website. After you install the client, you can then click or search for any games you want to play. Each title in the Games.lol library comes with its own detailed descriptions, screenshots, and features. What makes our game launcher different from Poki is that you will have access to the latest mobile games. The best part is that each of the titles featured in our game library comes free of charge.
Information and Features Overview
Another feature that makes Games.lol better than Poki is the hundreds of blogs, articles, and video game reviews published on site. The prior has a rich database filled with gameplay analysis, tips, tricks, trivia, features overview, news, and so much more. In a nutshell, Games.lol is an all-in-one site where you can download the latest games while getting a deep dive into that game's features.. You can find any details you need on a single site.
Play Video Games To Your Heart's Content
Games.lol and Poki are some of the best free-to-play and casual video game clients available today. Both sites are safe and come with their own huge library of titles. As to which site you want to access depends entirely on how you want to play your game.
If you're looking for a quick fix, you can get that through Poki. If you're planning to play one of those highly competitive games like Among Us and PUBG Mobile, or adventure titles like Mobile Legends and Soda Dungeon, then, Games.lol is the perfect site to go.
Playing games on PC allows you to save your game as much as you want, map the controller, enjoy smoother gameplay, and experience HD visuals. To that end, stop risking the health of your smartphone and play your mobile games on your PC.