Garena Free Fire is one of the top survival shooter games online that features an action-packed clash among multiple players. This battle royale PC game is known for its uniqueness and distinction, which got the attention of many fans and followers worldwide.
If you're a Garena Free Fire gamer, you surely know Chrono. He is one of the top players in the game and can be obtained using 599 diamonds. This character, well-known for its long black and blue coat, has the ability called Time Turner. It is an active skill that allows him to create a force field that can block up to 600 enemy damage for 8 seconds. While his development speed can increase up to 15%.
Moreover, Chrono's power and skills can increase if combined with the correct pets. Aside from being an in-game companion, pets play a significant role for players to rise in the gameplay. These adorable creatures have special abilities that assist players in playing better, or even best, in the game. In line with that, we will discuss the best pets to combine with the Chrono character.

5 Pets to Combine with Chrono in Garena Free Fire
Check out the shortlist of Garena pets you can combine with Chrono in Garena Free Fire.
1. Rockie
First, Rockie has a Stay Chill ability which is perfect to combine with Chrono. In other words, this pet has the ability to decrease the cooldown interval of the chosen active skill by 6%. At the highest level, it can further decrease up to 15%.
Using Rockie's ability can lessen Chrono's vast cooldown time, making him more effective on the battleground. This pet is highly recommended and must be your first choice when using a Chrono character in this survival shooter game.

2. Falco
Utilizing the Skyline Spree skills of Falco can boost Chrono's gliding pace by 15%. Also, this ability can elevate the diving speed by 25% after opening the parachute. Once Falco's ability extends up to level 7, the gliding pace percentage will rise to 45% and the diving rate to 50%.
By having this upgrade, the team can easily increase their landing speed than their enemies. On the contrary, Falco must be avoided during Clash Squad mode, especially when characters do not need to slide or skydive.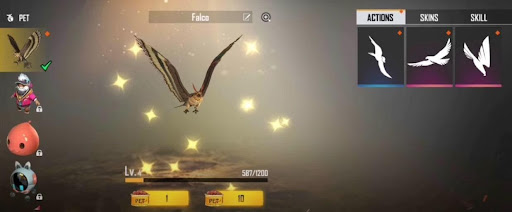 3. Detective Panda
Next on our list of pet combinations with Chrono is Detective Panda. This adorable creature is known for its Panda's Blessings ability that grants each player 4 HP after hitting an opponent at level 1. Like Falco, Detective Panda's capacity can increase and can provide as high as 10 HP once it reaches the maximum level. This pet can help out Chrono and other players during the match to provide additional HP.

4. Dreki
Like other pets, the Dragon Glare skills from Dreki can be a suitable choice to combine with Chrono. With its ability, it can detect an enemy through Medkit in a 10-meter range for three seconds.
Similar to other pets, Dreki can give Chrono a significant advantage once this skill reaches level 3. You can sneak up to four enemies at this ability level by utilizing Medkits within a 100-foot radius that can last for 5 seconds long.

5. Ottero
Ottero is not only a good pet choice for Chrono but also for other players as well. With its Double Blubber skill, players can restore a specific proportion of EP by using a Medkit or Treatment Gun. On this ability's first level, a player can gain 35% of EP, and once reached level 3, it will set off to 65%. This health restoration ability is fit for Chrono during battles.


Final Thoughts
These are our top 5 Garena Free Fire pet combinations that can effectively work with Chrono. You can choose from this list depending on your chosen playstyle. However, if you have other pet combinations in mind feel free to share your thoughts. Get back to the action-packed game with Garena Free Fire on PC.