If you're immensely fond of dogs or the so-called man's best friend, then you must not miss playing these awesome dog games. With the adorable gestures of the dog, no wonder everyone is fascinated by its existence. This charming animal can help relieve stress and cheer you up from a bad day. If you can't get a chance to pet a dog, this is your chance to experience having one by playing one or two of our best dog games.
10 of the Most Exciting Dog Games for You to Play
Below is a list of the most exciting dog games available you can play right on your PC for free!
1. BitLife Dogs – DogLife
Landing on the first spot on our list of best dog games is BitLife Dogs – DogLife.
BitLife Dogs, published by Candywriter, LLC, will put you in the paws of the dog, forcing you to make decisions in order to create your own tale. You may pick where to sleep, who to bite, whether to behave or flee from the vet, and other options. Everything is dependent on your actions, which will have a huge influence on the plot.
When the game begins, you will be assigned a random character. However, if you want to play with your best character, you must bring some money and pay for it. Once you've chosen your character, its name and location will be displayed, and you'll be able to begin your trip. You can be allocated to a fascinating breed such as Huskies, Great Danes, Boxers, Corgis, and others at random.
2. Talking Ben the Dog
Next to our list of top dog games is another creation of Outfit7 Limited – the Talking Ben the Dog. If you enjoyed playing with Tom and were looking for an alternative, you must consider having this dog game next to your list.
What sets this game apart from the other usual virtual dog pet care simulation like Talking Tom is that instead of dealing with a youngster, you'll be dealing with an adult dog. Aside from giving Ben's needs, you also need to provide a not-so-stressful environment for him. You can also make fun of him or do some exciting experiments.
3. Mimpi Dreams
If you're tired of the usual dog-petting games and looking for something exciting, then you better not miss having Mimpi Dreams on your PC. Published by Dreadlocks Mobile, in this action dog game, you'll get a chance to meet a dog named Mimpi from two different perspectives.
When Mimpi is awake, you'll find that he's a typical dog who's very lazy and loves peeing as a sign of dominance. But, you'll find this dog more awesome when he sleeps as he transforms into a super dog ready to save everyone who needs him. In this dog game, you'll help Mimpi fulfill his brave deed and save his friends by immersing in different puzzles, platformers, and adventures.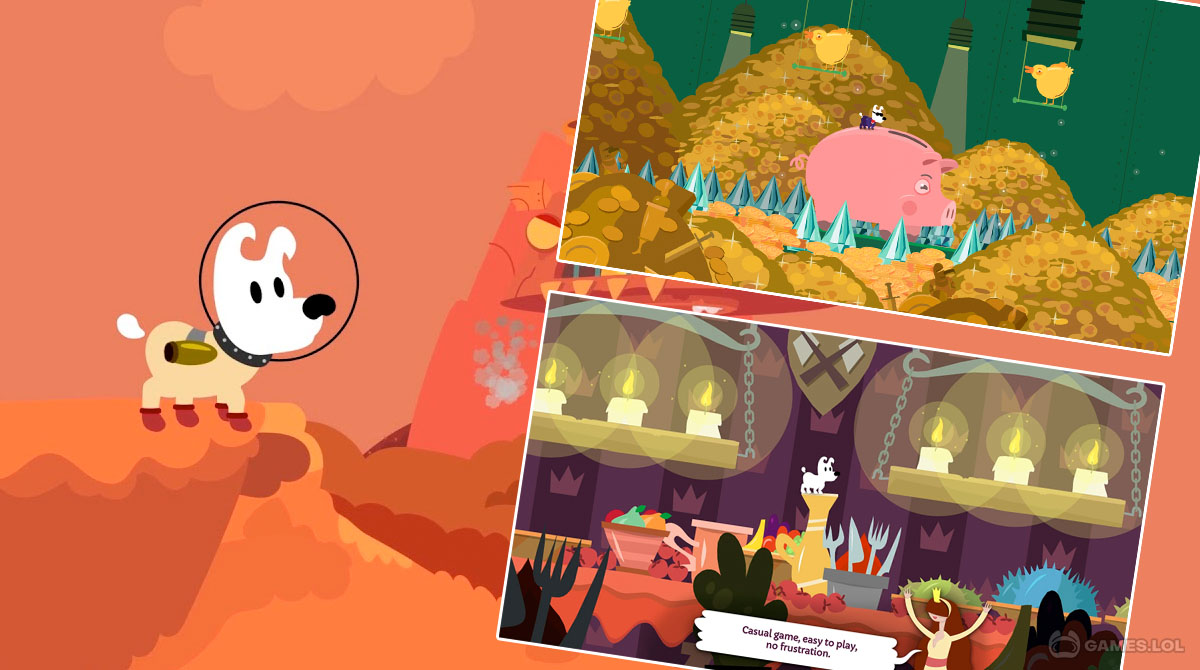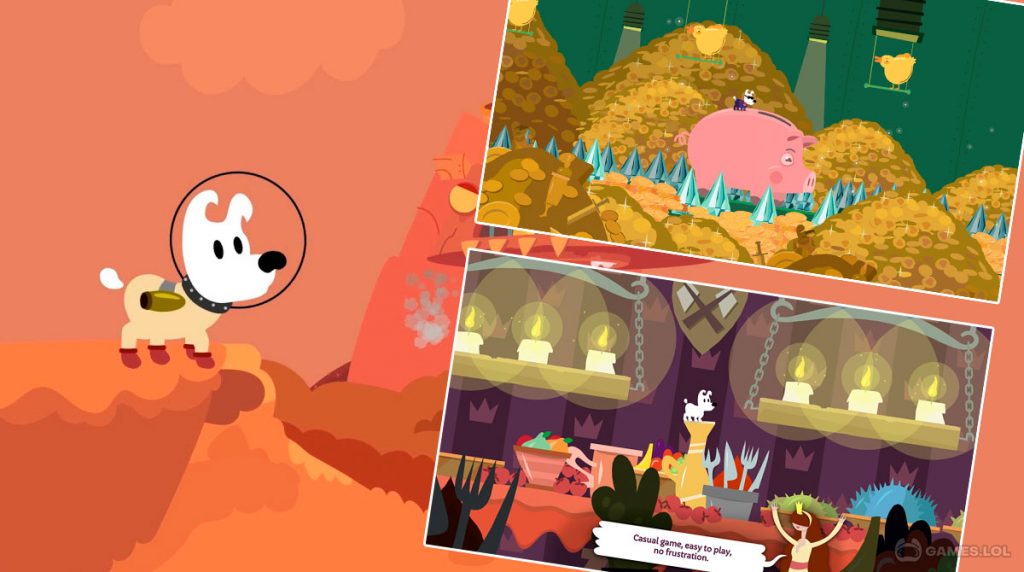 4. Mimpi
If you're amazed by Mimpi, this is your chance to get to know him more by playing another game developed by the same devs who created the Mimpi Dreams. If you're the type of gamer who immensely enjoys going on adventures and playing with dogs, then this game will surely suit you.
In this dog game, you'll be playing with a white fur dog named Mimpi, and you need to help him find his master out of the eight diversified worlds. As you help him in his adventures, you'll get to know him better and hone your talent for solving puzzles.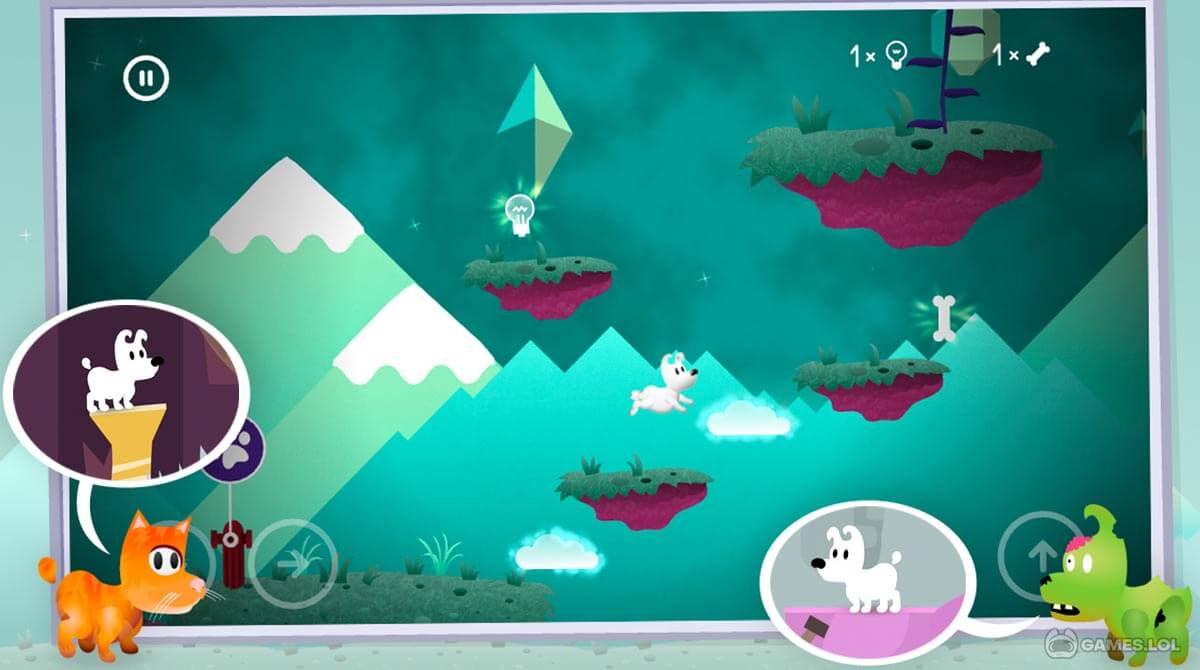 5. Pet Shop Story
Adding to our list of best dog games is the Pet Shop Story. It's a wonderful creation of TeamLava Games, where you're tasked to customize and run a pet shop. Here, you need to be clever with your resources and unleash your skills in budgeting. As you progress in the game, you must ensure that your pet shop generates money, for customers, and patrons.
What's more exciting about this dog game is you can breed various types of dogs by combining two different breeds. You'll surely enjoy this dog game as you'll get to know multiple dog combinations, such as Chug, a combination of Chihuahua and Pug, or a Labradoodle, a mixture of Labrador and Poodle.
6. Feedog – Raising Puppies
If you enjoy raising dogs more, you must consider having Feedog – Raising Puppies on your top list of dog games. You are tasked to nurture and raise a puppy in this adorable dog game. If you're familiar with Tamagotchi's gameplay, you'll surely catch the gist of this game. Here, you need to feed, groom, wash, and play with your pet dog.
If you think that ends your responsibility in this dog game, well, not yet. Aside from raising your puppy, it's best if you also beat different evil ghosts to ensure that your dog has a peaceful background. You can defeat these ghosts by feeding your dog the correct food. Don't be tempted to feed your puppy the wrong food because it can cause the enemy to strike your puppy, and the game will be over.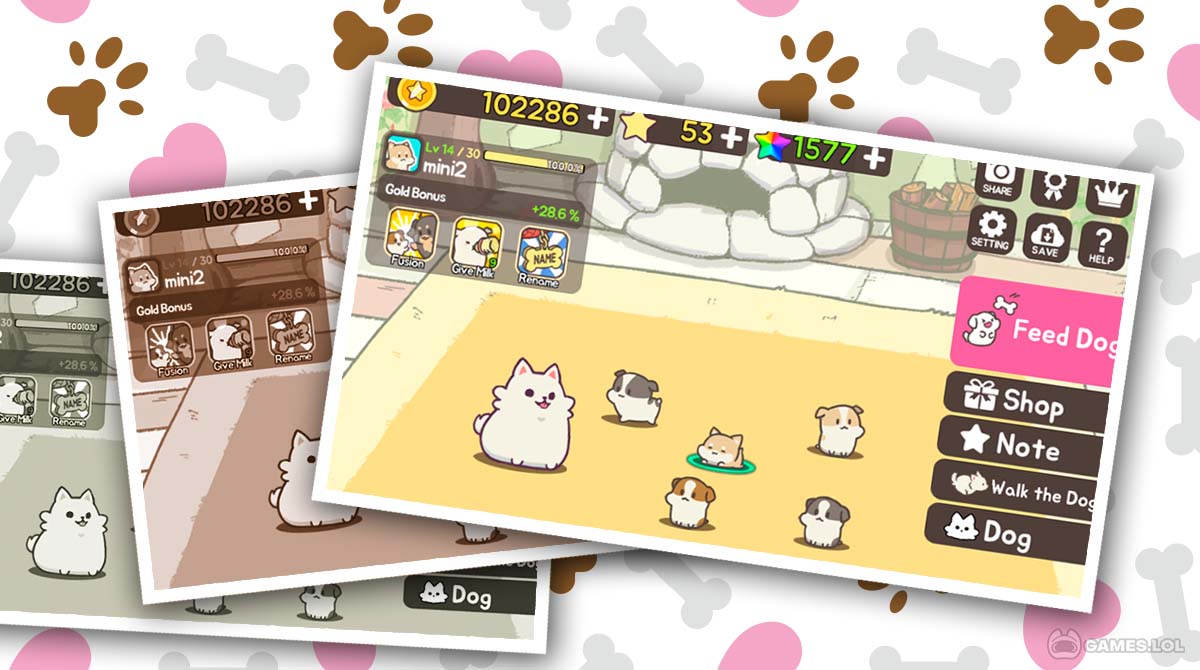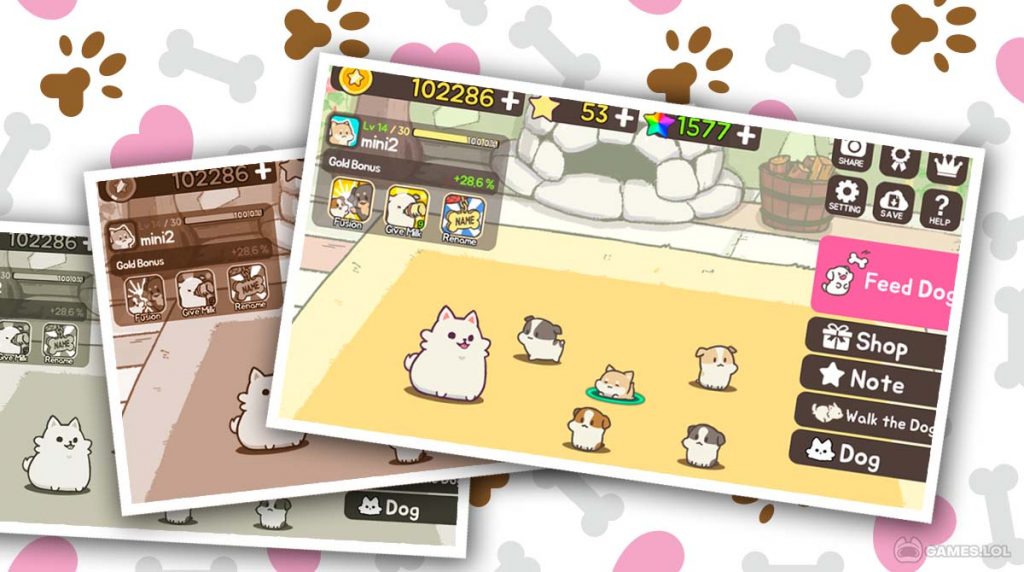 7. My Talking Dog – Virtual Pet
If you can't get over petting a dog and wish to raise more dogs, then you can continue your advocacy by playing My Talking Dog – Virtual Pet. It's an exciting dog game published by Peaksel Games. Here, you get a chance to raise a dog named Charlie. Like the typical virtual pet care game, you need to feed, bathe, dress up and play with Charlie. What's more interesting about this dog game is that it features loads of exciting mini-games that you can enjoy with Charlie.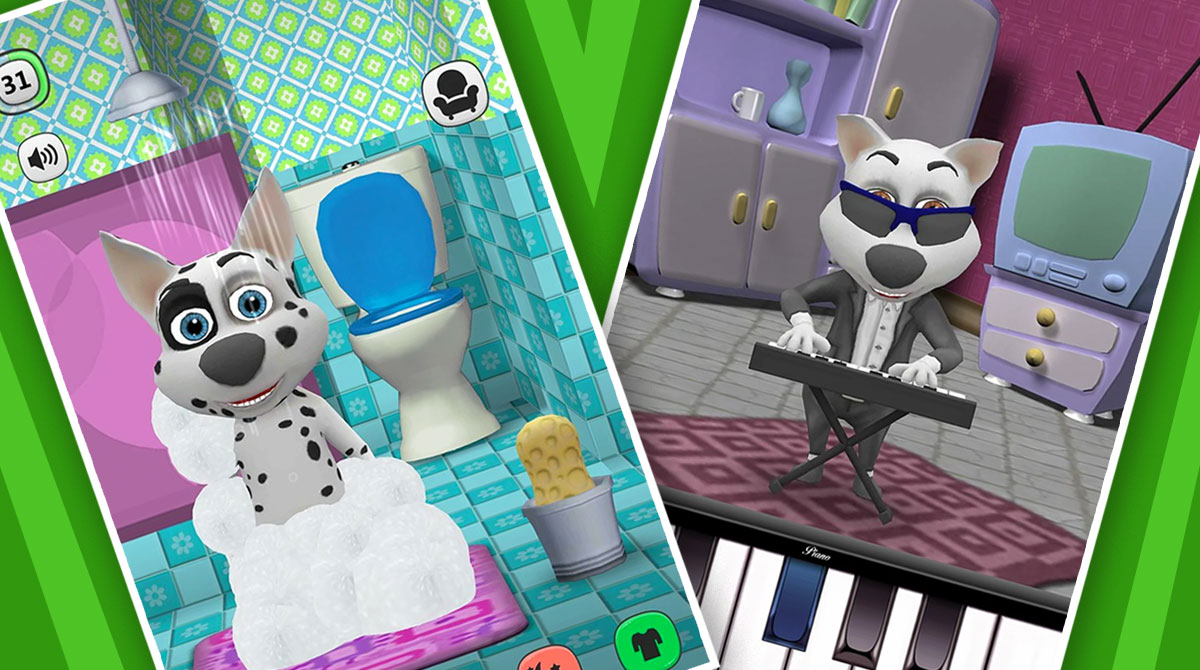 8. My Diggy Dog
Reaching the eighth spot of best dog games is King Bird Game's My Diggy Dog. If you're looking for a unique dog game, then you must not miss trying this game. Here, you'll get a chance to meet Marty, who's known as a treasure hunter. It would be best if you guided Marty the Dog in completing his artifact collection goal.
In this dog arcade game, you need to do loads of digging. There's no need to be fast or meet a specific timer. All you have to do is stick with your goal and explore everything to find ways to complete the ultimate artifact collection of Marty. However, it would help if you also ensured that Marty would not get hungry and encouraged him more to carry off his goal.
9. Dog Hotel – Play With Dogs and Manage the Kennels
If you're fond of petting dogs and have exceptional management skills, then you must not miss playing Dog Hotel. It's a charming creation of Tivola. And it takes you into the role of a dog hotel manager that ensures all dog owners' needs are well-managed.
What's more impressive about this dog game is that you'll get a chance to meet various breeds of dogs in your hotel. Be fascinated by seeing Beagles, Labradors, Spaniels, and more. Take note that each dog depicts a unique personality, but what matters in this game is that you give them everything they need.
10. Snoopy's Town Tale – City Building Simulator
Last, but definitely not least is the fabulous creation of PIXOWL – the Snoopy's Town Tale. If you're a huge fan of this phenomenal dog character, then it's time to play with him. In this dog simulation game, you'll get a chance to play with Snoopy and the rest of the Peanuts characters. Here, you are tasked to create a neighborhood composed of different locations and characters derived from the infamous comics.
As you play the dog game, you must expand your neighborhood. At the same time, create a fantastic world filled with your favorite characters. To make this goal more possible, it will be best if you'll traverse the town. Also, make sure to surpass different missions or quests.
Choose Your Favorite Dog Games Now!
With this list, you already know various dog games that you can play right on your PC. So can you share your personal favorite dog games from this list? Are you fond of dogs and wish to play more related games? If so, feel free to catch more of these here in Games.lol.