Genshin Impact has a lot of things for you to do: exploring, shopping in town, getting ingredients, and getting your butt kicked by a weekly boss that you can't finish. To survive in the land of Teyvat, you have to know an important skill: cooking. You won't last in a fight on an empty stomach, especially if you are going to fight against larger opponents. As such, you need the nutrients to stay in the clash much longer, especially if you do not have HP or ATK buff support in your group like Barbara, Noelle, or Bouken Da Bennett.
Why Cooking is Essential in Genshin Impact?
The cooking system is not only fun to do, but it is essential in Genshin Impact as well. Just like any food, you will need the right ingredients to prepare the meal. These ingredients will depend on the food's list. Food does plenty of great buffs in Genshin Impact. These include increased health and percentage, reviving a dead teammate, better stamina, quicker cooldowns, higher attack damage, and exploration utilities.
The cooking mechanic already starts during the first hour of the game as you explore in Mondstadt. Of course, at some point in the game, you will want more food other than chicken and mushroom skewers and sticky honey roast, right? To do that, you will need to either purchase recipes from various merchants or progress through specific stories.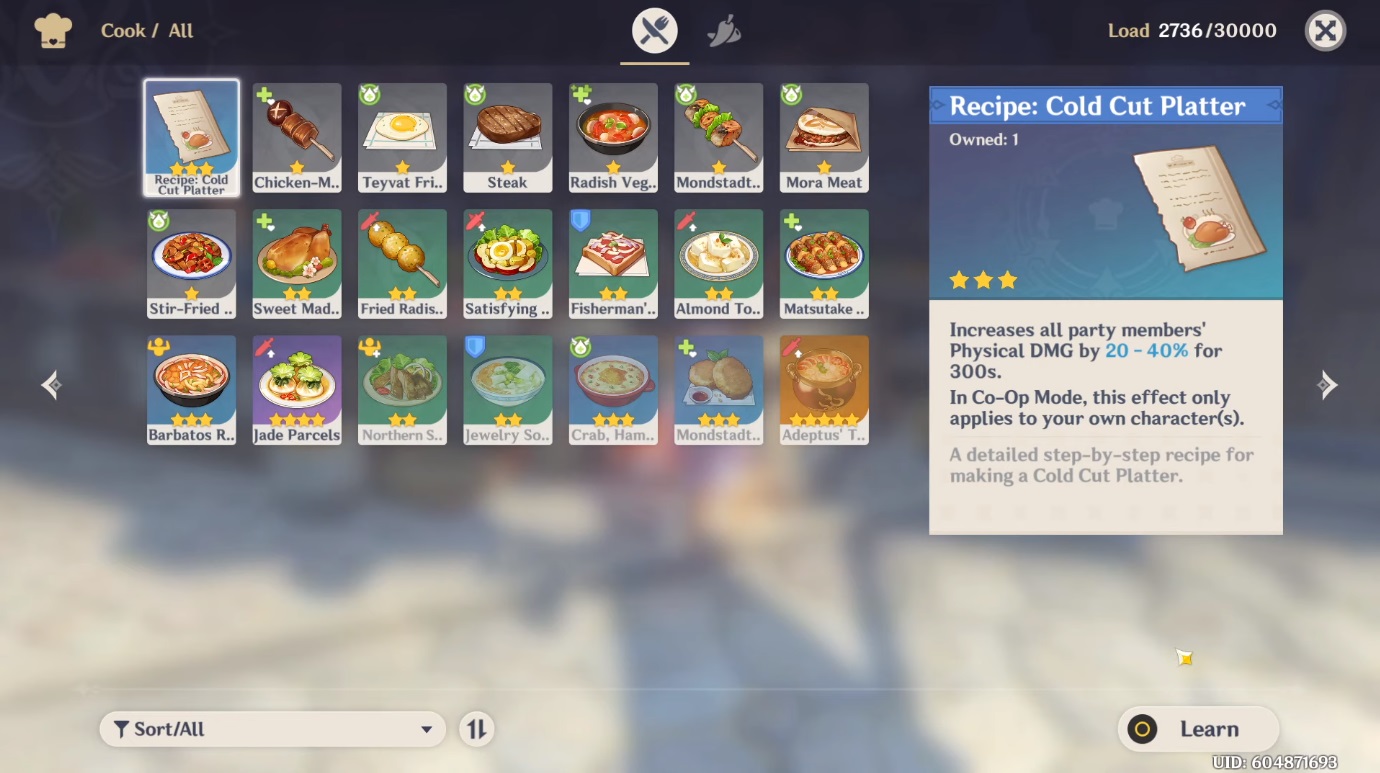 How to Get Recipes
Getting recipes comes from two ways: either progress through specific story missions or go to merchants and buy the recipes. For the recipe completionist, you must do all the side missions to unlock all the known recipes from characters like Xiangling and Scaramouche.
No Support, No Problem
By default, you would want to have at least one healer type support in the team. That way, you will limit your food consumption and less time to open up the backpack just to eat. However, if you are too stubborn to have a healer on your team because you rely too much on Tectone for "meta," then having food is your best friend.
Take note that there are some restrictions when it comes to food consumption. In one fight, you can only feed a certain character 10 times. After you feed him or her 10 times already, there is a cooldown timer before you can feed them again, specifically 2 minutes. This is why you need those high-tier recipes, so you don't have to worry about giving Amber 10 chicken skewers in one go.
Grabbing Ingredients
There are plenty of sweet flowers, lotus heads, mushrooms, and cabbages all over Liyue and Mondstadt. However, some ingredients require either using the Process system or going to specific locations on the map. For the list of ingredients, do check out the official wiki list. The list should have all the ingredients with the correct areas to farm them in.
For some quick references, check out our custom list below.
If a recipe calls for flowers, these should be normally located within the green fields.
If a recipe requires mushrooms, look near trees.
If a recipe needs a lotus head, it is always located within the marshes of Liyue. Alternatively, you can use the expeditions for easier search.
If a recipe says you need cabbages, radishes, potatoes, and carrots, they are usually found in markets and salvaged wreckage. You can also find these in expeditions.
If a recipe requires meat, there are plenty of options including food stores, expeditions, or hunting down wild game such as boars and squirrels.
If a recipe calls for fowl, you can either buy it in the food store or hunt down any bird in the world.
Others include berries, fruits, wheat, which are easily found in plains and trees.
Onion and garlic are only found in stores.
Processing
If you want to get the high-tier recipes, you will need to do the processing. This is found under the cooking menu once you go to a cooking stove or spit. When you open the menu, click on the next tab to open up the Process menu. Here, you will get to create preserved ingredients such as flour, honey, cream, smoked fowl, ham, butter, and others. Creating them also takes a chunk of real-time minutes. So, if you are too lazy to make them, you can just buy them in the stores for a reasonable price.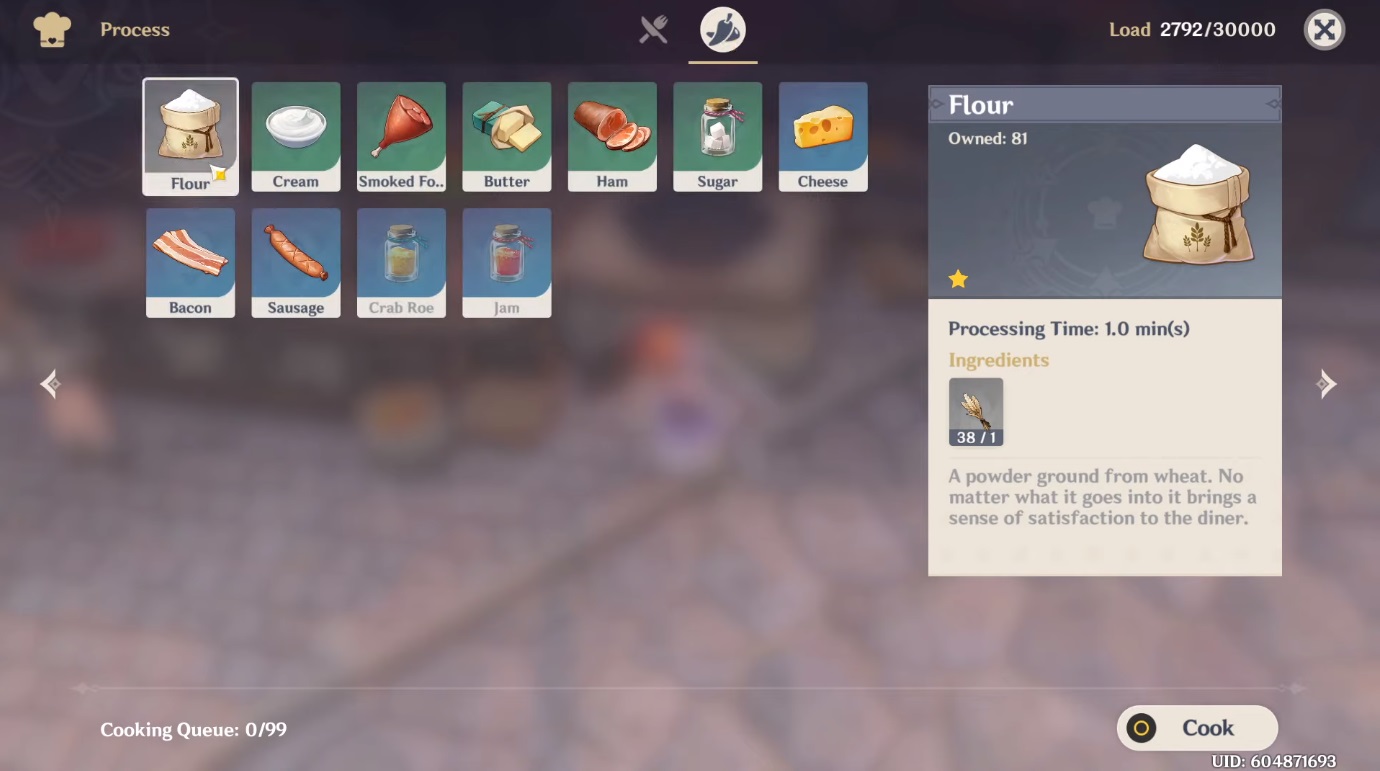 Other Tips to Remember
We don't have to tell you how to cook the food properly since the in-game tutorial already teaches you that. Just make sure to select the right character to cook the food for a chance of a food duplicate. Also, you will want to hit the Perfect mark as much as you can for the best benefits of the food. If you cook enough of the same food a specific number of times, you don't need to play the mini-game anymore for that recipe.