Two action games that are pretty similar in graphics yet different in mechanics have entered today's game review. One is an arcade game that puts you in different situations. The other is a social deduction game focused on multiplayer fun. Both superior qualities, but only one will come out as the only game among them all. Let's find out which is the better game in this Imposter Master vs. Among Us review.
The Arcade Nature of Impostor Master
Let's talk about Impostor Master first. Developed by OneSoft Global PTE. LTD., it's a simulation game that lets you play the role of a red impostor. Your goal is to cap off all the crewmates undetected. Each level in this game will have you kill off a required number of crewmates. If your enemies detect you, they'll panic and call for help. Once they succeed, you'll be kicked off the game. Now, this stealthy game is single-player only. You won't control any characters other than the red impostor.
Additionally, each level will score you as you proceed to the next. Your goal is to kill off as many opponents as possible as fast as you can. It also boasts colorful 3D graphics with a bit of gore. You can also dress your Red Impostor in various skins. If you're going to kill crewmates, you might as well do it in style. Furthermore, you can also equip it with a wide selection of weapons, from sharp fangs to a heavy bazooka. You'll never run out of ways to destroy your unsuspecting crewmates.

Gamers who love a good arcade challenge will find Impostor Master a fun game to play with. Now that we've listed down the core gameplay of Impostor Master let's go to the Among Us game.
The Multiplayer Advantage of Among Us
Among Us is a social deduction game developed by Innersloth LLC. It's an indie title that gained massive popularity in 2020. You, along with several other players, will end up in an isolated location. Your goal is to finish tasks as a crewmate or kill off your team one-by-one undetected. The game will select who will become the Impostor or Crewmate. Once chosen, you will then be given ample time to do your respective missions.
One of the core features of this game is that the crewmates can guess who the Impostor is and kick it out. If successful, the crewmates win. However, if they fail, then it's a step closer to victory for the Impostor. On the other hand, an Impostor can sabotage the area so that the crew can be thrown into a panic. It's all about deceit, strategy, and bluffing when it comes to Among Us.
The game features minimalist graphics with excellent online multiplayer gameplay. It's a great party game that you can play with friends for hours without end. It also features various skins and costumes that you can buy. You can all cosplay as a cop, a businessman, or even a parent in each round. Moreover, the developers constantly update the game to offer players new breathtaking experiences. The new Airship update just launched this year! Gamers who love some multiplayer action will get a knack out of Among Us!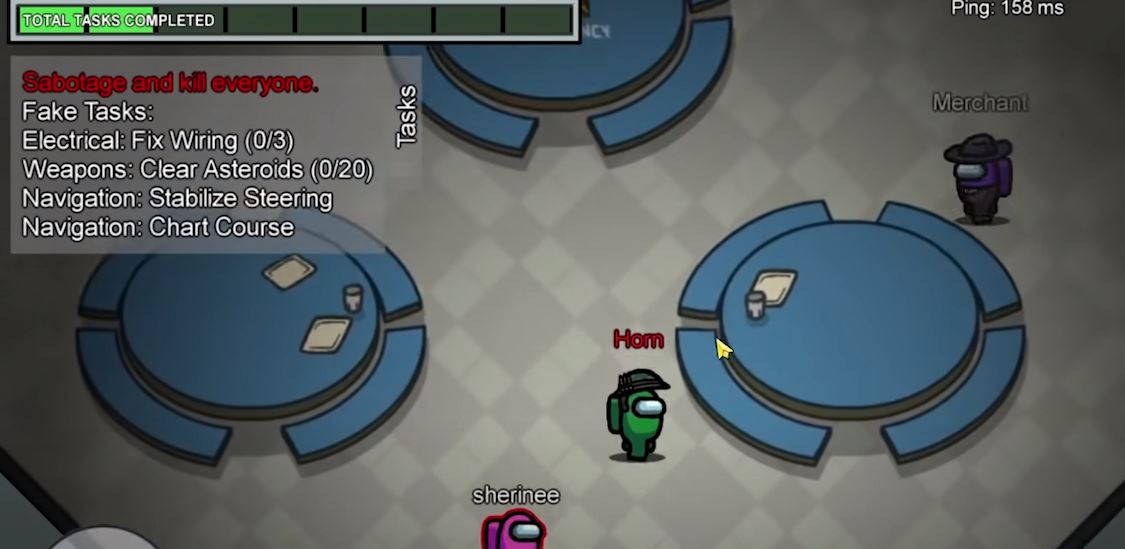 The Superior Game Among Them All
Now, it's time for the verdict between which game is superior. Impostor Master is aesthetically pleasant and quite fun to play. Its single-player nature makes it available for offline play, so you can play with it anytime and anywhere. However, it gets repetitive as time passes by. Once you've gotten the hang of the pattern, you'll end up doing the same thing over again.
On the other hand, Among Us has laid its foundation on simple game mechanics yet competitive online play. Even though the goal is the same in every round, it still offers a new experience as you'll be guessing the whole time. The Impostors and Crewmates never stay the same in every round, and the tasks differ too.
Additionally, your opponents will never stay the same as well, as you can challenge all kinds of players from around the world. If anything, Among Us has gotten right; it's proving that the best games don't entirely need immersive 3D graphics. You just need a fun mechanic to let people have fun in. The success of Among Us as an indie game led the developers to provide more updates to it. So players can expect more coming their way.
So for this review, it's crystal clear that Among Us is the winner. In fact, you can test our claims by trying both games for free using our Games.lol client. Just download both titles and launch them all from your PC. Even if you disagree with this review, everyone knows that games are always better played as a part of the PC Master race.