Released on July 31, 2020, Grand Hotel Mania is an adventure game made by DeusCraft. The game is about managing the Golden Apple Hotel and successfully running a good level of hotel service. As the main owner of Golden Apple Hotel, your role is to lead all the staff and finish all the tasks to become the best hotel chain in the world!
Thus, there are different challenges and responsibilities that you need to fulfill in order to complete your goal in the end. And for you to achieve these, you need to satisfy all your guests' requests without making them wait for too long! But don't worry as Monica and Ted will be with you throughout the time.
So, are you interested in helping the Golden Apple Hotel become successful and popular around the world? If so, read about guides and tips on how to run the hotel smoothly. Check out more details down here.

Getting Started with Grand Hotel Mania
As you load the game, it will drop you inside the Golden Apple Hotel to discuss some of the task assignments that you need to complete. You will meet Monica, the receptionist, and Ted, the bellboy; the moment you first enter the Hotel. A gameplay tutorial with 2 expected guests will be your primary mission to complete the game before upgrading the overall hotel. As mentioned above, don't worry because Monica and Ted won't leave you until the end of the game.
As you move further, there will be in-between tutorials present all throughout the cycle. These reminders are to prompt you that upgrading each piece of equipment and room will help you run the Golden Apple Hotel much better. Plus, it's highly recommended not to skip these tutorials, as this can help you a lot in the long run. Take note that each day, the coins you earn are becoming larger and so are your guests, so having such upgrades is a good thing to do.
Aside from having these general outlines, it is important to know what Monica and Ted's roles are. This point is valuable because they will be the ones who will interact with you most of the time and with the other customers. Treat Grand Hotel Mania as managing your own hotel in which getting to know your staff is surely a must. See a brief description of each of their task here below.


Monica
Monica, as said earlier, is the receptionist and is mostly responsible for letting each customer in and out of the Hotel. She is to give the keys and accept cash payments of every person check-in' inside the hotel. Monica is solely the one in charge of reminding you whether it is time for a new upgrade of the hotel.
Such reminders are fairly important as this can help you run the hotel faster than ever. She is also the one who monitor's Ted with his work all throughout the hotel. You will often see her at the reception giving tips and advice to you on what's the best way to do. But she has a tremendous task as she's the one who will face your angry customers along the way. So, be nice to Monica!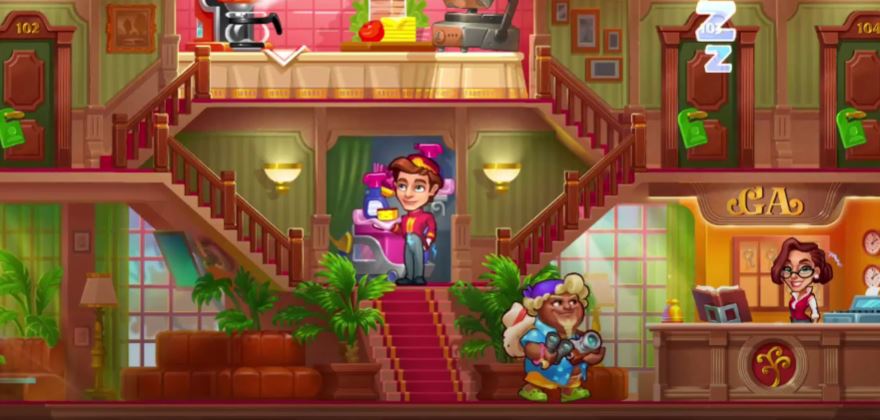 Ted
Ted is the very responsible and hardworking bellboy of the hotel. He does all the cleaning and provides all the orders that your customer wants. From delivering coffee to food, he does all that! Ted is surely a treasure in your team as he will not only be assisting you and Monica, but he will help in running the overall hotel.
Upgrading some of his equipment will help him out to do his work faster so that your customers won't get mad. At higher levels, each customer's patience will lessen and so, helping Ted with all this work will surely be a big deal. So, as you earn coins, never forget to improve your cleaning stuff and machine to serve your customers way better.
This staff is the ones that you will mostly meet in the game. But soon, there will be new characters who will also play an important role in the game. Well, let's just put it in a way "Wouldn't it be better if you discover them on your own?".
Your 3 Main Objectives in Grand Hotel Mania
Your main goal in the game is what you should accomplish above anything else. Remember not to lose any single piece of information! Climb the highest level and let people around the world discover Golden Apple Hotel. Never forget these missions, so that you will become successful.
Earning Coins
Earn and save coins as you complete every level. This will help you upgrade your equipment and renovate your hotel for a better and lighter service to all your customers. Some players would rather earn more coins and then buy all the equipment and upgrade everything else later on. But, no matter what strategy works best on you, go for it for a better gaming experience.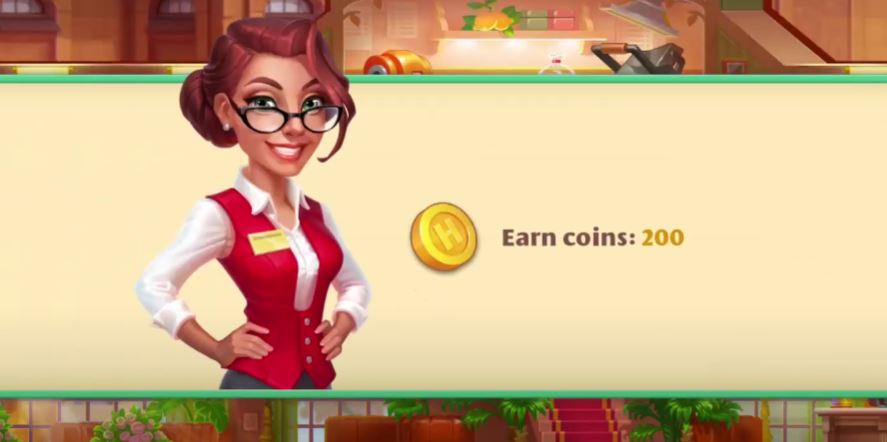 Accommodate the Guests
Accommodate all guests. The primary goal of Grand Hotel Mania is to make your guests happy. This happens by bringing them the best service that you can. As you pass through each level, there will be numbers of guests that will check-in, and accommodating them at your best will save you in a lot of ways.
Aim for the smiles
You will know that smiles are important in the latter part of the game. But for you to get one, you need to serve them quickly and efficiently. The indicator for your guests having some smiles is in the green zone. Smiles can also create a huge impact as it brings additional income at the end of each level. That's why never think twice to upgrade your equipment for a better smile!
Grand Hotel Mania End Review
Grand Hotel Mania is a fun and addictive game that will keep you up on your toes until the end. It is certainly like managing your own hotel with the helpful staff around you. No wonder why the game itself gets a high rating because of the good visuals and music backgrounds. Kids will not only love playing it during their free time but also the adult ones.
Overall, the game is simple to play and very engaging. Although these are only part of the guides for you to know. Playing the game will help you discover it deeper. So, what are you waiting for now? Download Grand Hotel Mania and manage the Golden Apple Hotel in your own hands!