Heir of Light is one of the best and exciting role-playing games that you can play right now. Published by GAMEVIL, it's an RPG where you play the role of the heir of light. Your objective is to save the realm from being consumed by darkness. It's a gacha RPG that's full of dark fantasies and adventure. As a gacha RPG, a big part of the game will involve collecting characters called servants.
This is not unusual as many RPGs do this and trying to collect all the servants available is a good thing. This is because you form a team of servants that you will use for battle. And if you have powerful servants, you will do well in battles. But acquiring powerful servants is not the only way to ensure you'll have a strong team. You also have to develop and upgrade them to make them powerful.
And one of the best ways to strengthen a servant is to awaken them. Awakening a servant will enhance both their stats and skills. It also unlocks certain skills that make your servant more powerful. But how does awakening work? This article will help you with that as it will provide a guide to Servant's Awakening when playing Heir of Light.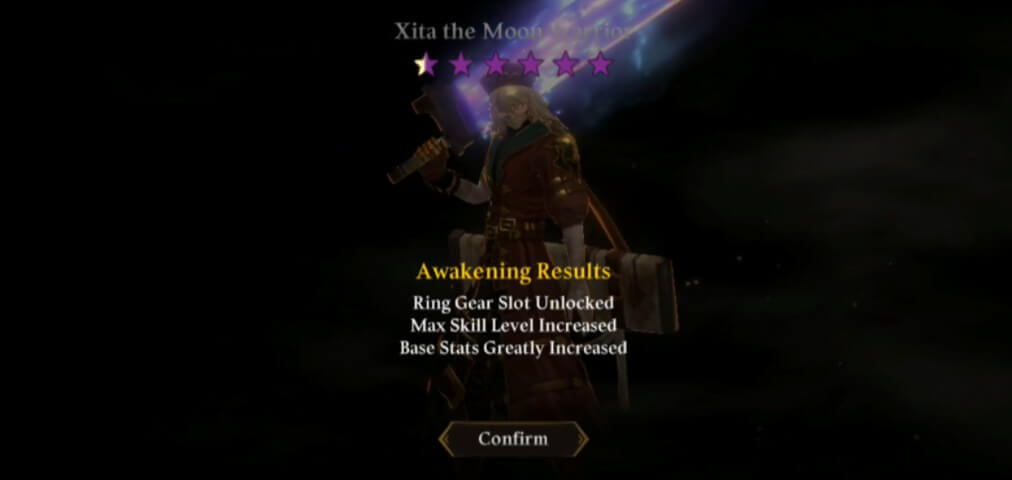 What is Awakening in Heir of Light?
Awakening is the process of strengthening your servant in Heir of Light. It results in enhancing their skills and stats while also unlocking new skills. Appearances of the servant will also change and it also unlocks gear slots. When a servant is awakened, the color of their stars will change. A servant can be awakened a total of 5 times, which means their stars will also change 5 times. The first awakened color is orange, followed by red, green, blue, and the last one is purple.
Once the color of your servant is purple, it means the servant has already achieved full awakening. This also means that the servant has already unlocked all of its skills and gear sloth and can achieve maximum skill level.
The Benefits of Awakening a Servant
For the first level of awakening, your servant will unlock the Team Passive, as well as increase the max skill level and increase base stats. For level 2 awakening, your servant will have a new appearance, aside from increased base stats. The level 3 awakening will unlock the 7th gear slot to go with increased base stats and increased max skill level.
For level 4 awakening, the relations effect will be unlocked, as well as another passive skill (skills unlocked will vary per servant). Of course, increased base stats and an increase in max skill levels are included. For the final awakening level, the 8th gear slot is unlocked together with increased max skill level and enhanced base stats.
Requirements for Awakening a Servant?
Awakening a servant will require Elemental Stones. The stones you will need will depend on your servant's element, as well as the awakening level. The elemental stones you will need should be the same element of the servant you want to awaken. For example, you want to awaken a Fire Element servant, then it will Fire Elemental Stones. In level 1 and 2 awakenings, you will need a common and a greater magic stone, and a common and greater elemental stone.
For level 3-5 awakening, a greater and a supreme magic stone are needed, as well as a greater and a supreme elemental stone. There are two ways to acquire elemental stones through the Awakening Dungeon and Tribute. You can get one elemental stone a day from Tribute. For the Awakening Dungeon, you can acquire different elemental stones depending on the day.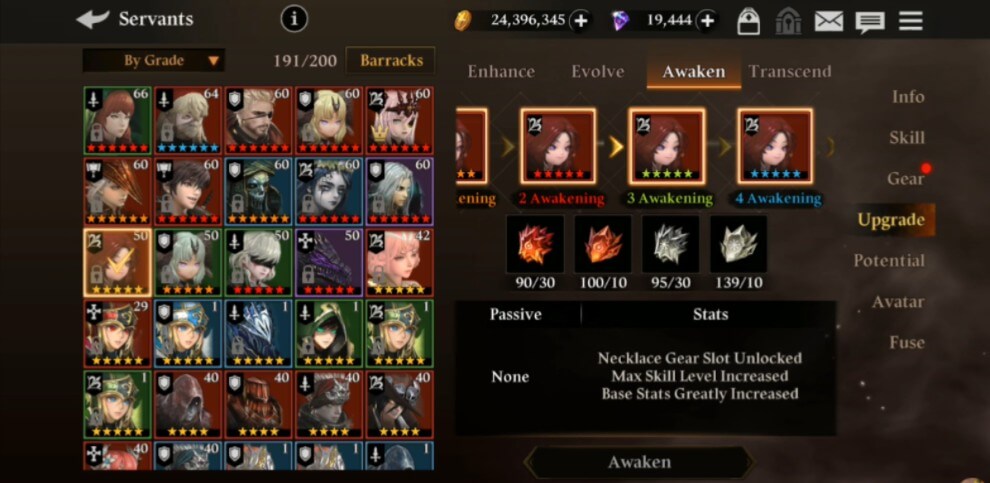 If you want to get Dark Elemental Stones, then you should play in the dungeon every Monday. The Fire Elemental Stones are available every Tuesday while for Wednesday it's the Water Elemental Stone. Thursday is when the Forest Elemental Stones are available. From Friday to Sunday all Elements are open. These are the days in which you can acquire all elemental stones in Heir of Light.
How Do You Awaken a Servant in Heir of Light?
The process of awakening a character is simple and easy. First, you select the servant that you want to awaken and then tap the awaken button. From there you will see if you already have enough materials or what else you are lacking. Below the needed materials, you will also see the enhancements and new skills that your servant will get.
If you already have the needed awakening materials, then the awaken button below can be pressed. If you still lack the materials, you won't be able to awaken your servant. So, make sure that you have all the necessary material first before attempting an awakening. You can get them from the Awakening Dungeon or Tribute.