Here at Games.lol, we have two of the most downloaded Marvel games for the PC: Marvel Future Fight and Marvel Strike Force. But the thing is, both of them look similar if you have no idea about the two games. Why make two separate Marvel RPGs when you can just settle with one, right? Well, whether you're a Marvel fanboy or not, we're here to tell you that both are amazing games in their own categories. In this article, we will break down the differences that make them very much apart from each other.
But First, Let's Talk About the Similarities
First of all, both are set in the same Marvel universe (duh), spanning across different Earths including the MCU, the comics, and even in previous games. Second, the game features all of your favorite superheroes and villains. The Avengers assemble in both games, the X-Men gather as one, and the Guardians of the Galaxy reside in Future Fight and Strike Force. Lastly, both are Gacha RPGs, simple as that.
Now, Let's Discuss the Main Differences
Game Release
Future Fight started way back in 2015 after the release of The Avengers: Age of Ultron in cinemas. It became a massive success in both App Store and Google Play, maintaining its #1 spot in the RPG category. Strike Force got its release only in 2018. It has its own spotlight but it never toppled Future Fight for the top place. Instead, it always ranged from #2 to #10 in the charts.
Developers
Netmarble Games developed Future Fight. They are also the team behind other RPGs including Lineage 2: Revolution. Meanwhile, FoxNext created Strike Force. They are famous for the hit simulator game The Simpsons: Tapped Out, which was published by EA Games.
Marvel Story
Future Fight takes place across multiple Earths. Oddly enough, the game really never had a full story behind everything that's happening in the game. All you had to do was follow the objectives, collect other heroes and experience the joy of its good gameplay.
Meanwhile, Strike Force has a very interesting story. Unlike Future Fight, Strike Force takes place on one Earth which the main villain, Ultimus, wants to conquer in order to take control of its heroes to invade other Earths. The game is more story-driven focused than Future Fight.
Gameplay
At the center of it all, Future Fight is similar to the 2005 hit RPG Marvel Ultimate Alliance – you take full motion over a hero and get to switch them at any time. In Future Fight, you can only take 3 heroes or villains at once in a mission.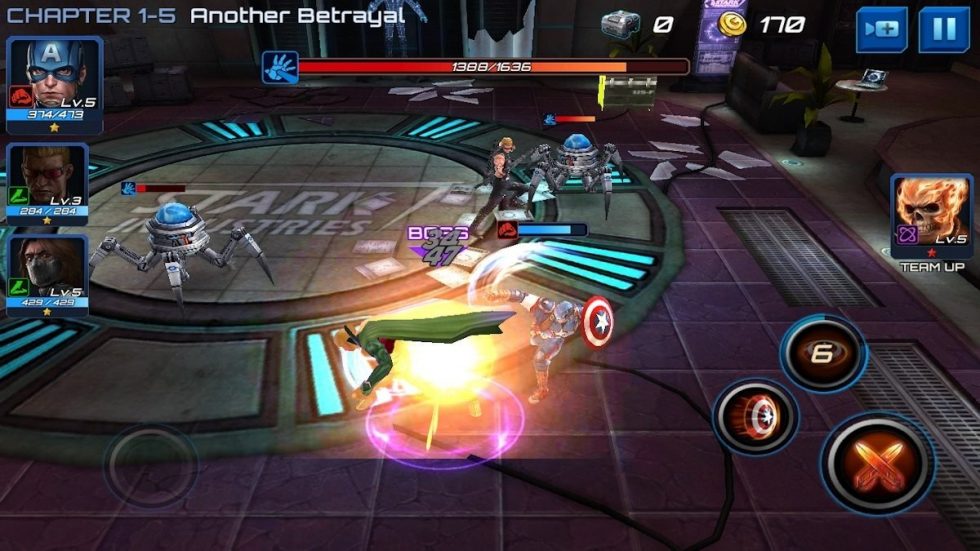 On the other hand, Strike Force provides a fully-fledged turn-based RPG featuring awesome fight animations that stay true to each character. You can combine up to 4 heroes or villains in one mission. The game also lets you include S.H.I.E.L.D. and S.T.R.I.K.E. agents to the lineup.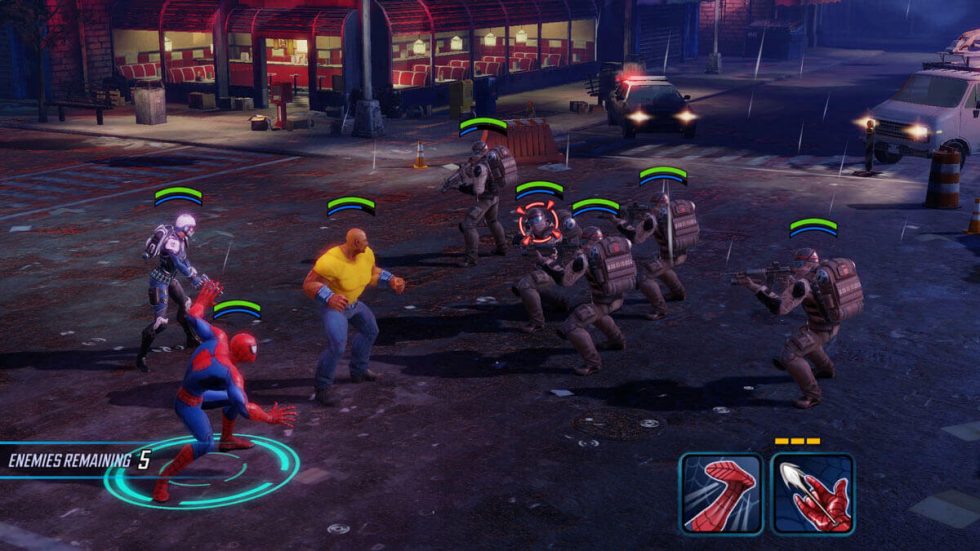 Content
Due to its age, Future Fight has drastically changed in terms of balancing, graphics, and mainly, content. The game boasts hundreds of hours filled with stuff that you will want to unlock – primarily the different hero or villain costumes that are popularized from the movies, comics, and TV series.  However, Strike Force hasn't had any big content yet due to its fairly new release. Although, FoxNext has confirmed that it will have a very big update soon this 2019.
Conclusion
In the end, we highly recommend giving both a try. You won't find any other authentic Marvel gaming experience than these two. Play Marvel Strike Force 2 and Marvel Future Fight now on PC. For free here at Games.lol!